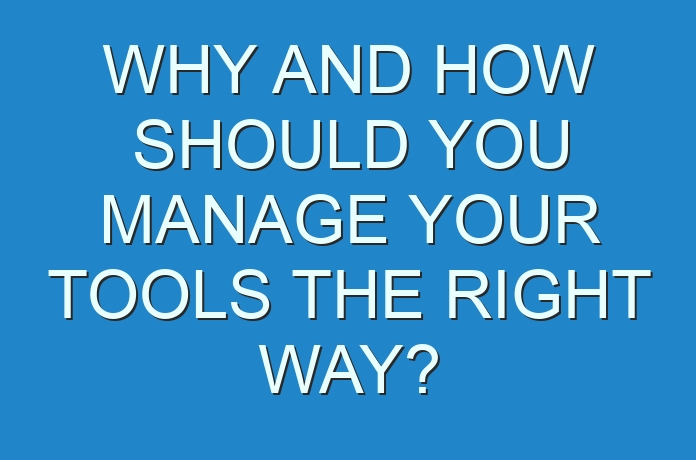 Do you remember the last time when you needed a wrench and knew where was it exactly? Maybe a decade ago! Believe it or not, most people find it difficult to keep track of their tools. A screwdriver is found in the dressing table and that wrench was kept in the laundry room. If you too face such issues, you should probably invest in a good organizer like toolbox wrench organizers to manage your tools the right way.
Nearly all of us have been through this experience of not being able to find the right tool at the right time. And the reason is that our tools keep lying here and there. Those of us who are disorganized by nature often feel frustrated. We have all faced the frustration of spending too much time on one job. At a certain point, you feel like doing something for your tools so that you can save your time and make your day more productive. 
If you don't have any time for all the hassles that you may have to face during the organization, you can check online for the amazing modular vertical wrench organizers or other tool organizers options that offer you to keep your tools organized and protected. And if you are a DIY person, there are so many things that you can try your hands at.  Let's take a glance at some ways that will help you in managing your tools the right way.
Organizing Tools is an Ongoing Process
Organizing tools is a tedious task for people who are disorganized by nature. But if you want to save your time on each job that you perform on a daily basis in your workshop, you must be able to find all the required tools without having to waste any of your time. We believe keeping your tools organized is more of a habit than being a task. If you become successful in making it a habit, you will never miss or lose a tool. And once you have done the organization, you must ensure that you keep up with the habit. It is not that you organize your tools today and then, get back to what you used to do. Organizing tools is a continuous process and you must develop a habit of keeping your tools back at places from where you picked them up. And once you develop this habit, you will never lose a tool.
Separate your Tools into Groups

The first thing you must do is gather all your tools in one place and then, clean all the places where they were kept previously. While doing so, you will come to that there are so many things that are there unnecessarily. Put all those things in a separate basket that are less important to you. You can deal with them later. This list may include nails, ropes, washers, screws, bolts, pins, and other small items. And now, it is time to separate all your tools and make different groups for them. For example, you can keep pliers and wire cutters in the same group. Once you are done with grouping, you know which group is the most important and which one is less important. Now, separate them according to their size. This way you will be able to organize all your tools including drill bits, screws, nails, and any other electric tools. Make sure that all the heavy things are kept in the bottom part and the lighter ones are on the top.
Create Zones for All your Tools

After you are done with separating your tools into groups, it is time that you find a suitable place for keeping them. Sort all your tools into categories. You can also keep them in a sequence in which they are mostly used. Like you can keep nails near to the hammer and screws near to the screwdrivers. If not this, you can also keep the big, heavy tools together and the small ones together. There are so many ways in which you can keep your tool in accordance with your convenience. Now that you have decided the zones, create zones and keep items together. You can either use a toolbox organizer or cabinetry to keep your tools in place. It is up to you how you want your tools to be. If you usually work in your workshop, cabinetry would be a better idea. And if you visit the customer's place usually, you must go for a toolbox organizer.
A Mobile Work Bench may also Work
Most technicians struggle in organizing tools that they use quite often. And especially when they are in the middle of an important job. For example, if you are renovating a house, you can keep your power tools in a mobile work bench. Keep all those tools on the mobile bench that you would need during the renovation. Make sure that your work bench has enough space for hanging power tools and enough space to let you keep your large tools like air compressors. You must also use the top of the work bench to keep your tools. And the best thing you can do is keep the most frequently used tools on top of the work bench so that you can easily grab them whenever needed.
Don't Overlook the Importance of Common Sense
It is great that you have decided to keep your tools in place. But you must make sure that you don't overlook the importance of using your common sense. You might have also invested in some amazing toolbox wrench organizers but if you are not using your common sense, you might do it all wrong.  It is worthwhile to mention that there is no hard and fast rule for keeping your tools organized. What works for one might not work for the other one. You will have to do some experiments to come up with the best way for you. You may even have to use your imagination to make things work. You can hang your tools in places to give them an artistic look or you may simply place them in a toolbox organizer. Look for some ideas both online and offline and go for the best one that is just apt. You better keep in mind that you are organizing tools for your convenience and need. So, you are the one who must make the decision of doing what needs to be done. And don't forget, making mistakes is a part of the organizing plan.
For all technicians, it is of utmost importance that they keep their tools organized and in place. They cannot afford to waste their time because for them time is money. For them, the time dedicated to a job is equivalent to their earnings. So, no matter what, they need to make sure that they don't waste any time and consider organizing their tools for optimum results.