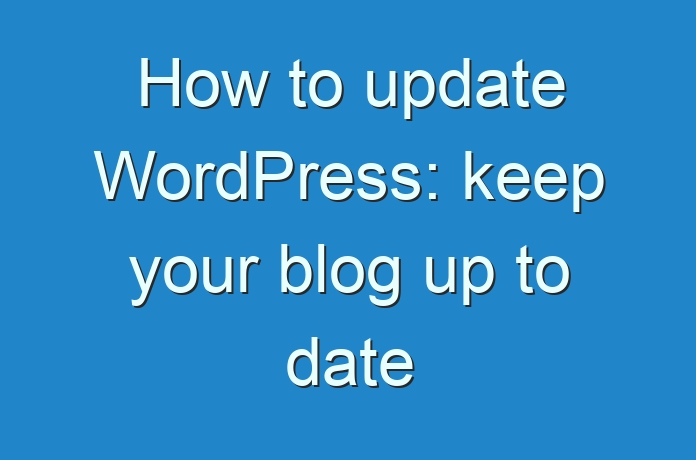 pdating WordPress to keep your blog up to date is essential to maintain security, attract quality users who can become future customers of your business, and consolidate your image as an expert on a topic.
With this you will be able to acquire greater credibility , a factor that will directly affect the growth of your company and will allow you to obtain greater benefits.
Why is the WordPress update important?
WordPress updates are important for different factors, including …
Update the WordPress core.
Update the theme in use and any additional ones that are installed.
Keep plugins installed and active always updated.
What is not used will be better to uninstall, because it is disabled will not improve security.
What is the best solution to update WordPress? Manual vs automatic
Before proceeding with the update it is important to keep in mind that, although the process can be performed more easily and works better, the WordPress update may damage your website or may not display correctly.
So, before performing an update, it is important to make a backup of your site. Although it is not the subject of this post, there are several plugins that can help you, such as Duplicator , which makes a copy of your site and its database , a very simple reinstallation system in the event that a problem, we tested this plugin for Capital Smart City Islamabad website.
Continuing with the WordPress update, there are two ways to get it: manual and automatic.
Manual update
Below I explain the step by step to manually update your WordPress. It is a fairly simple process:
Download the latest version of the official wordpress.org page
Unzip the files on your hard drive
Connect via FTP to your server
Upload all files from your hard drive to the server and overwrite them
Visit your website. You may have to update the BD as well. Follow the 'Wizard' that will guide you through the entire process
Automatic update
This option is enabled by default in any WordPress after 3.7 (that is, any of those currently used) and will only affect minor updates (minor updates, for example, from 4.0.1 to 4.0.2). We recommend that you do not deactivate them. In most cases, it will not be advisable.
The updates serve to correct minor functionality or security flaws , so keeping them activated will prevent problems that you had not even thought might occur.
It all depends on whether your business volume allows you to take care of the updates and the technical part. If this is not the case, it is recommended that you leave this part in the hands of WordPress specialists .
Automatic updates can be disabled so that they are not even performed automatically. It is not something that I advise you, but if your business is based on a website or online store that invoices daily, I would not take risks and deactivate them.
Template and plugin update
If your templates and plugins are unattended while updating the WordPress kernel, it can be very harmful.
To avoid this, go to your WordPress admin panel and click on the "Updates" menu item.
By clicking on this menu item, you will access the updates screen where you can update the core, templates and WordPress plugins .
When to update WordPress
Try to update WordPress whenever updates are available . Although some people advise waiting a week, it is not recommended.
If you wait, surely the update has less risk, but at the same time, if there is a security problem that is corrected in that update after a week, your WordPress will already be compromised.
If updates are made as I told you in this post and you have a backup, in case something does not work properly, the solution will be as simple as leaving it in the previous state.
Gutenberg, the new WordPress paradigm. And now that?
The Gutenberg editor is a WordPress plugin that will enable page layout and thus allow the construction of new web projects on the WordPress 5.0 platform . It is designed based on blocks and it is not necessary to have code knowledge to be able to use it regularly and easily, we tried this while working on the Blue world City Website.
WordPress 5.0.1
It is the initial version of the so-called 'Gutenberg' . What Gutenberg allows is to customize the pages of our website easily from the use of blocks that we will be adding very easily, regardless of whether we have knowledge of code.
You may wonder: what is the difference between Gutenberg and other WordPress layout?
Normally we must buy a theme or template to create a website in WordPress and then build them with a layout, that if you use or have used any, you will know that they are drag and drop, so you can see the result instantly.
Thanks to the Gutenberg editor , pages can be built using blocks from the WordPress backend itself in a way very similar to the well-known builders .
Gutenberg is a good editor, but it is still far from what we find with other builders, due to the great customization that can be done with them on our websites.
It is true that to make blog entries like the one we have built for the example is more than enough, since it is a layout that adapts to mobile phones, much more visual than the classic WordPress editor, and, in addition, it does not affect to performance

WordPress 5.1
This is the latest WordPress update. It lands with a series of very interesting improvements that provide more ease of use of the editor.
Gutenberg phase 2
The next phase of Gutenberg will multiply the ease of use that was introduced with block-based editing and extend that competence to the Customizer . These modifications will begin to be applied in the widgets, to provide users with greater customization capacity from the rest of their sites.
The first step for phase 2 will be to update the widget user interface to incorporate a modern block editor that is consistent with the way you edit pages and publications in Gutenberg . This will create a clear and consistent editing experience in different areas of your site.
Gutenberg phase 3
For phase 3, planned in 2023, it is intended to bring collaborative features to WordPress to WordPress; that is, that several users have access to the edition that WordPress offers , now based on blocks, but taken further, as they hope to implement collaborative workflows so that they are extended through WordPress capabilities
The future of WordPress
One of the most promising futures that could be seen in WordPress for the future would be the functionality of giving native support for multilanguage sites . This is a fairly old request, since many users demand that this feature be integrated into the WordPress core.
Although for many users there is no solution that 100% satisfies certain cases, be it plugins, multisite installations or other elements, this new functionality would be, in the view of the vast majority, a very positive and relevant factor for The future of WordPress.
Although WordPress is the most used content manager worldwide and is safe, it can sometimes present some security flaws or errors, so updating WordPress will be essential to avoid them and enjoy all the improvements and news that the editor regularly provides .
Would you like to contribute something more to this information? See you in the comments!