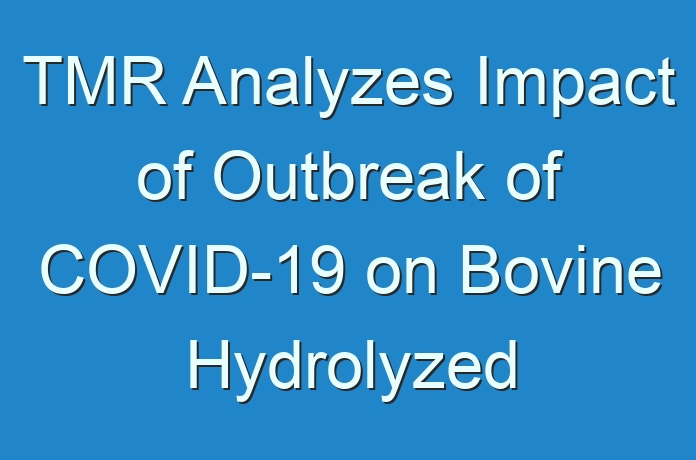 Hydrolyzed Collagen Market – New Dimensions with the Popularity of Curative Approach
The hydrolyzed collagen market, valued at ~US$ 825 million in 2018, advances towards becoming a billion-dollar market by 2023, and will continue its stride at a CAGR of ~8% during 2019-2029, finds a new report published by Transparency Market Research (TMR).
The hydrolyzed collagen market holds adjacent market opportunities, besides food and beverages, and much of this has to do with the newly-added thrust of preventive, rather than curative measures in the healthcare sector. Though the healthcare industry is not a direct contributor to the landscape, the blurring lines between food and nutraceutical industries, and the convergence of 'food-pharma' industries are projected to exert a sizeable influence on the popularity of hydrolyzed collagen to cater to nutritional inadequacies among consumers.
The significant shift in the strategy towards curative practices has, in turn, caught the attention of the cosmetics and personal care industry, and manufacturers are catalyzing the spurt in the growth of the hydrolyzed collagen market with the introduction of skincare- and hair care-based product portfolios. However, while tapping adjacent market opportunities, manufacturers need to be prepared for the discipline of regulatory compliance – norms regarding food claims and information presented to consumers to drive them into the sales funnel.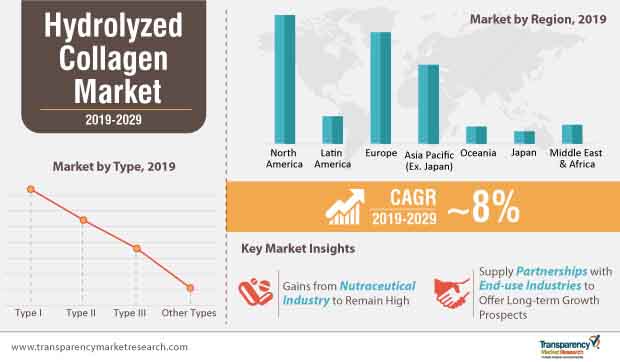 To get glimpse of what our report offers, ask for a report brochure here
Vegan Trend to go Mainstream – A Roadblock Ahead for the Market
The hydrolyzed collagen market continues to undergo an epochal scale of transmutation, as manufacturers tap new sources to extract value-added collagens. Historically, hydrolyzed collagen, extracted from cattle, maintained a clear lead in terms of value share. However, as literature claiming benefits of marine-sourced collagens – better water solubility, skincare properties, and lesser carbon footprints – began coming to light, a spike in their adoption rate became apparent. In 2019, hydrolyzed collagen sourced from bovine accounted for ~US$ 350 million, while that sourced from marine is estimated to register a CAGR of ~11% during 2019-2029.
However, the evolutionary nature of the landscape is the very feature that could pose a challenge. Animal-sourced hydrolyzed collagens cater to the protein inadequacy of the non-vegetarian populace, while the growing interest towards the adoption of the vegan trend could be a weighted market deterrent.
As per searches made, Google Trends marked a whopping 90% increase in vegan trends in 2016, with leading searches from Australia, followed by North America. Increasing searches for 'vegan' and 'vegetarian' keywords, as a whole, surmise the growing proclivity of consumers for plant-based dietary choices. The quest for plant-based supplements has led to the introduction of vegan collagen, produced by genetically modifying yeast and bacteria. What further helps vegan collagen manufacturers distinguish their offerings is their cost-efficiency and high safety profile, which could dim the potential of the animal-based hydrolyzed collagen market.
Looking for Customized Insights to build your business for future, ask for a sample report here
High Sales of Powdered Hydrolyzed Collagen over Liquid and Tablet Forms
In 2018, the sales of powdered hydrolyzed collagen accounted for a value of ~US$ 265 million, while that of liquid hydrolyzed collagen grew to a value of ~US$ 135 million. Despite the availability of various intake options, consumers tend to prefer nutritional supplements in the powdered form over the tablet and liquid forms, on account of their longer shelf life and high bioavailability. On top of that, powdered hydrolyzed collagen is deemed pure, as it is less susceptible to mixing with other ingredients. As compared to the other forms, cost-effectiveness and high flexibility with dosing remain the key attractive proposition of the powdered form, catalyzing its sales.
REQUEST FOR COVID19 IMPACT ANALYSIS –
https://www.transparencymarketresearch.com/sample/sample.php?flag=covid19&rep_id=72492
However, the report points towards the exponentially growing adoption rate of liquid hydrolyzed collagen, given its high absorbability, which makes it more effective than the powdered and tablet forms. The sales of liquid hydrolyzed collagen will move at a compound annual growth rate of ~10% during the forecast period.
Beside other success factors, distribution channels, in turn, play a pivotal role in influencing the purchasing behavior of consumers. For instance, the transit of powdered hydrolyzed collagen is much safer than that of the liquid form, which is thereby fortifying the sales of the former via online channels, and that of liquid through B2B and B2C channels such as hypermarkets/supermarkets, drug stores & pharmacies, and specialty supplement stores.
Despite an upsurge in sales through online and B2C channels, B2B channels will account for a sizeable share, given the direct and indirect supply-distribution partnerships with end-use industries such as food and beverages, nutraceuticals, pharmaceuticals, and cosmetic industries, among others.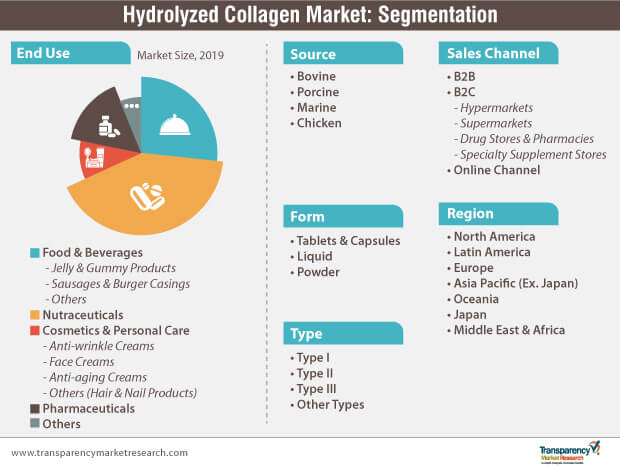 To get a bird's eye view of Hydrolyzed Collagen Market forecasts, ask for a Custom Report
High Vigilance Alert in the Hydrolyzed Collagen Market
Proper labeling of hydrolyzed collagens will be a focus area for market players, given the growing appetite of central and food regulators regarding safety. The FDA, operating in the U.S., issued new guidance on food labeling, to drive greater standardization in the way health and nutrition information is presented to the consumer. Food labeling changes in Europe are more stringent that those present in North America. New requirements include improved legibility of information and specific details regarding the source of the product.
Another key aspect of such regulations is the high number of product recalls in case of failure to meet legislated protocols, which needs the complete attention of manufacturers while marketing for their products to safeguard their business from product recall instances.
What Should Market Players Look at in the Hydrolyzed Collagen Market?
In a fragmented landscape, which lacks strong dominance, market players can make it big in the hydrolyzed collagen market by taking a cue from global players. The key to a high market share is intense focus on global reach and broadening of a consumer-centric product portfolio, an example of which can be taken from Rousselot, a leading player offering gelatin and collagen peptides. The company, along with Phamatech, collaborated for the launch of SiMoGel, a fortified confectionery, in the EMEA market.
With the presence of stringent regulatory norms scrutinizing hydrolyzed collagens as well as products made out of them, manufacturers will need to take a more granular and conscientious approach towards the development of clean-label products. Consumers' fickle food choices mean that market players will have to closely understand the undercurrents and trends while conducting their R&D activities in order to develop a consumer-centric product. Since pure hydrolyzed collagen is flavorless and odorless, market players can increase the exclusiveness of their portfolio by introducing new flavors. All-in-all, market players can look at a market value of ~US$ 1.8 Bn by the end of 2029.
Hydrolyzed Collagen Market Witnessing Growth Due to Radical Shift towards Sustainability and Longevity
Consumers continue to express health-oriented concerns, and are limiting the consumption of products that are perceived to have high levels of fat, calories, and sodium. They prefer nutritious and sugar-free, fat-free products. Hydrolyzed collagen provides an ample amount of proteins, and helps prevent multiple disorders, due to which, the demand for hydrolyzed collagen is increasing rapidly.
The hydrolyzed collagen market is expected to be valued at ~US$ 870 Mn in 2019, and is estimated to record ~7% Y-o-Y growth in 2019. The hydrolyzed collagen market is expected to be a profitable business for meeting the global demand for dietary supplements and cosmetics & personal care.
Increasing Demand for Cosmetics and Personal Care Products Boosting Hydrolyzed Collagen Market
Increasing consumer consciousness of products that provide various benefits and nourishing qualities to attain the perfect skin and body is boosting the demand for hydrolyzed collagen in the cosmetics and personal care industry.
Hydrolyzed collagen is used in baby oil, skincare, lotions, color cosmetics, hair care, and other products due to its multiple functionalities. Leading manufacturers in the hydrolyzed collagen market are investing in research & development to produce unique products in the cosmetic and personal care industry, and to sustain in the same industry.
The increasing aging population continues to boost the demand for anti-aging products. Hydrolyzed collagen is used as a primary ingredient in anti-aging creams due to its moisturizing and skin healing properties.
Hydrolyzed collagen heals skin conditions such as wrinkles, eczema, acne, and blemishes, and makes the skin smooth and lustrous.
Improving financial conditions across the globe are resulting in increased per capita expenditure on cosmetic and personal care products. The total number of working women and overall education rate is increasing, which helps in increasing per capita income.
Due to urbanization and changing lifestyles, individuals are concentrating more on personal hygiene, due to which, the demand for cosmetic and personal care products is increasing.
Growing Commercialization of Hydrolyzed Collagen-based Drug Delivery Systems
Hydrolyzed collagen liposomes, sponge, microspheres, shields, and nanoparticles constitute some of the hydrolyzed collagen-based drug delivery products employed for various diseases.
Liposomes and nanoparticles constitute novel forms of hydrolyzed collagen-based drug delivery systems pertaining to sustained release. Furthermore, hydrolyzed collagen is extensively used in the encapsulation of active pharmaceutical ingredients (APIs), and render protection from disintegration in acidic gastric juices.
Liposome has superior carrier possessing capabilities to encapsulate both, hydrophilic and lipophilic drugs, and render protection from degradation. Also, hydrolyzed collagen renders better absorption rates and can act as an efficient solubilizing matrix. Liposome gel formulations perform better than conventional formulations, leading to better patient compliance and improved efficacy.
These benefits result in the increased acceptance of hydrolyzed collagen-based liposome drug delivery systems, which, in turn, is driving the hydrolyzed collagen market. Protein-based nanocarriers prove to be beneficial in comparison with other synthetic polymers based on low toxicity, non-antigenicity, high stability, and high nutritional value parameters.
Growing Popularity and Demand for Natural Ingredients
The changing lifestyles of consumers attributing to growing consciousness regarding health and wellness, and awareness concerning the negative impact of synthetic ingredients, are making consumers demand products that have greater transparency and are naturally-derived.
Manufacturers thus scramble to offer natural ingredients, especially for high-growth consumer product segments such as protein-oriented food products, cosmetics, personal care, and others.
Hydrolyzed collagen is naturally-derived from fish, pigskin, bones, and bovine hide, which is gaining good market transaction in the food industry and cosmetics & personal care products, owing to the growing consumer trend for natural products and ingredients.
Economic Development in BRICS Countries
In the past decade, BRICS countries and other developing countries have taken various measures to stabilize their economic condition. The middle-class population in these countries has been observed to be increasing at a faster pace.
A large percentage of the population has been influenced by the healthy food culture, where hydrolyzed collagen is used as an active ingredient in nutrition products. This has created new demand and opportunity for hydrolyzed collagen manufacturers to explore and invest in these countries.
Challenges Pertaining to FDA Approval for Hydrolyzed Collagen
The hydrolyzed collagen market is facing major challenges from the Food and Drug Administration (FDA). Owing to an increase in illegal nutritional and health claims made on product labels in advertisements as well as on the Internet, the FDA has strictly limited nutritional & health claims on product labels.
Hydrolyzed collagen provides vitamins. But those claims also require prior FDA review for efficacy, which includes significant scientific agreement. FDA conducts the proper testing of food products before issuing an approval. Companies cannot sell food products in the market without FDA approval.
Global Hydrolyzed Collagen Market: Competition Landscape
Key players operating in the hydrolyzed collagen market, as profiled in the study, include
Gelita AG
Rousselot
Nitta Gelatin, Inc.
Hainan Huayan Collagen Biotech Co. Ltd
Nippi Collagen
NeoCell Corporation
Giant Sports International Inc.
Beijing Semnl Biotechnology Co, Ltd.
Codeage, Amicogen, Inc.
BioCell Technology LLC
Weishardt
Antler Farms
Connoils LLC
Perfect Supplements