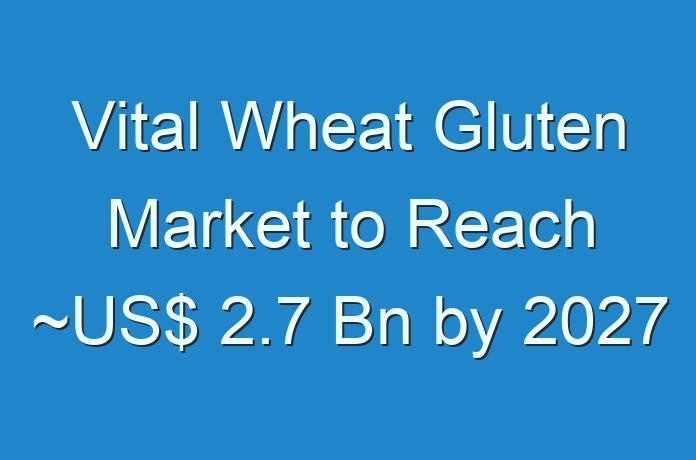 Vital Wheat Gluten Market – Consumers' Quest for Protein to Create Sustained Growth Opportunities
The global vital wheat gluten market will rise from ~US$ 2 Bn in 2019 to ~US$ 2.7 Bn by 2027, as market players mark the rising proclivity of consumers for protein-fortified products. Consumer sentiments oriented towards vegan food will give impetus to the vital wheat gluten market, as plant-based protein is the sole source of protein for the vegan populace.
With health being at the center of innovation, vital wheat gluten has already carved a niche of its own in the bakery industry. Further, the nutraceutical industry is also highly likely to catalyze the revenue of the market, as consumers are seeking nutrition outside their plates. However, an interesting aspect of vital wheat gluten is its penetration in the pet food and animal feed segment. Though currently at a budding stage, this trend is likely to grow in terms of popularity, owing to the rich protein content of vital wheat gluten that is essential for the overall well-being of pets and cattle.
Vital wheat gluten is also gaining a place of prominence in the diets of bodybuilders and athletes who suffer from celiac disease or gastric and bloating problems. With sustained demand for vital wheat gluten ascending from numerous end users, manufacturers are evincing interest in manufacturing clean-label and organic products to improve their sales prospects.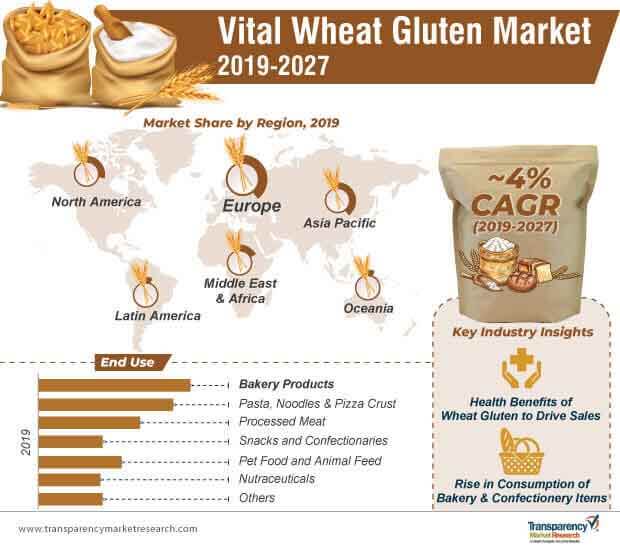 To understand how our report can bring difference to your business strategy, Ask for a brochure
Popularity of Entomophagy Culture – A Divergence to Steady Market Growth
There has been heated debates across the world regarding the risks associated with cultivating and consuming genetically modified foods. Owing to such disparities, regulations regarding testing and approval procedures vary in different countries. As a result, the lack of a standard procedure is likely to limit the exposure of market players in other markets.
REQUEST FOR COVID19 IMPACT ANALYSIS –
https://www.transparencymarketresearch.com/sample/sample.php?flag=covid19&rep_id=17528
In addition, some countries even have a ban in place on the cultivation of GMO crops, which is likely to hamper the production of vital wheat gluten. For instance, in October 2015, a regulation was passed by the European Commission proclaiming that member countries must abstain from the production of GMO crops.
Yet another key impeder to steady market growth is the accelerated movement of the 'entomophagy' culture. As the never-ending quest for protein is drifting manufacturers towards new sources of protein, including even insects. A number of literatures are coming to light that quantify the nutritional value of cricket flour, along with its protein profile, which has instigated a shift towards the newly-discovered protein source, away from vital wheat gluten.
Request a sample to get extensive insights into the Vital Wheat Gluten Market
Opportunities Abound for Market Players in Cosmetics and Personal Care Industry
Lucrative opportunities await market players, as consumers seek organic products, not only on their plate but also for entire well-being, and the positive impact of vital wheat gluten is inundating the cosmetics and personal care industry. This has encouraged market players to experiment with formulations and develop skincare and hair care products.
In recent times, vital wheat gluten is witnessing voluminous adoption for the formulation of cosmetic products that improve the quality of the hair and skin. Given the fast-replacement of ingredients in the highly competitive cosmetic industry, market players can collaborate with end users to ensure a streamlined supply of vital wheat gluten.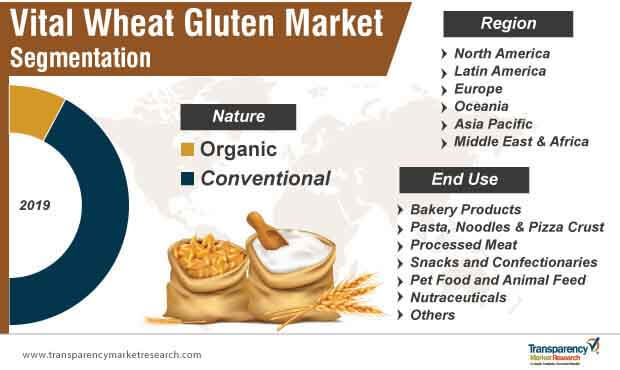 Stuck in a neck-to-neck competition with other brands? Request a custom report on "Vital Wheat Gluten Market"
Analysts' Viewpoint
Authors of the report opine that, the growth trajectory that of the vital wheat gluten market will be a moderate one, with concerns regarding gluten and GMO-based food products. However, a shift towards veganism and vegetarianism will enable channeled sales opportunities for market players. Analysts also believe that ease of availability will be a crucial key to market success, which can be achieved by entering into partnerships with online as well as offline retailers. Market players can also capitalize on consumer sentiments towards healthy products through effective and clear brand communication. Collaborations and partnerships with end users as well as distributors will remain integral to thrive in the vital wheat gluten market during the forecast period.
Globally, the revenue generated by the vital wheat gluten market has been estimated to reach ~2 billion in 2019 and is expected to expand at a CAGR of ~4% in terms of value throughout the forecast period.
Asia Pacific is expected to hold a major value share in the global vital wheat gluten market, owing to the increased consumption of bakery products in the region.
In the global vital wheat gluten market, Asia Pacific is projected to represent ~25% of the market share over the forecast period. This is attributed to flourishing HoReCa chains in the region, subsequently propelling the growth of the bakery industry.
India is expected to be a prominent market, growing at a value CAGR of ~7% over the forecast period. This is due to the expanding food and beverage market, and also the establishment of global food players in the country. The market in China is anticipated to grow at a lucrative growth rate over the forecast period as well.
Usage of Wheat Protein in Bakery & Confectionery Industry to Create Significant Opportunities
Vital wheat gluten has maximum usage in bread making. Vital wheat gluten forms as soon as water is mixed in flour. During the mixing process, a constant network of protein formula provides the dough strength and elasticity, while maintaining its shape.
By holding the gas that is produced during the fermentation process, the protein network helps the bread rise. These two purposes of protein network are what give bread its chewy texture.
Foods such as cakes, muffins, crackers, bagels, pasta, and bread are some food products that hold vital wheat gluten constituents.
Increasing Demand for Vital Wheat Gluten as a Protein Source
Major concern among vegetarians and the populace following a vegan diet is lack of sufficient protein. However, certain plant foods such as vital wheat gluten hold significantly more protein properties than others.
For instance, Seitan is simulated meat made up of vital wheat gluten. The high protein content it holds along with meat-like versatility and texture makes it a popular plant-based protein among several vegetarians and vegans.
Teff and spelt are ancient grains with high-protein, and are an essential source of many minerals and vitamins, besides being great alternatives to other grains.
Ezekiel and various other related breads are made up of sprouted grains, which hold an enhanced nutrient and protein profile as compared to other traditional breads.
Celiac Disease Triggered by Vital Wheat Gluten to Significantly Hamper Market Growth
The prevalence of celiac disease triggered by vital wheat gluten is on the rise, and many people are still undiagnosed. Vital wheat gluten holds two proteins, namely, glutenin and gliadin, with gliadin causing the most negative impact on humans.
When vital wheat gluten reaches the digestive tract, it gets exposed to the cells of the immune system, which misunderstand it as a foreign invader, such as bacteria.
People sensitive to vital wheat gluten face increased risk factors. Celiac disease is the most crucial effect due to vital wheat gluten sensitivity, as the immune system fights the vital wheat gluten proteins as well as attacks enzymes in cells of the digestive tract, which is known as tissue transglutaminase.
Immune response can lead to the worsening of the intestinal wall, resulting in failure to thrive, fatigue, anemia, several digestive issues, nutrient deficiencies, and development of more crucial diseases.
Vital Wheat Gluten Market: Competitive Landscape
The vital wheat gluten market has become very competitive over the years, and manufacturers operating their businesses in the vital wheat gluten market are using aggressive strategies for growth and expansion.
Mergers and acquisitions are used by small/local/regional players of different regions to expand their sales footprint. With mergers and acquisitions, companies aim to gain brand value and trust, which is expected to increase net sales.
Besides, these also help them in expanding their regional presence into untapped markets. Manufacturers are emphasizing on novel, innovative products and technologies to enhance the protein content in their vital wheat gluten.
Hence, many manufacturers have established cutting edge technologies. These facilities are more automated and have higher efficiency, enabling manufactures to cater to the burgeoning demand with utmost satisfaction.
Key players operating in the vital wheat gluten market, as profiled in the study include
Puratos
Blattmann Schweiz AG
Tereos Syral (Tate and Lyle)
Beneo
Crop Energies AG
Bryan W Nash & Sons Ltd.
Roquette Amilina, Ab
Kröner-Stärke GmbH
Pioneer industries Limited
Z&F Sungold corporation
Manildra Group
Archer Daniels Midland Company
MGP Ingredients Inc.
others.
Vital Wheat Gluten Market: Key Developments
Some of the key developments seen in the vital wheat gluten market during the past few years are as follows:

Archer-Daniels-Midland Company is one of the leading players, applying aggressive acquisition strategies to expand its business. For instance, in January, the company agreed to acquire the remaining 50% stake in British grain merchant, Gleadell, from InVivo, and in July 2017, ADM acquired Chamtor, a producer of wheat-based sweeteners and starches.
To expand its global presence, BENEO opened a new subsidiary, BENEO India Private Limited, in New Delhi, in Oct 2016.