Millennials' New Definition of Luxury to Trigger 'Smooth Sailing' for Yacht Charter Market
The global market for yacht charters is mainly riding on the coattails of increased disposable income of consumers and the millennial generation's changing definition of luxury. The unique character traits of millennial buyers, which include highly adventurous, financially frugal, and environment-friendly, make them the target consumers in the yacht charter market.
High purchase capital and extravagant cost of ownership of yachts is pushing cost-conscious millennials towards the more cost-effective option of yacht charters. Instead of buyouts, young consumers are preferring to charter a yacht for a luxurious adventure, and this is contributing to the growth of the yacht charter market. Furthermore, consumers looking for luxury and comfort on their travel are shifting their preferences from booking a luxury hotel to chartering a yacht, which is also expected to emerge as a lucrative trend in the yacht charter market.
Purchase our Premium Research Report At:https://www.transparencymarketresearch.com/checkout.php?rep_id=11225&ltype=S
Transparency Market Research (TMR) recently conducted a detailed market research to study the changing consumer trends that may influence the growth of the yacht charter market. It includes comprehensive explanation on which factors are driving the yacht charter market, and how stakeholders can benefit from the changing market trends to maintain their lead in this landscape.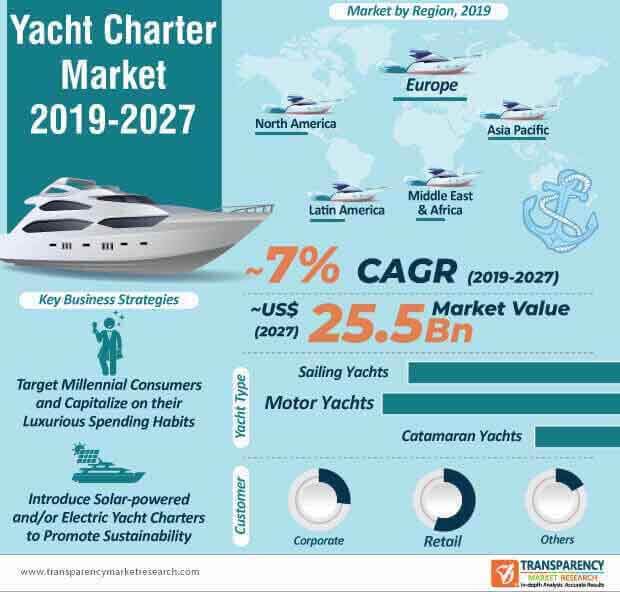 Preference for Motor Yachts and Catamaran Yachts Influence Market Trends
In recent years, the number of travelers opting for nautical vacations has increased significantly, worldwide, and their preference for luxurious yacht charters has triggered the global market to surpass a valuation of US$ 13 billion in 2018. Modern travelers are making careful decisions regarding which type of yacht to charter, which is dictating market players' strategies to leverage the rise in nautical travel and tourism across the world.
In 2018, more than 40% revenue share of the global yacht charter market was accounted for by motor yachts, and this value is likely to reach nearly half the revenue of the market by 2027. The suitability of motor yachts with various parameters of travelers' choices of vacations, such as destination, weather, water sports activities, and specific needs about deck space, is one of the most important factors that justifies end users' preference for chartering a motor yacht.
To understand how our report can bring difference to your business strategy, Ask for a brochure
However, the popularity of multihull yachts or catamarans is also increasing at a significant rate among travelers. With the increasing number of corporate customers in the yacht charter market, the demand for bigger and multihull yachts is expected to surge.
Market players are noticing a rising proclivity toward highly luxurious catamarans among corporate as well as retail customers, and consequently, they are increasing the availability of multihull yachts with lavish amenities such as gymnasiums, Jacuzzis, and helidecks. In the coming years, leading players in the yacht charter market are expected to adopt strategies to ensure the availability of various types and sizes of yachts to perfectly meet end user requirements, in order to win in this landscape.
Get More Press Releases by TMR: https://www.prnewswire.com/news-releases/high-demand-from-the-thriving-construction-industry-to-boost-global-telematics-in-heavy-equipment-market—tmr-301240536.html
Stakeholders' Focus to Shift from Europe to Asia Pacific with Attractive Charter Destinations
While the global yacht charters landscape is set to expand at a CAGR of ~7% from 2019 and 2027, the regional market in Asia Pacific is expected to witness the fastest growth of over 9%, to reach a value of ~US$ 6 billion by 2027. Increasing disposable income of consumers in developing Asian countries, coupled with the rising number of charter destinations in the region, is expected remain the linchpin for the growth of the yacht charter market in Asia Pacific. Though Europe accounts for nearly half the revenue share of the global market, the demand for yacht charters in Asia Pacific is likely to hold nearly one-fourth market share by 2027.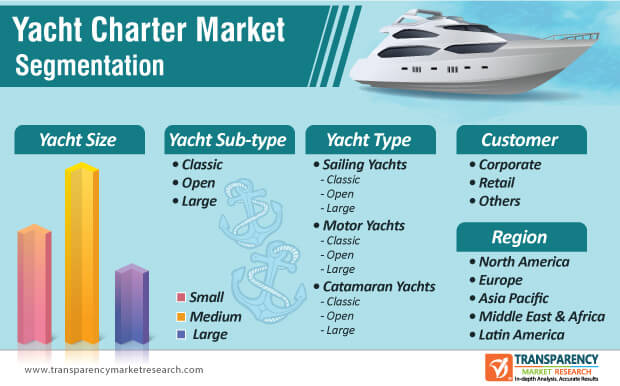 Global Yacht Charter Market – Key Insights
The global yacht charter market is estimated to expand at a CAGR of ~7% from 2019 and 2027.
The medium size yacht segment held a leading share of the market; however, the large yacht segment is anticipated to expand significantly, due to a surge in the demand for superyachts and mega yachts.
Consumer trend is shifting from ownership to charters to avoid maintenance and operational costs.
Rise in tourism in remote areas such as Alaska and the Micronesian islands is anticipated to further propel the yacht charter market. Increased consumer spending on luxury travel and emergence of newer business models such as trip sharing are anticipated to drive the yacht charter market. 
Drivers of Yacht Charter Market
The yacht charter market is expanding rapidly, as it is a more cost-effective solution than ownership, and chartering a yacht saves year-round maintenance costs.
A majority of yacht charter customers are high net worth individuals (HNWI). Rise in the number of HNWIs is projected to drive the yacht charter market. Countries in Asia Pacific, such as India, South Korea, and China, are witnessing significant increase in the population of HNWIs. Stable economic conditions and high interest in travel and luxury among HNWIs are estimated to drive the global yacht charter market.
Governments across the globe are investing in tourism infrastructure, which is anticipated to further propel nautical tourism and boost the yacht charter market.
Rise in consumer participation in watersports & sailing and increased spending on leisure & luxury travel are driving the yacht charter market. 
Challenges for Yacht Charter Market
A yacht is needed to be registered under a country of choice, and subsequently, has to comply with the maritime law of that country, called flag state. The flag state limits and defines the arrival of yachts registered with other countries. Global registration is required to sail and charter the yacht, worldwide, which demands higher registration charges and taxations.
Limitations of cross border operations and requirement of skipper license are some more challenges to the yacht charter market.
Chartering of a yacht is subject to weather and season. Europe and North America witness low demand during the winter months, while Asia Pacific witnesses low demand in the monsoon season.
Yacht Charter Market: Key Segments
Based on yacht type, the motor yachts segment held a leading share of the yacht charter market. Demand for high-speed yachts and modern yacht hull designs is high among customers. Catamarans are also expected to witness high demand, as they offer significantly large space and provide greater stability. Catamarans offer more ride comfort, and cruise and anchor in waters where other monohull yachts find difficult to wade. Catamarans are safer due to their structural design, which enables anchoring in shallow waters and near shades and beaches.
By yacht sub-type, the open yachts segment held a prominent share of the global yacht charter market, as they are widely preferred for day-cruising and tours. Open yachts are generally small in size, and prove cost-effective for a one-day tour. Classic yachts are traditional and vintage water vessels that are refitted with modern amenities. These yachts are being increasingly preferred for their elegant appearance and amenities to host personal and corporate events.
In terms of yacht size, the medium yachts segment held a leading share of the yacht charter market, and is expected to further witness a rise in demand, as they are highly suitable for a week-long tour or excursions. The large yachts segment accounted for a relatively minor share of the global market due to their high charter price.
Based on customer, the retail segment held a leading share of the global yacht charter market. Retailers or travel agents are being approached by customers to finalize charter deals so as to save the hassles of finding, negotiating, and fixing a charter. Retailers have business tie-ups with charter companies, and hence, offer better monetary discounts. The others segments, which includes individual tourists that can directly approach and book a yacht charter, online, before arriving at the destination, and also have the liberty to compare and research other yacht charter packages. The advent of online networking and advertisements by charter companies has boosted the online yacht charter segment. 
Global Yacht Charter Market: Regional Analysis 
In terms of region, Europe held a leading share of the global yacht charter market.
Europe has a scenic and significantly large area ideal for sailing, and the region is a key destination for luxury charters around the world. Europe is a prominent tourist destination, and has vast expanses of coastal areas. The Mediterranean Sea is a key destination as far as global nautical tourism is concerned. Areas around the Baltic and Nordic seas also witness high demand for charter yachts.
Europe is followed by North America, with high consumer interest in watersports and the presence of a large number of high net worth individuals in the region. 
TMR has a track record to provide ace market research solutions that has earned us the trust of our clients for their business intelligence needs. Serving 13 industry verticals with a database of over 1,000 reports and 1 million + data points, our expanse to provide market research solutions is exceptional. We deep dive for a thorough understanding of the subject, gather precise information, and then analyze it to present solutions that are par excellence.
Contact us:
Transparency Market Research
State Tower,
90 State Street, Suite 700,
Albany NY – 12207,
United States
Tel: +1-518-618-1030 Email: [email protected]
Website: https://www.transparencymarketresearch.com
https://todaysmarkettrends.wordpress.com