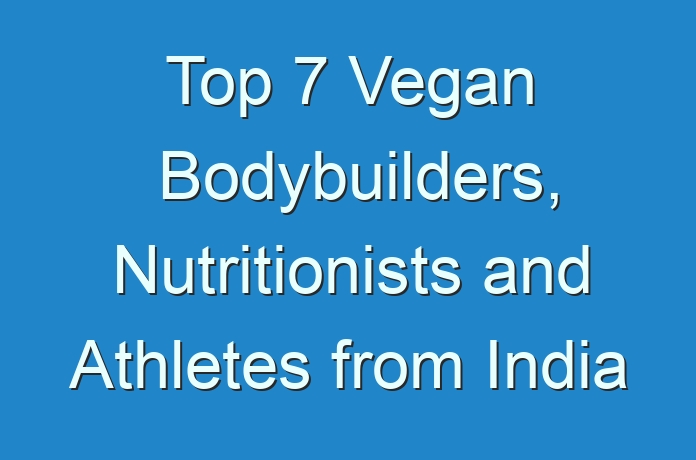 Did it hit you while watching Dangal, two innocent girls breaking their religious practice and their mum not wanting them to do so, who now are world class trainers? That scene wouldn't have been heart-breaking if there was one myth breaking example back then. Breaking this stereotype, taking a chance to create an example that people don't possibly believe in, this list of vegan experts will inspire you to switch to a plant- based diet.
Indian food is heavy on dairy in general. But these experts will make you think otherwise. Milk once a staple is quietly being replaced with nut mylk for years across the globe, with consumers growing more aware of intolerances and the dairy industry's adultrated practices coming to the spotlight, a change was bound to happen.
While it was always believed that ghee, meat and dairy are the only source to gain muscle mass and imporve stamina, a herbivore or a non- diary consumer can never sustain or gain a body that can compete nationally. Incorporation of meat and dairy was considered mandatory in a diet of an athlete or bodybuilder, today we have living proof that a plant- based diet is actully not sustainable but better for bodybuilders. Athletes thrive on a plant- based diet. Lets take a closer look at some experts.
Roshni Sanghvi, India's first female athlete to compete on a plant- based diet nationally and sports nutritionist.
 "fit is not a destination, it's a way of life"
Raised a vegetarian, she transcitioned to a plant- based diet for health reasons. Bring in the fitness industry herself and running a chain of fitness centers, competeing on a national stage only came naturally to her. The only thing different though, was that she decided to do this on a high carb plant- based diet.
Today, Roshni works with people across the globe as a body transformation specialist, helping clients transcition to a plant- based diet. Her yummy smoothie recipes (free on her weboage) are to die for! She makes cooking easy and fitness fun. For any new vegan, her blogs offer a plethora of information to get you started. She creates plant based programs for fat loss and muscle gain for a lot of her clients and convert them to a plant based eater.
Abhishek Thevar, A vegan bodybuilder – 
" An athlete needs 1.2-1.8 gms of protein per kg of the body weight, which can be covered with a vegan diet."
Abhishek wears several hats – dancer, trainer and overall life- lover.  He has religiously stuck up with vegan diet even in times doctor recommended to go against it , due to a severe injury. Resultantly, he has proved us all that plant-based diet helps in faster recovery.
If you want pure motivation on how much a body can achieve on a plant- based diet and through sheer dedication, Abhishek is your guy. His diet comprises of a lentils, beans and grains. One really does not have to go too fancy with their plant based diet's, just go back to eating like our grandparents used to.
Nikita Solanki, a yoga instructor and Triathlon – "The magic of Veganism is to eat a lot, yet feel light."
She juggles between Swimming, cycling and running as a Triathlete and cannot function without doing yoga a day. She has designed a meal plan promptly, keeping a fair space for indulgence. Nikita aspires to participate in Amateur MMA fight and Ironman, a true Warrior Yogini mindful of ethics and environment.
As an endurance athlete, Nikita will show you not only to survive on a plant- based diet, but rather how to thrive on a diet that is void of animal products. From her heart, she is a true animal lover, but her ambitious spirit is amonst contagious.
Amit Mehta, Entrepreneur, Unived vegan sports nutrition products –
"Take a 2-week test, it doesn't take your body longer to adjust to a cleaner diet. Your body will talk to you and will start appreciating it."
Yes! Steadily over time your body will thank you, with a cleaner diet one definitely feels healthy. Amit believe that working on your health before something irreversable happens is absolutly vital.
Amit started going to the gym early on, in his teenage. After being introduced to Veganism, there was no going back for him. He is the founder of a plant- based startup called Unived. Unived is a one stop shop for all plant- based supplements and superfoods. With plant extracted B12, D3, Pea Protein and every nutrition product, Unived is a must visit site if you are in India.
Sathish Waran, Fitness Trainer and International Table Tennis Player – "It is absolutely possible to indulge in any form of fitness you wish to, while enjoying a delicious and wholesome vegan diet."
An international Table Tennis player and runs a venture, Fit-O-Crazy that focuses on boosting physical and mental health. Sathish also makes time to rescue animals.  He's inspiring in many ways !
Sathish transcitioned to a plant- based diet for the animals and has not looked back eevr since. Now education people about the benefits of a plant- based diet, he is a motivation to many others.
Aditi Kakkar, 3rd Crossfit games India – " Take things one at a time, also thank the
"Heavens for every bit of sunshine today!"
Aditi is the nations pride. Competing internationally among top athletes, she has made a mark with her skill. CrossFit is an annual athletic competition and Aditi has secured her place in the top three to represent from India. Gym is her happy place, pushing her limits and establishing new records makes her today better than yesterday. She calls herself a deity and truly is one.
Her plant- based diet is a true example of how proper nutrition is absolutly essential for any athletes. She thrives of her vegan diet inspite of nay- sayers.
Malaika Budhiraj, 15th Crossfit Games India – "Our body is a forest, no matter how devasted it gets, it'll always grow back."
With the title 15th Fittest in the Crossfit games, she also juggles with being a coach, an ambassador and an amateur chef.
She enjoys and encourages fancy vegan deserts and coffees, and finds weight training therapeutic.
The fact that these fighters are doing the same thing as others who consume meat and dairy, promoting environment and ethics on the way of their journey, is highly commendable. It takes a lot of work, countless hours of working out, meal prepping (which might get a little repetitive with their highly hectic schedules), cutting out meat and dairy in conjunction with a proper workout regime.
These 7 gems are using very efficient way of activism and debunking myths whilst standing out with their achievements and reinvesting all their power to make world a better place.