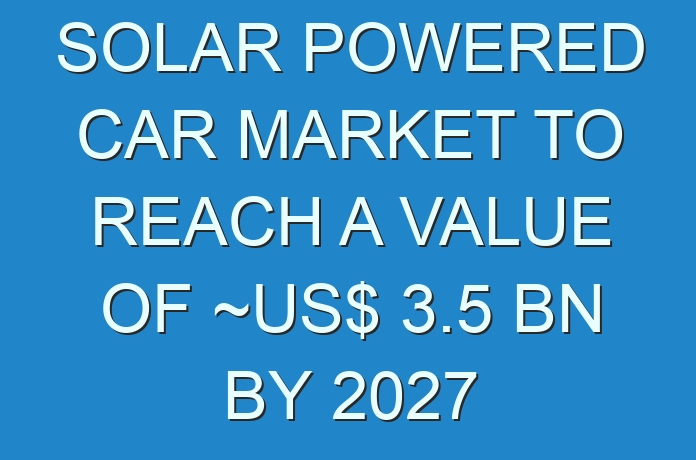 Solar Powered Cars Shaping the Automotive Future with Renewable Energy
The automotive industry has been going through a sea of change since the advent of newer technologies that have transformed how vehicles are designed and manufactured. Companies are now focusing extensively on the impact of cars that run on fossil fuels, and are moving towards renewable energy sources.
Ongoing activities to discover innovative technologies that can mitigate the carbon footprint of conventional vehicles have increased the demand for 'cleaner' and 'greener' cars. However, solar vehicles that are viable for individual use have not yet hit the road. This has opened up a major opportunity for auto manufacturers to gain the first mover's advantage in the solar powered car market, which is likely to hit the ~US$ 1 billion mark by 2023.
Looking for Customized Insights to build your business for future, ask for a sample report here
Leading automotive companies as well as new businesses are concentrating on introducing prototypes and demo cars, which are expected to reach the market by 2023. Stakeholders are currently focusing on introducing solar powered utility vehicles with compact, minimalistic, as well as aesthetically appealing designs. However, the integration of solar technology is likely to be observed more commonly in hatchbacks and sedans in the coming decade.
Lightyear – a start-up based in the Netherlands – released the design of its first fully-electric, solar car – Lightyear One, in 2017, and important sketches of new improvements for the front and rear of the car were released in January 2019. The company announced that, it is focusing on developing pioneering technologies to introduce low-cost, energy-efficient, and low-maintenance solar powered cars that have a longer lifecycle than conventional vehicles, tapping into the commercial potential for its business.
Another company to have entered the solar powered car market with a design and a production plan is German start-up – Sono Motors. After carrying out multiple crowd-investing campaigns and financing events, the company released the first images of the design of its first solar electric car – Sion's series, in 2019, and announced that it will commence production in the fourth quarter of 2019. The company also declared that, it is mainly concentrating on embedding full-surface integrated solar cells in hard-wearing, resilient polymer, while improving the design aesthetically with optimized color matching.
Furthermore, key players are collaborating within and outside the automotive industry to keep abreast of this fairly new business landscape that is changing with technologies. In August 2019, Lightyear announced that, it collaborated with Granstudio – a car and mobility design studio based in Italy – to partner with its in-house aerodynamics and design teams, to meet the technical performance requirements of Lightyear One. In January 2019, Sono Motor announced that, it partnered with Bosch to leverage its technological expertise in enhancing the design of Sion's central control unit, and to introduce a software-based solution for the car's intelligent networking.
Looking for exclusive market insights from business experts? Request a Custom Report 
Falling Prices of Solar Panels Could Mean a Resurgence in Adoption of Solar Energy
Another important factor that is likely to contribute to the growth of the solar powered car market is the fall in the prices of solar panels around the world. This fall in prices, most significantly in the last decade, is expected to spark a surge in the adoption of solar energy more readily. Even as the demand for solar panels is greater than the supply, there is a rising demand for renewable sources of energy being integrated into everyday lives and systems.
Along with technological advancements, this resurgence to switch to cleaner energy is set to increase the efficiency of solar powered cells, which is likely to boost the growth of the solar powered car market.
The Push for Cleaner Air and Climate Change to Boost Market Growth
According to the World Health Organization (WHO), 4.2 million deaths were recorded in 2016 as a direct result of ambient air pollution. This has led to a surge of interest in the adoption of renewable sources of energy. The increasing negative impact of fossil fuels, in conjunction with the growing preference of people to cleaner sources of energy, is likely to boost the growth of the solar powered car market during the forecast period.
Governments around the world are encouraging stakeholders in the renewable energy market, though sanctions and initiatives, towards solar powered cars over conventional fossil fuel vehicles. Worsening air quality and rampant land & noise pollution is expected to lead to significant steps by governments around the world to keep a check on energy consumption and reduce emissions.
This comes in the wake of the recent summit on climate change in 2018, to emphasize on the impact of carbon emissions on the environment and regulate pollution levels around the world. This is expected to have a positive impact on the solar powered car market, as electric cars are an important factor in meeting the objectives related to global climate change.