In recent times, the most effective flood monitoring and warning systems extend beyond qualified staff to include telemetry equipment and gauges meant to receive the earliest sign of a flood. Numerous government organizations are coming forward to integrate flood warning systems near water bodies to predetermine the severity of floods and prevent the loss of life and property. The U.S. Geological Survey entered into a partnership with the National Oceanic and Atmospheric Administration to install flood warning systems across the country. Analyzing the steady flow of deployments, analysts of Transparency Market Research (TMR) estimate that, by 2027, the real-time flood monitoring and warning system market will arrive at a value of ~US$ 277 Mn.
Since 'efficiency' is of utmost importance in such systems, market players need to go by the quality standard book to deliver accurate outcomes. Hands-on experience on neoteric wireless technologies, including RF, GSM, and GPRS, in order to serve the best interest of end-users, will lead market players towards consolidation.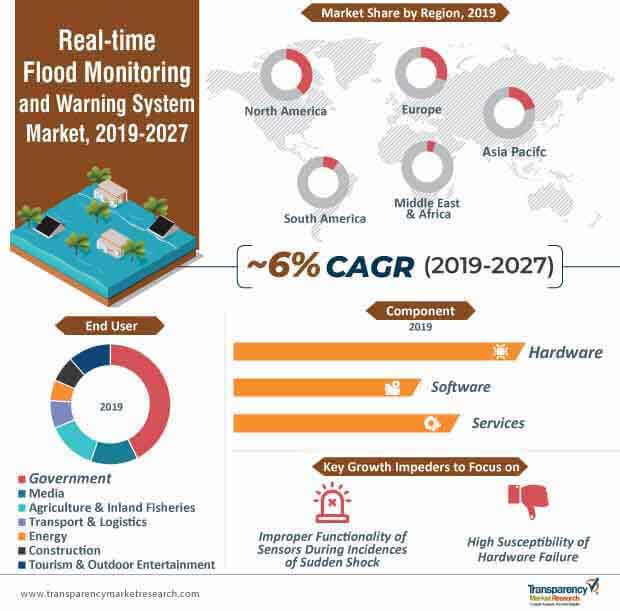 Request a sample to get extensive insights into the Real-time Flood Monitoring and Warning System Market
Two Deployment Dilemmas that Await Technological Advancements
Amidst the above-average growth of the real-time flood monitoring and warning system landscape, market players need to be on their guard to map a seamless odyssey towards a consolidated position. One of the challenges being the failure of sensors when dust covers their surfaces. Since flood monitoring sensors are being installed inside as well outside the ground and water levels, there are high chances of dust layering on monitoring sensors, which could lead to inaccurate results.
To understand how our report can bring difference to your business strategy, Ask for a brochure
Another key challenge to the deployment of these systems is the incompetency of monitoring sensors in operating during instances of sudden shocks. A sudden shock may result in a high reading or can even cause damage to these sensors, which could break down the structure of real-time flood monitoring and warning systems. Currently, the impact of these challenges is moderate; however, in the future, the development of advanced sensors will be integral in offering accurate outcomes.
Technological Leaps to Catapult Growth of the Landscape
The increase in emergency management technologies is instigating the horizontal industry – electronics and semiconductors industry – to enhance the functionality and effectiveness of hardware components. Hefty investments are made by governments towards the deployment of advanced monitoring systems to prevent losses of epochal scale. With R&D initiatives, manufacturers are coming up with advanced components to incorporate in real-time flood monitoring and warning systems, and achieve precise readings. For instance, highly-efficient ultrasonic sensors are fast replacing normal sensors on account of the inherent competency of ultrasonic sound to propagate through any media.
Recent trends show that, self-owned systems offer better economic value and feasibility, while leased or rented ones rank lower in terms of both. Since these real-time flood monitoring and warning systems observe significant deployment for public safety, governments are the crucial end user of the industry, and any efforts made by taking a 'government-centric' approach will lead to a higher market share. In 2019, the government segment will account for ~42% of overall sales, following which, the agriculture and inland fisheries segment witnesses a staggering rise in the demand for real-time flood monitoring and warning systems, owing to business needs.