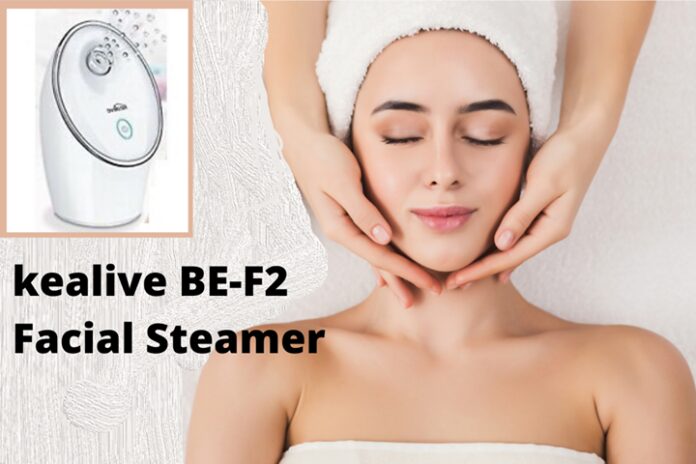 Do you have a wish to get a young looking skin? Who doesn't? Many would suggest you to go to a spa in a daily basis. But it is a bit costly. Well, you don't have to go to SPA since you can use Kealive facial steamer for this at home.
The Kealive Facial Steamer is one of the top-notch at home facial steamer available in a reasonable price. Beside this, the elegant modern look of this facial steamer will seek your attention also. Some special features such as deep cleansing with a flexible nozzle, smart shut-off feature, touch button etc make this steamer best fit for home use. If this content arise some interest in you and you want to know more about this device. Then you should go through the kealive BE-F2 facial steamer review for better understanding.
Detail and In depth – kealive BE-F2 Facial Steamer Review
What's in the box
Measuring Cup
Facial Steamer
Nano-steam Technology:
The most effective feature of this facial steamer is Nano-steam technology which is 4,000 times finer than the steam produced by other face steamer systems. It generates hot nano-sized steams sprays it from its flexible nozzle in 40 seconds. This nano-sized steam is very effective in cleaning the dirt, grime, and dead skin cells from the deep of the skin and will give your skin unlimited beauty.
Flexible Nozzle:
It comes with a flexible nozzle. The steam is sprayed from the nozzle of this steamer. Since the nozzle is adjustable you can steam in any part of your face comfortably.
Smart Shut-Off Features:
It is one of the important features in this steamer.It shuts off automatically if there is no water in the water tank. It is very important as it prevents our skin as well as the device also.
Specifications:
Voltage supply: 120V-60Hz
Output: 260W
Shipping Weight:4 pounds
Water tank supply: Max 90ml
Elegant design with smart touch button:
It is very stylish in looks. Actually, the design is a unique compared to other models in the market. The device is compact and sleek. And the touch button is the most attractive feature in this facial steamer. The button turns blue light at the time of spraying and turns red light when stop spraying.
Read More – Cinderella Solution Review
Comfortable warm steams:
The temperature of this steam is approximately 40℃ with ozone. User reviews show that the steam is very comfortable to use and the user has no complaint with the steams.
Improve blood circulation and reduce signs of aging:
Its hot steam effectively improves the blood circulation and naturally refreshing the skin. If you use it regularly it will reduce the signs of aging of your face. It also reduces sinus problems. So you will get a brighter and evener complexion after a few usages.
Long lasting steams:
It creates strong thick steams for 10 minutes. It is enough to effectively clean your of full face and get rid of impurities, including oil, grime, and dirt. So you can enjoy a 10-minutes Nano ionic SPA quality steaming at home.
Feature Highlights:
Long-lasting Steams
Flexible Nozzle and effective touch button
Improve blood circulation and reduce signs of aging.
Auto shut-off feature
Application/usage: Deep cleansing with Nano Steam Technology.
Warranty: 24 months warranty.
The Kealive Facial Steamer is covered by Kealive warranty for 24 months.
Pros of kealive BE-F2 Facial Steamer
The steaming process starts in just 40 seconds.
Produces thick, spa-like steam.
Easily adjust the direction of the steam with the flexible nozzle.
Warm, comfortable steam with ozone (see user reviews).
Automatic shut-off feature
Cons of kealive BE-F2 Facial Steamer
Why Should I buy Kealives Facial Steamer?
I am almost done with my kealive facial steamer review. Now it is your time to take the decision whether you buy it or not. But before buying this please consider my last suggestion. Take a look.
Firstly, If you are a new user then please go for this as it is the best first-time facial steamer I have ever seen and reviewed.
And secondly, if you are looking for an at-home facial steamer then you might go for this.