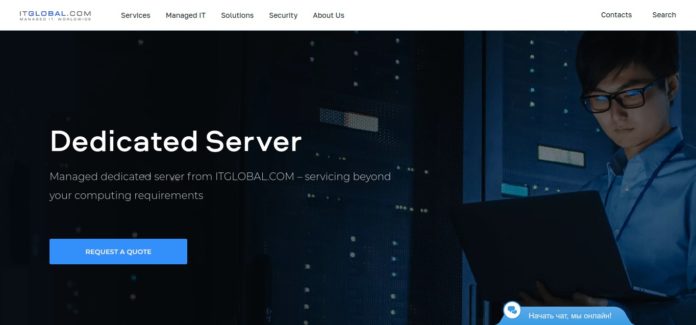 Infrastructure as a service better known as IaaS is an instant computing infrastructure, provisioned and managed over the internet. IaaS quickly scales up and down with demand, letting you pay only for what you use. It helps you avoid the expense and complexity of buying and managing your own physical servers and other datacenter infrastructure. Each resource is offered as a separate service component, and you only need to rent a particular one for as long as you need it. By streamlining infrastructure loaning, IaaS helps decrease costs a company may face for creating and maintaining their own infrastructure. ITGLOBAL helps manage the infrastructure, while you purchase, install, configure, and manage your own software—operating systems, middleware, and applications.
ITGLOBAL has power over 5 data centers in 5 countries, from the USA to Russia, and deals with 20+ partners and 1000+ corporate clients around the globe. They specialize in providing American and CIS data centers for Europe-based companies, allowing them to be utilized for a wide variety of tasks. Their servers are based on Intel Xeon Gold processors and allow users to create custom configurations.
So what does ITGLOBAL provide and why should you choose it over other services? ITGLOBAL provides its users with security and customizability when it comes to managing infrastructure. ITGLOBAL utilizes a high-level security frame to ensure full protection of your company's and customer's data. They allow you to manage and apply their services with the knowledge that your data will always be safe. The second biggest benefit of choosing ITGLOBAL is the exemplary and wide customization they offer. Providing users with an extensive array of configurations for your network allows you to design an exact network that is suitable for your system's needs and requirements and optimize its online performance. Your dedicated server and cloud infrastructure can be seamlessly connected to any other cloud or other environments, allowing you to operate your system on any platform.
Clients are given the exact storage that their system requires that takes into account their existing and predicted. Alongside modifiable storage, they offer analytical data storage solutions such as Storage Area Network, Network Attached Storage, Managed Backup. Database administration and monitoring of your system are performed by experts to ensure your system always is supported. They offer professional consulting services to ensure your system can run optimally and provide you with help regarding architecture design, advanced troubleshooting, and any other matters that you need assistance with. Data is the most vital aspect of any system and offering top-of-the-line storage facilitation makes ITGLOBAL a top choice for those who view data as a priority.
ITGLOBAL is a great choice for anyone requiring a sustainable and long-lasting infrastructure solution for their system. By providing secure data handling and high-performance management tools, their services allow your system to be run optimally.