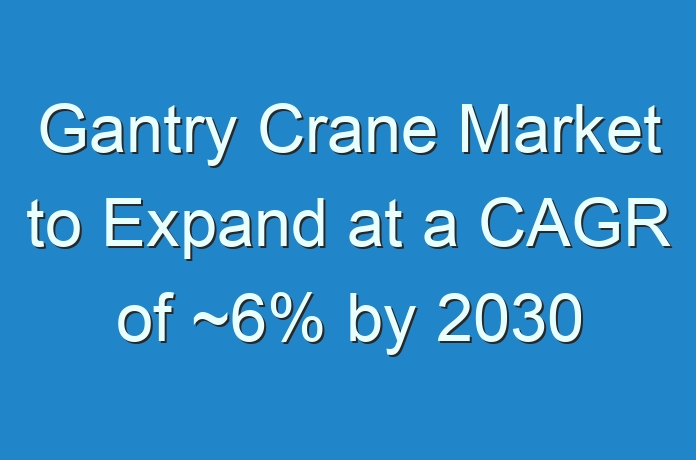 Enhanced Payment Collection, Credit Control Keep Economies Running during COVID-19
The coronavirus outbreak has weakened global demand conditions and made the demand environment uncertain, which has had a negative impact on order intake. Companies in the gantry crane market are scrambling to stay productive during the COVID-19 outbreak and maintaining business continuity for critical mission projects. Crane providers have cast their focus on stakeholders in the essential goods sector such as medical supplies and food.
Physical restrictions at production facilities to limit the spread of novel coronavirus are impacting revenue growth of the gantry crane market. Businesses are witnessing low revenue recognition, since major orders received from clients at shipyards and aerospace automotive companies have either been cancelled or postponed. Thus, crane providers are focusing on enhanced payment collection and credit control to keep economies running during the ongoing COVID-19 era.
Limitations in Size, Lifting Capacities of Gantry Cranes Affect Market Growth
Companies in the gantry crane market are increasing making crane solutions affordable to key income generating sectors, such as automotive, aerospace, and ports & shipping industries. As such, the market is slated to clock a healthy CAGR of ~6% during the forecast period. However, gantry cranes have limitations in their size and lifting capacity, and are likely to affect the growth of the gantry crane market. Hence, crane providers are educating their clients about safety ratings and advising customers to have a standard or above average span length before entering a purchase decision.
Turnkey Self-erecting Portable Overhead Cranes Eliminate Need for Skilled Personnel
The ever-increasing infrastructure development in emerging economies such as India and other developing countries is creating stable revenue streams for companies in the gantry crane market. The market is estimated to reach US$ 3.5 Bn by the end of 2030. As such, the revenue of automatic cranes is predicted for exponential growth during the assessment period.
Self-erecting portable overhead cranes are storming the gantry crane market. For instance, Air Technical Industries— a manufacturer of innovative specialty-type material handling equipment is gaining recognition for its revolutionary double or single girder gantry crane, which works on a push button and omits the need for skilled personnel.
Modular Designs in Gantry Cranes Establish Safe Manufacturing Processes for Clients
Companies in the gantry crane market are increasing the availability of high quality overhead cranes and hoists that are useful in construction, mining, and warehouse management applications. For instance, Loadmate— a crane dealer in Gujarat, India, is establishing robust supply chains for semi gantry cranes and rubber tired cranes to meet requirements of clients in utilities, metal, and mining sectors.
Innovations in semi gantry cranes and full gantry cranes involve the integration of vacuum beams, grapple attachments, and special hooks. Dealers in the gantry crane market are meeting demands for sustainable and safe manufacturing processes of customers. Modular designs in gantry cranes include a fuseless circuitry, which is making processes more safe and reliable for clients in various end markets.
Looking for exclusive market insights from business experts? Request a Custom Report 
High Tech Aluminum Gantry Cranes Facilitate Mobility, Operator Safety
Mobility and versatility of aluminum gantry cranes are being preferred by end customers. High tech aluminum construction of cranes are translating into revenue opportunities for dealers in the gantry crane market, owing to their operator-friendly handles for height adjustment. Equipment manufacturers are increasing the availability of compact and easily transportable aluminum gantry cranes that meet storage requirements of end users.
Lightweight, portable, and easy-to-use aluminum gantry cranes can be customized as per specific client requirements. In order to adhere to global industry standards, companies in the gantry crane market are conducting load tests before shipment of cranes. Operator safety, mobility, and simplicity in crane designs are translating into incremental opportunities for equipment manufacturers and dealers.
Read Our Trending Press Release Below: https://www.prnewswire.co.uk/news-releases/increasing-smartphone-penetration-to-help-global-charger-market-exceed-us-42-8-bn-in-valuation-by-2030-finds-tmr-845600083.html