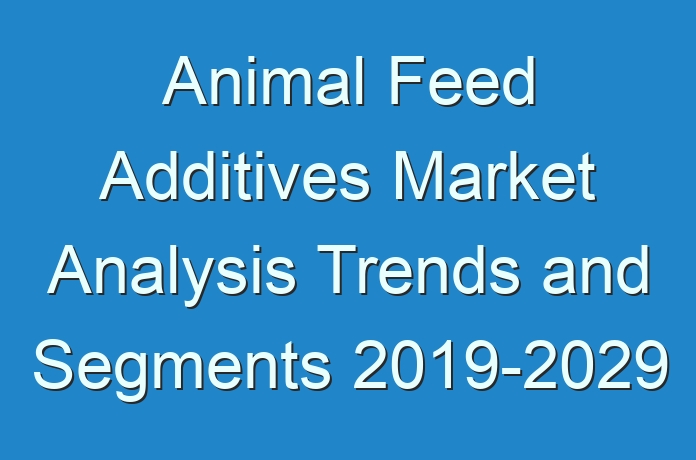 Animal Feed Additives Market: Overview
The revenue generated from the global animal feed additives market was projected to be valued at ~US$ 15 Bn in 2019 and is expected to reach ~US$ 18 Bn by 2029. Overall, the market is likely to show a CAGR of ~2% during the forecast period of 2019–2029.
Animal feed additives play an increasingly important role in animal nutrition. Animal feed additives seek those livestock producers who are looking for a sustainable and natural way to optimize animal feed conversion, improve gut health and enhance performance of their livestock, as well as address consumer demand for sustainable and high quality animal products.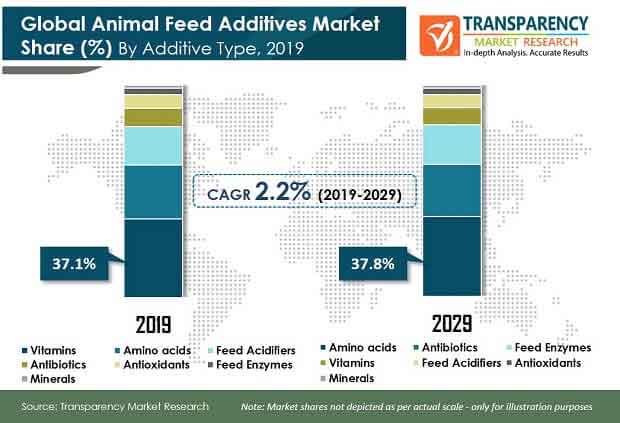 Request Brochure:
https://www.transparencymarketresearch.com/sample/sample.php?flag=B&rep_id=76155
Animal Feed Additives: Market Frontrunners
Animal feed additives are a class of products added to enhance the effectiveness of the feed. The function of animal feed additives is to boost the nutrient content of the feed, provide essential trace elements to the animals, stimulate appetite, improve gut microbial flora, eliminate disease causing microbes, and provide enhanced immunity against harmful microbes.
In terms of livestock, the poultry segment accounts for a larger share than others and this trend is expected to continue in animal feed additives market. The aquatic segment is expected to gain traction with a high growth rate during the forecast period, and is expected to lead in terms of demand in Asia Pacific and Latin America.

Fish is considered to supply an average of 15% of proteins consumed per-capita yearly to ~4.5 billion people. Low carbon footprint, high per unit yield, and unique protein and fat content have resulted in an increase in the consumption of aquaculture products. Asia Pacific is estimated to serve 90% of the global aquaculture demand, with a major share consumed by its domestic market only, making it the largest aquaculture market. Hence, aquatic segment is anticipated to provide strong market opportunity for animal feed additives.

The animal feed additives market in Asia Pacific excluding Japan (APEJ) is the largest in the world, accounting for almost one third of the global animal feed additives market. The APEJ region has experienced an exponential rise in population. Majority of this population consumes meat and seafood as a part of their staple diet, which is expected to drive the growth of the animal feed additives market in this region. Urbanization and growing health consciousness among consumers has led to a rise in the demand for an improvement in the quality of meat for consumption. Animal feed additives play a key role in enhancing the quality of animal feed and hence, the quality of meat. Thus, these recent developments are expected to drive the growth of the animal feed additives market.
More Trending Reports by TMR:
https://www.prnewswire.com/news-releases/growing-construction-activities-in-developing-countries-drives-demand-avenues-in-roofing-market-tmr-301146617.html
Animal Feed Additives Market: Trends
Bio-Derived Animal Feed Additives to Gain Significant Traction
Due to the recent outbreaks of diseases such as avian flu, and mouth and foot diseases, consumers in North America, especially in the U.S., have become cautious about the quality and safety of meat. In 2009, the U.S. Government took initiatives such as imposing a complete ban on the use of feed antibiotics as growth promoters, and started campaigns for increasing awareness about product efficiency and its proper usage. In the backdrop of this stringent regulatory scenario, the market for natural animal feed additives has experienced significant growth.
Buy Now:
https://www.transparencymarketresearch.com/checkout.php?rep_id=76155&ltype=S
Rising Demand for Organically-fed Poultry and Livestock Products
North America has increased its per-capita consumption of poultry as well as swine. Consumer demand for organic and natural foods has risen steadily. Respectively, the demand for technologies to improve animal performance through natural and organic solutions continues to increase. Direct-fed microbial feeds are gaining traction, as they play a vital role in improving nutrient absorption, feed digestibility, cost reduction, and offer better performance. Direct-fed microbial feed products are expected to gain popularity, as they are replacing antibiotics for improving health and performance of livestock, which creates immense potential for growth for the animal feed additives market in the future.