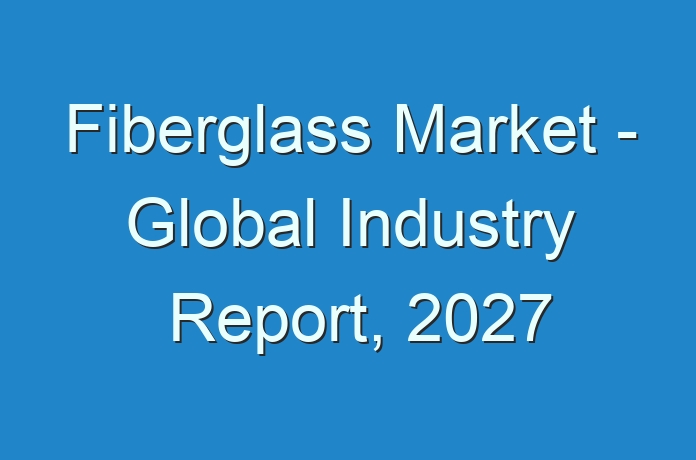 Global Fiberglass Market: Key Highlights
The global demand for Fiberglass stood nearly US$ 7.86 Bn in 2018 and is projected to reach over US$ 11.92 Bn by 2027.  High demand from fiberglass from automotive segment as it acts as a lightweight material and enhances the fuel efficiency is likely to boost fiberglass market during the forecast period.
In terms of volume, global Fiberglass market is anticipated to reach more than 7,800 Kilo Tons by 2027. Carbon fiber is competent substitute to the fiberglass market is projected to impact the growth of fiberglass market in the coming years.
Globally, automotive application dominated the consumption of fiberglass with more than 25% among other applications such as construction, wind energy, aerospace & defense, sports & leisure, marine, pipes & tanks, etc.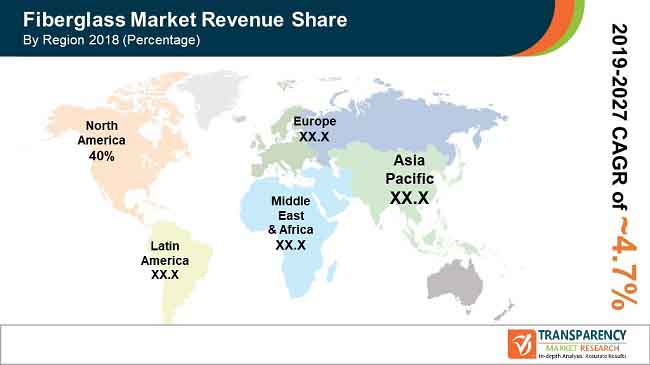 To gauge the scope of customization in our reports Ask for a Sample
Global Fiberglass Market: Key Trends
Growth in renewable energy, especially wind energy, is the major driving factor for fiberglass as it is widely used wind turbine blades. Carbon fiber is a major threat as it is a very good substitute of fiberglass. Carbon fiber is lighter in weight compared to fiberglass, however, it is far more expensive.
Fiberglass has ample applications in automotive industry mainly into components such as exhaust systems, fenders, floor panels, headliners, etc., in interior, external, power train segments
In the construction industry, fiberglass is used in mesh fabrics that prevent cracks in interior walls, in floor covering, wall covering, in self-adhesive dry wall tapes, waterproofing frit, etc. There has been a significant rise in modern architecture in recent years, leading to the development of modern materials, which complement the art without compromising on the stability and strength of the structures formed.
The International Building Code (IBC) has defined fiber-reinforced polymer (FRP) materials as a part of the prescriptive. Therefore, apart from interior and specific exterior applications, FRP can be utilized above the fourth floor as a construction and architectural material. This is estimated to drive the fiberglass market.
Get an idea about the offerings of our report from Report Brochure
Global Fiberglass Market: Segmental Insights
E-glass provides electrical insulation, S-glass provides high strength, ECR stands for electrical and chemical resistance, C-glass provides resistance to corrosion, others include T-glass, R-glass, AR glass, etc. Among these, E-glass is extensively used with a share of more than 20% due to its property and relatively low price.
The different forms of fiberglass are strands, rovings, yarn, mats, and fabric. Filament comes out of the bushing as the first product. These filaments are combined together to form either strands or yarn. These strands are pulled by the winders and wound into rovings which is used to make mats. The mats are also produced from strands. Fiberglass is produced from molten glass in different forms such as strands, rovings, yarn, mats, and fabric. Rovings occupied for the major share with more than 40% in 2018 in the global fiberglass market in terms of fiber type.
Layup and resin infusion technology, together with a share of more than 40%, dominated the global fiberglass market in terms of technology in 2018. Applications of fiberglass include automotive & transportation, aerospace & defense, wind energy, construction, marine, sports & leisure, pipe & tank, and others. Automotive and construction sectors are the major applications accounting for more than 40% owing to the increasing demand for low-weight vehicles and insulation required in construction industry.
More Trending Reports by Transparency Market Research – https://www.prnewswire.com/news-releases/wall-putty-market-to-reach-a-valuation-of-us-6-5-bn-by-2027-emergence-of-new-players-to-toughen-the-competition-in-the-global-market-transparency-market-research-301012427.html
Global Fiberglass Market: Regional Insights
North America accounted for major share with more than 30% in the global fiberglass market in 2018 and the share is expected to remain the same during the forecast period. In terms of glass type, E-glass and S-glass dominated the market, together with more than 50% in 2018. The roving segment held a prominent share. Automotive industry is the major sector using fiberglass in this market.
Asia Pacific region is primarily driven by developments in the construction, automotive and wind energy industries due to which fiberglass is consumed more in this region. Here, wind energy is likely to offer lucrative opportunities in this market, led by the rise in installed wind mill capacities in China.
Europe houses premium car manufacturers which demands high strength material for which fiberglass is an apt choice. Hence, automotive application consumes majority of fiberglass in Europe. This is followed by construction industry because fiberglass fulfils the requirements of Building Codes regulation in Europe.
Looking for Regional Analysis or Competitive Landscape in Fiberglass Market, ask for a customized report 
Global Fiberglass Market: Competition Landscape
Major companies manufacturing fiberglass include

Owens Corning
Jushi Group Co., Ltd
Taishan Fiberglass Inc.
Johns Manville
Chongqing Polycomp International Corp.
Xingtai Jinniu Fiberglass Co., Ltd
Shandong Fiberglass Group Co., Ltd
Glasstex Fiberglass Materials Corp.

In February 2023, Moi Composite presented MAMBO (Motor Additive Manufacturing Boat), a  fiberglass 3D printed boat collaborating with industrial partners: Autodesk (provided the tools for the realization of the three-dimensional drawing of the hull), Catmarine (transformed the various sections produced digitally into a finished boat), Micad (engineered comples structures) , Owens Corning (supplied the glass reinforcements fibers) , Osculati (provided accessories capable of adapting to the curves and design of the entire hull) and UCINA in order to overcome customized design and performance limits of conventional manufacturing and 3D printing for strong, lightweight and durable composite products.
In June 2018, Owens Corning entered into a Strategic Cooperation and Supply Agreement with Chongqing Polycomp International Corp. (CPIC) for joint investment in technology, and construction and operation by CPIC of a new facility dedicated to the manufacture of high-modulus glass fiber products in China.
In April 2018, Owens Corning entered into technology licensing and manufacturing supply agreements with Taiwan Glass Ind. Corp., based in Taiwan.
In December 2017, Taishan Fiberglass announced its plan to invest US$ 76.28 Mn in its project which is anticipated to produce 5 kilo tons of ultra-fine electronic yarn glass fiber. This is expected to increase the company's fiberglass capacity to 705 kilo tons, helping it to compete in the tough market in China, which is generating revenue by exporting products to the western countries.
Request for covid19 Impact Analysis – https://www.transparencymarketresearch.com/sample/sample.php?flag=covid19&rep_id=1945