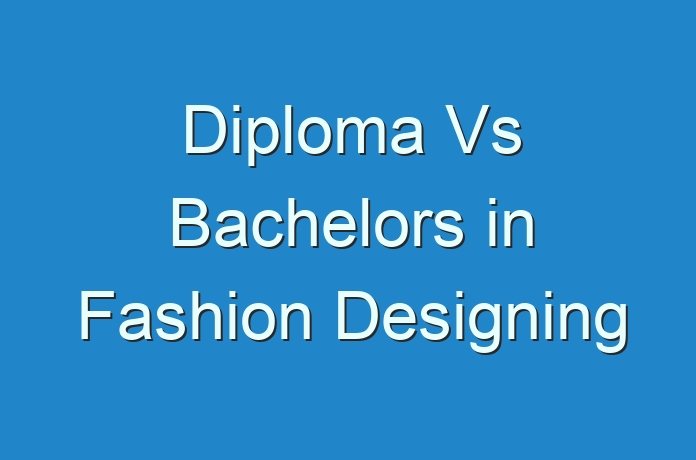 Today, a career in fashion design is widely sought after by students across the country. After all, a fashion designer may have a hectic day, a 'so-so' day, or even an 'everything that could go wrong went wrong' kind of day, but there can never be a dull or boring day in their lives. However, it is also a demanding career that requires some solid skill sets, the most important being technical know-how and expertise.
As such, students have two options for studying fashion design – Bachelor's degree or Diploma. Is one better than the other, and if yes, how?
Understanding Each: Diploma vs. Bachelors
A fashion designing diploma is a course wherein precedence is given to practical aspects of the fashion industry. However, a diploma provides just a glimpse into the depths of the industry. Being a fast-track program, stitching and garment construction are not dealt with in much detail. The aim of pursuing a diploma course in fashion designing is to equip students with a basic understanding of the fashion industry's principles and specifics.
Aspirants opting for a diploma in fashion designing will learn the following principles –
Building a research body
Crafting new designs using inspirations
Knowledge of various fabrics, texture and colour theory
Garment engineering
A marketable product's quality
A Bachelor's degree in fashion designing takes a much more theoretical or academic approach; however, this does not mean that students will receive no practical training – students get to experience a balance of both. The environment in top fashion institutes like the Pearl Academy is one that revolves around innovation rather than ready-made cookie-cutter answers. The teachers involved in the undergraduate and post-graduate courses show students the way without telling them what to see; students are given all the tools needed to create their own unique path.
Under fashion designing Bachelors' course, students get to learn a gamut of skills, such as –
Basic construction of clothing using different techniques
Thorough knowledge of the history of fashion designing, different textiles, colour and style theory
Current fashion trends and forecasting
Advanced draping
Pattern-making
Tailoring
Computer-Aided Design (CAD) and portfolio development
The Difference between Fashion Designing Degree and Diploma: Much Like Marriage vs. Engagement
The easiest way to differentiate between a fashion degree and a diploma would be to draw the analogy of marriage vs. engagement; a marriage is the real deal, whereas the engagement is a foretaste of what is to follow. A fashion degree offers students with a 360-degree learning experience, whereas a diploma touches on all matters related to fashion without diving much in-depth about any.
The advantages of fashion designing UG courses are given below in detail.
Reason #1 Easy First Dibs
The prime reason a student pursues a course is ultimately being able to make a career out of it. And though it is very much possible to have a successful career in fashion designing with a diploma course, the prospects of a Bachelor's degree are brighter. Most reputed fashion institutes have tie-ups with prominent fashion firms and performing well in the course can give students their first dibs directly in some of the most coveted firms, more so as they may even be considered for designations like Design Assistants – something which may take a while and a lot of struggle in case of a diploma pass-out.
Reason #2 Comprehensive Curriculum
Another of the significant advantages of pursuing fashion designing UG courses is the 360-degree learning model. A Bachelor course in fashion designing is only more expensive than a diploma because it offers students a full-fledged knowledge of the industry and its functioning. Since degree students actually get to "dive in," they naturally have a sound understanding of the nuts and bolts of the industry.
However, to say a Diploma course is altogether of no use would be a grave error; the structure and curriculum of a Diploma are designed to cater to students who already have knowledge of the fashion industry and wish to gain hands-on experience. But, to start from ABC, a Bachelor's degree is the ideal option.