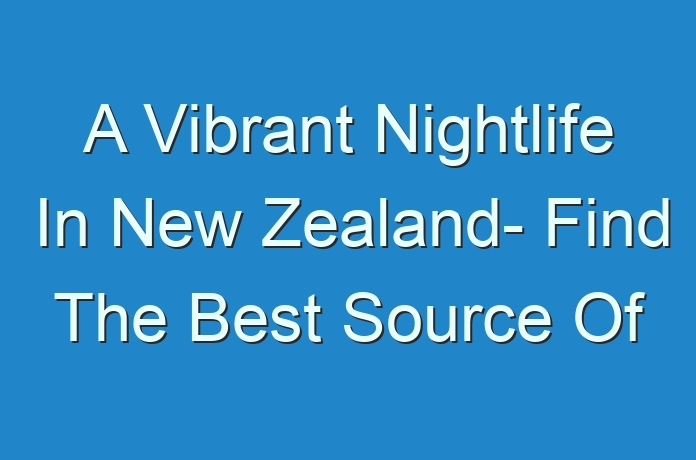 The nightlife in New Zealand is full of joy and adventure with sparkling beautiful skyline. You can enjoy bungee jumping, walk over a calm and quiet bridge, relish your dinner and go to nightclubs. You will find a high level of entertainment in Wellington, Auckland, Christchurch and different other cities of New Zealand. Get the real thrill in life by visiting these cities at night.
Have your romantic dinner at a live night market-
Auckland presents you with this market, where you can find different crafts, arts and delicious dishes. As there are hundreds of stalls, you may feel confused of choosing the right for your purpose.
Live performance, arranged at Cuba Street–
Culture and cuisine- both these things will attract you when you are at Cuba Street. Lots of New Zealanders gather at this place to enjoy foods, bonhomie and memorable live performances. Cuba Street is the best site, where you can engage yourself as a part of the big community.
Auckland with water activities–
While taking your meal, you may please your eyes with the attractive scenery of Auckland harbour. There is also a Maritime Museum in the country to let you find the real maritime heritage. Puhoi River is another source of amusements, as you may take part in kayaking activities. It is the best place to enjoy your day with friends and families.
Skycity–
It is one of the best places, where you can play games and have your favourite dinner. Sky Tower is a high-rise building (328 metres), giving you a view of historical sites, landmarks and volcanoes. You will also find a premium casino to provide you with lots of entertainments.
Darkroom for music enthusiasts–
Located near St. Asaph Street, Darkroom is the best place, where you will get a real savor of nightlife. Live music, Jazz and other types of entertainments at this Darkroom can keep you engaged throughout a night.
Theatre halls in New Zealand–
The bustling cities of New Zealand have amateur and professional theatres. Regent and Dunedin Town Hall are some premium auditoriums in the country. However, Mayfair Theatre and Allen Hall have also turned out to be popular venues to the New Zealanders.
Now, you can choose any of the source of amusements in New Zealand. To get entertainments at a reasonable price, you may use the coupon vouchers from NzCoupons.co.nz.