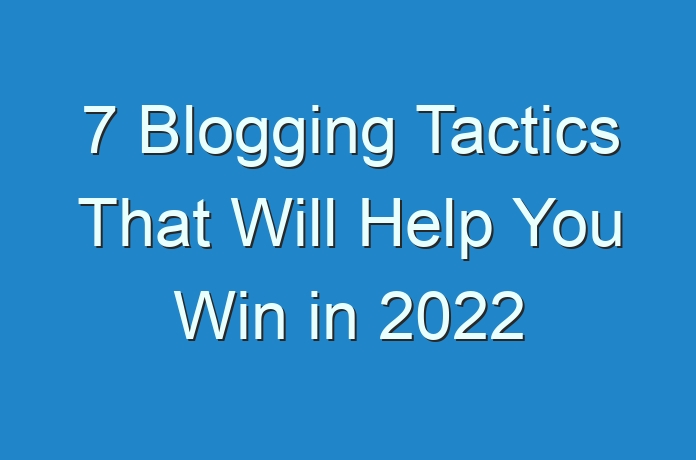 There are hundreds of millions of blogs worldwide, with Tumblr alone hosting 488 million of them.
Clearly, it is a saturated space with numerous blogs in every category, sub-category, and niche. In such a competitive environment, it is really difficult to make your blog stand out and get the desired traffic and engagement.
However, it is not impossible. With the right tactics, you can improve the chances of your blog getting noticed and building a loyal audience base.
Wondering how you can do that?
Follow these seven blogging tactics that have worked for me and see the results for yourself.
Leverage Content Repurposing
I will start my list with a less-popular, but very effective tactic—content recycling or repurposing.
This means using your existing content in different ways to get more reach and engagement from the same content. This lets you get the most out of your content and saves valuable time and effort required to create fresh content.
Here are some examples of content repurposing that you can replicate:
Convert a long-form article into an ebook and use it as a lead magnet.
Take customers' positive reviews and social media comments and use them on your blog to provide social proof.
Create videos based on your informational posts and keep your YouTube channel running based on repurposed content.
Create social media posts where you introduce your latest post and share a link. This has the dual benefits of maintaining your social media posting frequency while promoting your blog.
Create an infographic or gifographic with different introductions and share it on multiple websites.
Use Lots of Visual Content
Visual content, without a doubt, is the most engaging type of content.
The more visuals you include in your blog posts, the easier it will be for your readers to read and understand them.
Images are more effective at conveying information that you would otherwise need lots of words to explain. Posts with lots of charts, graphs, examples, videos, etc. are more fun to read and keep the audience engaged.
In fact, using more than 10 images in a blog post works for 75% of bloggers per a recent study. The sad part is that only 3% of bloggers use this tactic. This is definitely an opportunity for you to be an early-bird at adopting this strategy
The use of video content, though more popular, is also effective.
Create Long-Form Evergreen Content
This is another strategy that can give you an edge over your competitors.
What this entails is creating a one-of-its-kind, exhaustive resource on a topic that will stay relevant for years to come. This kind of content brings in a sustained flow of organic search traffic to your blog.
Therefore, having a few of these types of content pieces can assure you a steady flow of traffic for years to come.
Here's an example of evergreen content created by the Search Engine Journal:
It is a glossary of over 200 SEO terms and their definitions. Now that is evergreen content that will never be obsolete, not unless SEO becomes obsolete, which is not happening anytime soon.
Here are some types of evergreen content formats that you can try:
Lists
Case studies
Glossaries
How-to content
Encyclopedia-type entries
Guides
Product reviews
Ensure High Scannability for Your Content
This is a no-brainer as higher scannability makes your content easy to read. A lot of people want useful, actionable content in a format that does not require much effort.
That's where scannable content shines!
The idea is to create content that your readers can quickly scan through to find pieces of information that they want, without the need to read the entire post.
This is important because it gives your readers a chance to save time and still be able to derive value out of your content, That is a great quality to have in your blog and one that will get you some loyal readers.
Here are some tips to create scannable content:
Use numbered lists and use structured data to get your list articles ranking higher.
Create how-to content that follows step-by-step instructions or processes.
Divide your long posts into sections and subsections.
Use bullet points as much as possible.
Highlight the important parts in a text-heavy content piece.
Use lots of examples, stats, and visuals.
Maintain enough white space on a page by keeping your paragraphs short and alternating between text and visuals.
Post Frequently and Consistently
This is age-old advice that you might have heard a thousand times but never really took seriously. Well, you should.
The more frequently you post good-quality, useful, relevant, and optimized content, the better your chances of getting more organic traffic.
A HubSpot study confirms this and states that the optimum frequency of posting is 3-4 times a week for small blogs and 4-5 times for large blogs.
Also, you should post on the same days of the week so that your audience can look forward to your new posts. This sort of sets the right expectations and makes your audience wait for your content.
If you publish randomly, they just might miss it because they weren't actively looking forward to it. Therefore, it is important to maintain consistency, along with frequency when posting content to your blog.
Make Your Blog SEO-Friendly
This is again a no-brainer as everyone wants to get more traffic and SEO helps you achieve that.
So, in this section, I will simply give you a basic SEO checklist that you need to follow to ensure that your blog is SEO-friendly.
Find the right keywords for each blog post and optimize it for that keyword.

Add keywords in title tags, meta descriptions, and throughout the content.
Use your primary keyword in the first 100 words of your content.

Make your blog mobile-responsive.
Use keywords in your URLs and keep your URLs short and crisp.
Use H1, H2, H3 layout to segment your content and make it readable.
Improve your page-load speed.
Add ALT tags to images and add image descriptions.
Link to useful and relevant content and resources on high-authority websites.
This is just a basic SEO checklist to get you started. For a more comprehensive strategy, you need to do a thorough audit using any of the numerous SEO tools for auditing.
After that, you will identify areas for improvement and can use more advanced SEO techniques for those. Try these and boost your SEO.
Promote, Promote, Promote!
A lot of bloggers out their heart and soul into writing good content for their audiences and still can't get enough traffic to their blogs. They think that good content will work its magic by itself and is enough to run a successful blog.
While that may be partially true, it still fails to incorporate a very important aspect of blogging—promotion.
It is just as important to promote your blog as it is to post good content.
I can't emphasize this enough!
Promotion is not an option but a necessity to run a successful blog.
Here are some ways in which you can promote your blog:
Share links to your recent posts on social media.
Use content syndication websites like Medium to share your content.
Build your personal brand as a blogger/influencer in your niche.
Leverage email marketing services to re-engage your existing audience.
Join online communities and forums to post answers to questions posted there and add links to relevant content on your blog.
Give interviews and participate in expert roundups to win high-quality backlinks and get recognized as an authority figure in your niche.
Ready to Try These Tactics?
These are some tried-and-tested, expert-recommended tips that you can use to your advantage. These will help your blog get more visibility and engagement than ever before.
Try these tactics for your blog and see the results for yourself.
What are you waiting for? Get blogging!