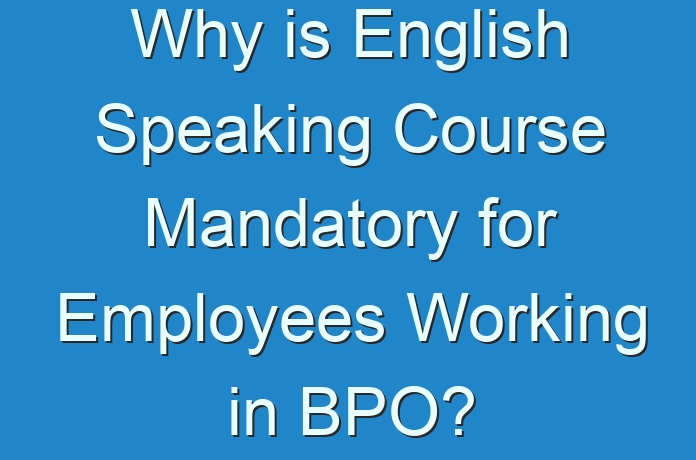 Most BPO employees have language fluency, soft skills, accent neutralization, interview, communication skills, and a great personality. But most recruiters also seek qualifications, dress code, and language of communication for the interview. 
Also, many domestic and international BPOs require English as the primary or secondary communication language. Besides these, here are a few reasons for the importance of online English speaking course in India for an employee working in a BPO:
Process Requirements
There are two kinds of BPOs, namely inbound and outbound. The former has representatives that receive calls from customers, clients, and enquirers. On the other hand, the latter makes calls to the same kind of people. The process may require employees that understand both the regional language and English. 
Many BPOs also demand English-speaking employees as they either have international calls or cater to English speaking niche. An English speaking course for employees working in an organization can help them upgrade to such a process, increase their salary, and seek growth in the organization.
Improves Communication
An English speaking course for employees already working under an English communication process of a BPO can remove monotonousness in their daily workflow. It can also improve their English communication skills by providing them solutions or alternatives for a faster response while maintaining fluency and speech. The course also addresses their English speaking problems through group and a personal talk with spoken English experts in the marketplace. Moreover, it helps employees to learn mistakes that remain unknown.
Builds a Vocabulary
Employees working in a BPO can improve their vocabulary through an English speaking course. It is one of the most vital parts of any spoken English course. Although BPO employees may be very well versed with the process vocabulary terms; however, taking an English speaking course can build a vocabulary for internal organization and customer communication. Employees can also learn to make use of their existing vocab in different sentences.
Offers More Than Just English
An English speaking course offers more than teaching about language aspects. It also emphasizes the effective usage of empathy, sympathy, etc. while taking or making a call. These skills also help build better interpersonal relationships with co-workers, managers, senior managers, and upper management. The employee can also apply the same new skills while writing a letter, chat response, and other written communication forms. These aspects also help an employee become more favorable for the organization for higher posts.
Takes Care of All English Language Aspects
A spoken English course primarily focuses on the language's communication aspects, but it also improves written, listening, and reading skills. Employees can use the secondary skills to provide a better response to customers on chat and calls. Additionally, employees become proficient in their communication both inside and outside the organization with co-workers, managers, and upper management. 
To conclude, an English speaking course is mandatory for employees in BPOs because it meets process requirements, improves communication, builds vocabulary, offers more than English, and takes care of all English language aspects.