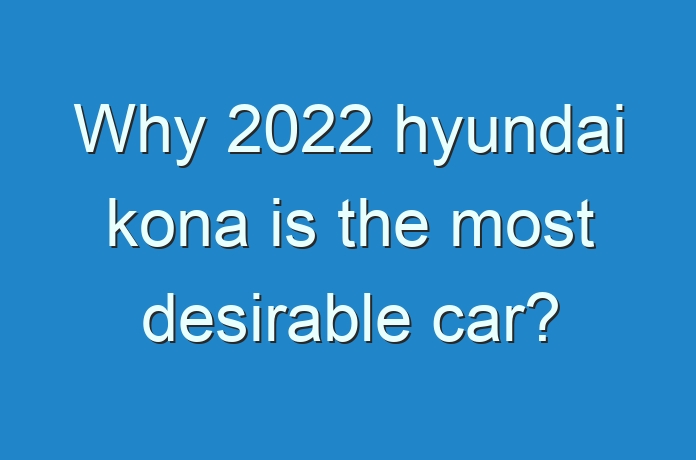 Vehicles are integral parts of our modern lives as in today's hectic lives; you have to travel around the world. There are many types of vehicles; the most used ones for an ordinary person are personalized vehicles that are cars. You can have several cars in 2023 suitable for you, but the most desirable and demanding car is 2023 hyundai kona.
This car has been a hit in the market for many reasons. Kona is an SUV (Sports Utility Vehicle), but unlike other SUVs, it is very pocket friendly. The base model of 2023 Hyundai comes with a good set of tech suites like Apple CarPlay and Android Auto and many more. This car is providing you a reasonable mileage rate as well. An Mpg of 26 in city and 30 in highway makes 2023 hyundai kona affordable and pocket friendly.
Hyundai Kona is a beautiful blend of technology and muscle. Techs like an 8-inch touchscreen and a heads-up display make this car full of infotainment and technology. It also comes with safety features like automatic emergency braking and automatic high-beams. So overall, this car excels in everything you can think of.
Now, as we know that Hyundai Kona has the potential to be a hit of the market, let's discuss the feature that makes this car suitable for everyone.
• Pocket Friendly: – This SUV is chosen over others as it gives you every feature at a low and reasonable cost. Another SUV demands a massive amount of money, and most of them are not worth that much money. This model is available in several models; the price of these models has a range of $21,500 to $30,400. So, if you are low on money and want to buy an SUV, Hyundai Kona is a good option.
• Engine performance: – 2023 Kona has a better transmission to aid fuel efficiency even more. This model is available in two transmission and engine options. A 2.0-liter four-cylinder engine matched with a 6-speed automatic gear makes this car a fuel-efficient beast.
• Beautiful interior: – With a seating capacity of 5, this car has a supportive leather interior. The seats of the car are not too soft and not too hard; they are suitable for everyone. Having a legroom of 41.5 in front and 34.6 in the back makes this car spacious and comfortable.
• Infotainment System: – The 2023 Kona has an 8 to 10-inch infotainment screen, this screen support softwares like Apple CarPlay and Android Auto, which makes your ride more comfortable and interactive. Even the base model of this car comes with interactive software.
• Exterior: – Hyundai car is the first car to feature implement the new design of split headlamps and a new grille. The unique design of the car includes redesigned vehicles and an aggressive bump.
So, if you are considering buying an SUV, buy a 2023 hyundai kona. If you are in Tallahassee, FL you can buy this car from local dealers or you can visit from there official website.It is the perfect mix of technology, beauty, and performance. It is also pocket friendly for most of the persons.