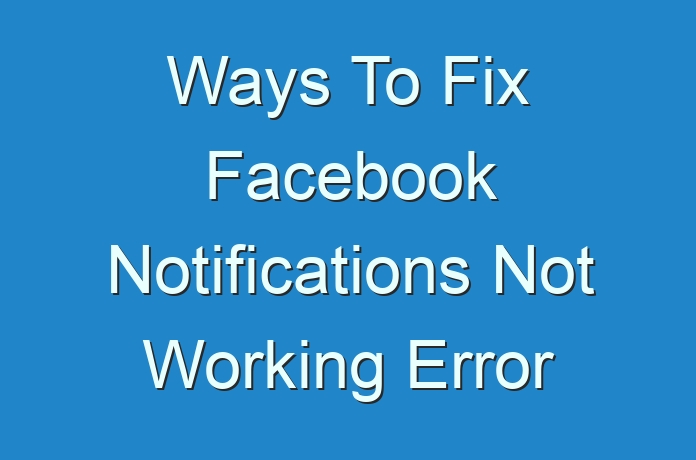 Ways to Fix Facebook Notifications Not Working Error – Knnit
Facebook has a wide range of users all over the world. Maybe we don't even have any idea for the exact number. It's useful, entertaining, sometimes irritating and mostly time killing. And it became more when suddenly the notification bar turns down, refuses to work properly. Notification bar is the most attractive button as we can see what our posts are going to people. That bar has seen every wall of our silly posts
. It also shows that previous years memories, which we really hate to see sometimes. So, it's nostalgic too. But to look over the problem, here we go for the ways to fix Facebook notifications not working error-
Verify Facebook Notification Settings.
Clear The Caches
Look At Data Restrictions
Log Out From All Devices
Verify Facebook Notification Settings
Facebook has its own notification settings so like the other apps. You can easily modify, enable and disable it. You will be lucky if your problem get fixed in first attempt. It will a problem if the push notifications are disabled. You may find it in Notification settings hiding in the three bars at the right corner of the Facebook page of yours. It will let you see what notifications you want to receive. Choose from them. It can be a solution for you.
Clear the Caches
It is a fun act for all of us to clear the cache memories from any app. It depends on the device we are using. Maybe it can be a solution of your problem.
For doing that, you need to open your Facebook app. Look for settings. There you will find button name storage. Under storage you can see the clear cache button vividing there. If again it's not working, uninstall this app. Wait, we are not discouraging you. Just give it a time. Again install it. It works sometimes.
Look At Data Restrictions
Restrictions are everywhere. Even a app has also restrictions upon you. And you're compelled to obey when it's for your sake of entertainment. Facebook data restriction can be an issue for your problems. If it goes enabled, app will not sync data in background which will restrict push notifications. To check if background data sync is active for the Facebook app, go to Apps under the phone Settings. Tap Facebook followed by Data usage. Look for the Background data option. It should be enabled. In case, it's turned off, tap the toggle to turn it on.
Log Out From All Devices
This is a basic solution and everybody may apply it when none of the above is not working. For some people it will be an issue related to their account not for their device. It needs to log out all of the accounts that are logging in and running currently in your device. Log out all the accounts and let the Facebook app is in peace for sometimes. You can uninstall it for sometimes also. Again install it for better working. Then log in it for only one account and start using it. It will be helpful to you to avoid notification problem.
Hoping these will be really helpful to you for your problems. Facebook is our regular need. It's one of those regular kind of apps we love to use. But for sometimes it started showing some problems and we go in a trouble. Nowadays it has become the source of the news and a newly launched thing called memes. So staying away from the app is really hard for us. I hope the shared solutions will put an end to your trouble.
Source :- TechnowGear