Research states that, nearly 80% of illnesses in developing countries are because of poor quality water and sanitation conditions. Although there has been a rise in the number of people that have gained access to pure drinking water, inequalities still persist. This scarcity of potable drinking water has directed the way for innovations in the water purifier industry.
The gamut of the market used to be 'urban-centric'; however, with continual efforts from various governments and manufacturers to increase consumer awareness, the water purifier industry is gradually seeping into rural markets. However, penetration is still low, as rural consumers refrain from spending huge sums on water purifiers. This factor may shrink the market's growth, but also provides a vital entry point for newcomers who may claw up the global market ladder by launching strategically-priced products.
As water-related issues are gradually entering the league of grave environmental and global concerns, the future demands the implementation of efficient water purifier systems. Sensing this demand and gauging the innovations spawned in the water purifier industry, Transparency Market Research conducted comprehensive research that brings to the fore compelling insights about the evolution and structure of the water purifier market.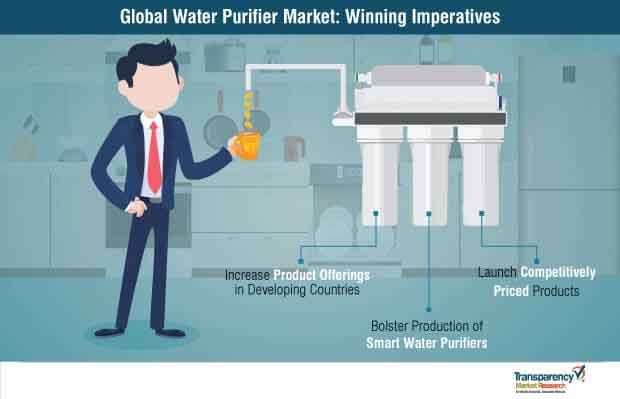 Planning to lay down future strategy? Perfect your plan with our report brochure here
Evolutionary Timeline of the Water Purifier Market
Water filtration technology dates back to as far as 500 B.C. when cloth was used to enhance water quality. Technology further progressed with the use of carbon filters and the advent of water purification technologies that render seawater drinkable. The water industry is gradually moving away from the conventional chlorination treatment approach and adopting new technologies such as membrane filtration, ultraviolet irradiation, and others.
Consumer preference is shifting towards simple water purification techniques and devices with the development of technologies that offer utmost ease of use. Moreover, in underdeveloped countries, consumers prefer water purification systems available at cheap rates. Understanding consumer behavior and the varied water purification needs in different geographical regions is the key to sustaining position in the water purifier market. According to TMR's study, the water purifier market will rise from its initial valuation of ~ US$ 67 Bn in 2019 to reach the mark of ~ US$ 128 Bn by the end of 2027.
Compelling Trends Reforming the Market
Increasing Adoption of Smart Water Purifiers
We live in a fast-paced world that demands the use of devices or systems offering real-time alerts. When it comes to water purifiers, consumers are keen on enhancing their smart home infrastructure with the use of connected water filters that offer water-quality monitoring and alerts on daily water consumption. It won't be too long since this technology proliferates from residential to municipal settings. Manufacturers are increasingly providing data to app platforms in water purification technology, sensing the scope of expansion of this technology.
Compact Products are Here to Stay
With the rising crunch for land and soaring property prices, people are forced to live in smaller spaces. Rural-urban migration has further added on to the prevailing issue of land crunch. Consumers are looking for compact products that help them save space and de-clutter at the same time. Banking on this trend, manufacturers are vying to manufacture slimmer and compact products to help consumers in their fight for space. For instance, Havells Water Purifiers has developed Havells Max, a compact water purifier with flexible mounting.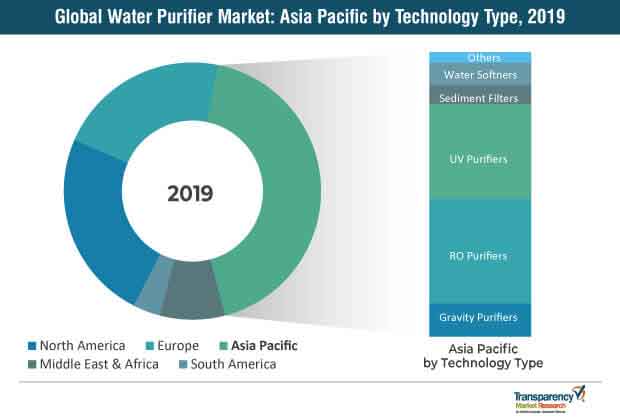 Want to know the obstructions to your company's growth in future? Request a PDF sample here
Winning Strategies to Expand Confines in the Market
Increasing Product Offerings in Developing and Underdeveloped Countries
Many developing countries such as India and China in Asia Pacific and underdeveloped regions in Africa are investing heavily in water purification infrastructure in the lieu of depleting drinking water resources. Organizations such as UNICEF and WHO are aggressively fighting the plaguing issue of water crisis and unavailability of safe drinking water by conducting awareness campaigns and funding water purifier companies.
Manufacturers are increasing their product offerings in these regions to reap massive revenue benefits. They are providing cheap water filtration solutions, such as 'Cycloclean', developed by Japan's Nippon Basic Company. This is a water purifying bike specially designed for remote villages. In another such humanitarian effort, LifeStraw Water Filters and Purifiers developed a small cigar-shaped tube that purifies water.
Capitalization on the Demand-Supply Gap
The rise in global population and the need for suitable water for operations in industries such as construction, food and beverages, chemicals, oil and gas, and petrochemicals have created a huge demand-supply gap. This is mainly due to the scarcity of water and poorly managed water usage. These issues, leading to greater investments in water purification products, have opened new avenues of growth for water purifier manufacturers. Not only are they bolstering their production capacities but also concentrating efforts on developing water purifiers for specific end-use industry requirements. Ageing water infrastructure in developed countries has further encouraged the proliferation of advanced water purifiers.
Sneak Peek into the Competition Landscape
The degree of competition in the global water purifier market is expected to remain high during the forecast period, with players offering cost-effective technology and prolonged services. There is the high threat of new entrants, as they are heavily investing in research and development activities to enter the global market. The entry of new players has increased the fragmentation of the market, thereby posing a challenge to established players. Some of the prominent players functioning in the market are A.O. Smith Corporation, Unilever, Coway Co., Ltd., Whirlpool, Eureka Forbes Limited, and TATA.
With Asia Pacific being the most lucrative region for the market's growth, players are consolidating their position in this region to establish their base in the market. Apart from this, providing customized products, business expansion through mergers and acquisitions, and enhancement of distribution network remain key business strategies. For instance, Whirlpool Corporation is expanding its distribution and production capacity to enhance its geographical expansion. Further, Pureit partnered with community-based water plants in India to establish its business in this region.
Read TMR Research Methodology at: https://www.transparencymarketresearch.com/methodology.html
Read Our Latest Press Release:
https://www.prnewswire.com/news-releases/rising-awareness-about-cleanliness-and-hygiene-across-public-places-to-sow-the-seeds-of-growth-across-the-forecast-period-of-2020-2030-tmr-301248244.html
https://www.prnewswire.com/news-releases/rapid-adoption-of-cloud-based-platforms-to-benefit-companies-in-the-global-tax-software-market-whilst-outbreak-of-covid-19-to-accelerate-use-of-digital-platforms-for-tax-filing-processes-tmr-301249303.html