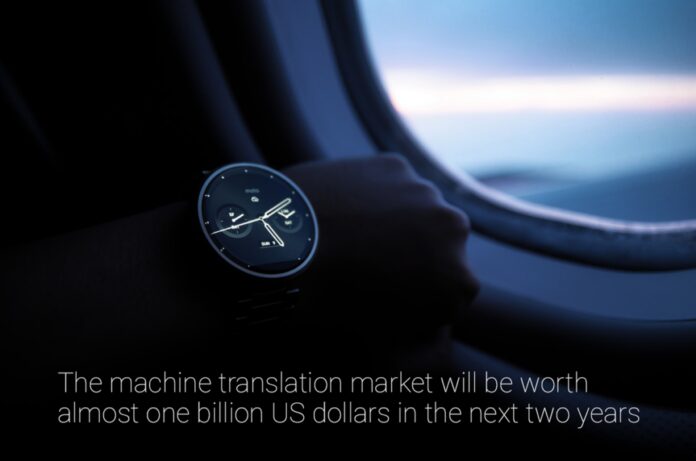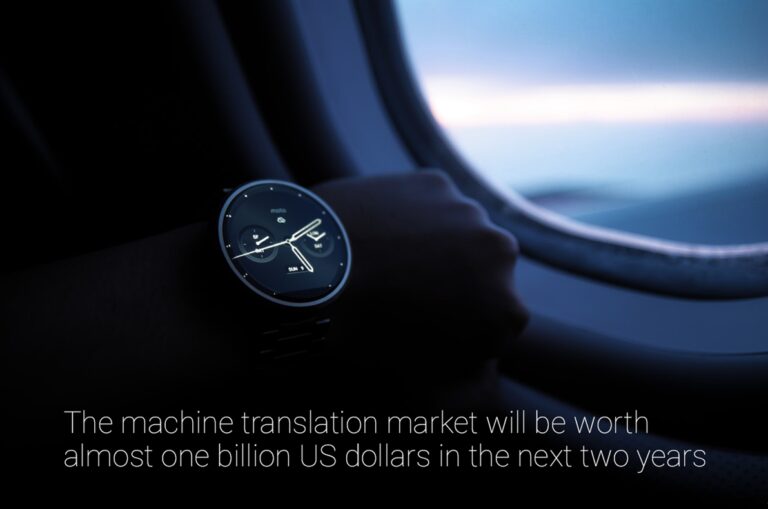 The machine translation market will be worth almost one billion US dollars in the next two years
Outlook and the current market trends
Current forecasts by analysts indicate that the market for machine translation will grow to over 980 million US dollars in the next two years (2023 – 2023).
The new study by Grand View Research demonstrates the following insight. As trends such as AI, artificial intelligence and neural networks resurface, tools for computer-aided translation are also being reinvented.
We keep seeing how major players, be it Facebook or Amazon, are enforcing automatic translation of their content. Often we didn't even notice this, because before we open a page or post on the social network, it is already in our language. Although the post author could create it in his native language.
How is such a thing possible?
The intelligent algorithms recognize our language and location, try to deliver the content in the best possible way and even shock us with it.As you can see, many new start-ups are emerging today that are dealing with MT (Machine Translation) issues and developing their own products based on neural networks.
One of these start-ups – Lilt Inc. is engaged in adaptive machine translation, which allows real-time feedback loops. They help to increase productivity, especially for professional translators.
There are opinions that their unique AI system would be better than the technology of Facebook or Apple.
Adoption of business communication
Since globalization dictates its own rules, international business must also adapt to it and take advantage of the latest developments in artificial intelligence. The growing demand in emerging markets for quality content translation is enormous.
This refers to many aspects such as corporate communication, global cooperation and collaboration between employees, project management, technical translation exchange.
Also, the large number of content types, devices, media and platforms that are technologically used in companies will require an interface for quality translation in the near future.
The growth of cloud services and computing has also shown a new need for such services as machine translation and the development of SaaS products that offer them.
The high-tech translation memories in machine translation integrate functionality of storing sentences and paragraphs that were previously created by human translators.
This saves costs and speeds up the development of translation projects. The industry has developed in the direction where the "BLEU" has become accepted as an indicator for automatic evaluation of translation quality – as a cheaper and language-independent alternative.
The transformation from classic to machine-supported translations
The industry is experiencing a rapid transition from human professional translators to high-tech MT (Machine Translation). The related results are admirable: companies and corporations receive comparable linguistic quality at a much lower price and very fast turnaround. The implementation of such projects also becomes simpler and more accessible, while efficiency in real time increases.
Many language service providers find the adoption potential by correlating the machine-generated output with their own data and further improving it – e.g. by providing editorial support.
Using Big Data and its accurate analysis of multiple sources can also produce massive insights that can then be machine-translated and used for marketing and decision-making processes.
Effects and use by international corporations
International corporations use this opportunity to provide their users with almost perfect, error-free and grammatically consistent translations in real time.
Documents that are translated cost-effectively are another part of the machine translation spectrum. Some companies are reporting the growth and acceleration of their business processes by using such technologies.
The growing number of Internet users worldwide has only increased the need for online translations. Crossing borders breaks language barriers and interacts with different cultures.
Machine Translation and Content Management Systems
A further development of AI translation and localization technologies can be seen in the website / CMS (Content Management System) industry. The largest market players in this segment are WordPress, WIX, Squarespace and Joomla, which have the largest market share in percentage terms. But platforms such as WooCommerce, Shopify and Prestashop should not be forgotten.
An example where you can currently see the AI translation of content management systems is Neuronto AI – this is a plugin that does not allow the website / e-commerce content to be translated in a simple or standardized way. Instead, Neuronto DeepL WordPress Plugin uses AI and delivers an exceptional output quality (because it also uses the interface of DeepL).
This tool is open to all who run their own WordPress website, WooCommerce shop or Elementor based site.According to Neuronto, website owners can expect increased organic traffic, better sales in their e-commerce stores and significant conversation rates.Find the best WordPress Translation Plugin that fit your needs.
Globalization, digitalization and integration of communication technology creates new opportunities for the growth of Machine Translation Services and many start-ups using this high-tech technology.