The rapid development of industrial infrastructure and expansion witnessed in the construction sector, primarily in the emerging markets, are fuelling demand for low voltage (LV) and medium voltage (MV) switchgear. With governments proactively investing in urbanization and rural development, renewal of existing transmission and distribution networks is on the cards. This is expected to create attractive opportunities for the LV and MV switchgear market.
Transparency Market Research says that the global LV and MV switchgear market will exhibit a CAGR of 6.8% between 2016 and 2024. The market had a valuation of US$56.23 bn in 2015 and is expected to reach US$98.80 bn by the end of the forecast period. Growth witnessed by the market in developing countries such as Indonesia, India, and China in particular has been strong due to the accelerated electrification witnessed across these nations.
The lack of adequate electrification has been inhibiting the growth of the industrial sector across emerging economies. To counter the situation, governments in India and China have adopted several approaches to improve grid connectivity in remote locations. A significant portion of the budget for such improvement plans has been allocated to urbanization, thus fuelling the deployment of smart grid technology. This subsequently translates into greater opportunities for sales of LV and MV switchgear in these countries.
Planning to lay down future strategy? Perfect your plan with our report sample here https://www.transparencymarketresearch.com/sample/sample.php?flag=S&rep_id=3937
In the last few years, the market has witnessed positive growth globally. However, intense price-based competition between established and local players has been creating bottlenecks for the market. Besides this, the easy availability of substitutes for switchgear might also hinder sales of LV and MV switchgear. Nevertheless, in the near future, several countries located in the African and Asian sub-continent are expected to provide lucrative opportunities for the market. Furthermore, the increasing demand for renewable energy will also bolster sales of LV and MV switchgear in the forthcoming years.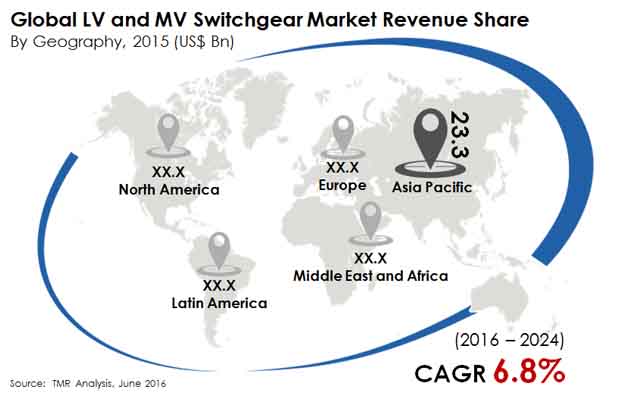 Asia Pacific Held Over 40% of Global LV and MV Switchgear Market in 2015
Regionally, Asia Pacific led the global LV and MV switchgear market in 2015, holding a share of 41.5% in terms of value. The rising demand for electricity transmission and distribution products in the industrial and construction sectors will boost the sales of LV and MV switchgear in the region. The high demand for switchgear and increasing price-based competition will seal Asia Pacific's position as the key region in the global LV and MV switchgear market.
In the same year North America emerged as the second-leading market for LV and MV switchgear. The region is currently witnessing increasing concerns related to greenhouse gas emissions, which has compelled North America to focus on renewable energy more than ever before. The increasing use of energy derived from renewable sources for electricity transmission and distribution in the region will fuel the demand for LV switchgear market in the near future.
Increasing Demand from Power and Utilities Sectors to Boost Sales of LV and MV Switchgear
The major application segments of the LV and MV switchgear market include the pulp and paper industry, utilities sector, power plant, oil and gas, and petrochemical industry. The increasing investments in the construction sector and industrial infrastructure have boosted the demand for switchgear from the power and utilities sector. In terms of revenue, power plants emerged as the key application segment holding a share of 39.8% in the market in 2015. In the same year, the utilities sector held the second largest share in the market.
Some of the leading players in the market are ABB Ltd. (Switzerland), Powell Industries Inc (U.S.), Siemens AG (Germany), Schneider Electric SE (France), Bharat Heavy Electricals Ltd. (India), Crompton Greaves Ltd. (India), Eaton Corp. (Ireland), Hyosung Corp.(South Korea), Mitsubishi Electric Corp.(Japan), GE Co. (U.S.) and OJSC Power Machines (Russia) among others.
Looking for exclusive market insights from business experts? Request a Custom Report here https://www.transparencymarketresearch.com/sample/sample.php?flag=CR&rep_id=3937
Advances in Power Distribution System Spurs Demand in Low Voltage (LV) and Medium Voltage (MV) Switchgear Market
Low voltage (LV) and medium voltage (MV) switchgears are used in low-voltage and medium-voltage substations. They are typically electrical switching devices that combine the functions of protecting and switching devices. They have formed a key part of supply of electricity, under both abnormal and normal operating conditions. The diverse applications of power distribution has driven the evolution of the LV and MV switchgear market. Growing number of commercial, residential, and industrial building projects in industrial applications has spurred the deployment of switchgears. Rapid pace of urbanization in recent decades has bolstered this momentum. LV and MV switchgears are prominently used in power distribution systems used for production plants to minimize downtimes and meet a wide range of design requirements of the end-use industries. Growing adoption of active protection measures in power distribution supply in institutions is a key trend in the LV and MV switchgear market. Over the past few years, several developing economies have seen rise in demand on the back of the growing trend of modernization in power supply and distribution networks. Governments in these countries are making active participations in ensuring a safe electricity supply for meeting the large-supply needs of industrial projects. This has fuelled the demand in the LV and MV switchgear market.
The COVID-19 pandemic is still evolving, with numerous witnessing some forms of restrictions on economic activities. In 2020, the massive outbreaks of the health pandemic in developed and developing regions of the world crippled manufacturing and production activities in an unprecedented way. This had also led to shutting of manufacturing plants in various industries, hampering the prospective demand for LV and MV switchgears. Nevertheless, in recent months, the LV and MV switchgear market has witnessed some positive outlook in regard to recovery in manufacturing activities. Further, with the easing of lockdowns, demand is expected to pick up. Further, equipment manufacturers will target new consumer propositions to spur sales.