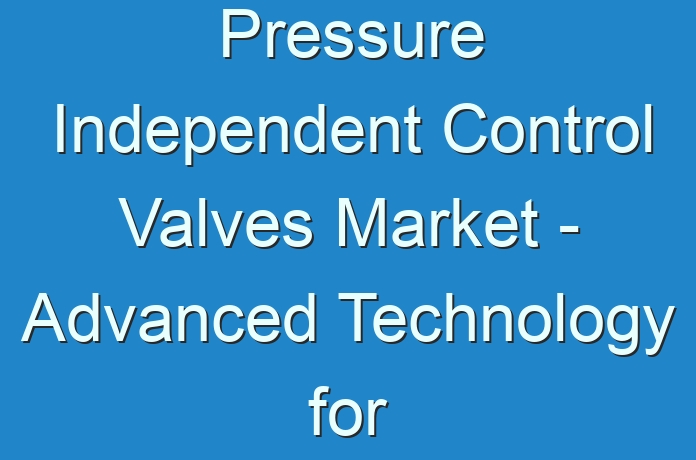 Pressure independent control valves (PICV) can help lessen energy expenses and increase occupant comfort in heating and cooling coil applications in buildings. PICV enables optimal results because only the required amount of hot water (in GPM) and chilled water (in GPM) is delivered to the heating and cooling coils. Standard 2-way control valves permit the overflow and underflow especially if the CV is oversized or undersized. The unique factor of PICVs is that they replace three separate valves that would otherwise be required: the regulating valve, two port control valve, and differential pressure control valve.
Key Drivers of the Pressure Independent Control Valves Market
Automatic hydronic balancing, temperature stability, high control authority, and longevity of the actuator by reducing the quantity of movements are the key drivers projected to drive the pressure independent control valves market globally.
Want to know the obstructions to your company's growth in future? Request a brochure @ https://www.transparencymarketresearch.com/sample/sample.php?flag=S&rep_id=50847
PICV eliminates the overflow circumstances at partial load conditions, which has a substantial impact on the constancy of room temperature. It also ensures impeccable working conditions. Actuators attached on them require less movement for stable temperature which enhances the actuator's lifetime and lowers the maintenance cost. These factors are anticipated to drive the global pressure independent control valves market throughout the forecast period.
Advanced Technology for Balancing Effort Creates Opportunities for the Pressure Independent Control Valves Market
Automatic hydronic balancing in pressure independent control valves are likely to create new opportunities in the market. PI control valves make circuits independent and they terminate circuits from the system. There is no balancing process required and for commissioning, a simple check of flow is enough. To measure flow, PI control valves are available with pressure ports to gauge pressure differences.
Potential Control Problems a Restraint of the Pressure Independent Control Valves Market
Control circuits influences each other. When one control valve closes, the differential pressure on other circuits increase and the associated control valves must close to compensate. So when one or more loops are instable, control problems can spread to other control valves. This hampers the smooth functioning of the PI control valves. This is anticipated to hinder the growth of the pressure independent control valves market.
Asia Pacific the Dominant Market
China, India, and Japan contribute the maximum to the pressure independent control valves market. Increasing demand for pressure independent control valves from water & wastewater and chemical industries has driven their demand in countries such as Japan and China. It has increased awareness and benefits of independent control valves and is paving the way for new opportunities in such regions.
Purchase Premium Research Report @ https://www.transparencymarketresearch.com/checkout.php?rep_id=50847&ltype=S
Key Players Operating in the Global Market
Companies are working on product innovation and development to increase their customer base. Furthermore, key companies are adopting the merger and acquisition strategy to improve their market revenue at the global level. Some of the major companies identified in the pressure independent control valves market are:
Bray Commercial Division, Inc.
Danfoss
IMI PLC
Distech Controls Inc.
Flow Control Industries, Inc.
James M. Pleasants Co.
Emerson Swan
FlowCon International ApS
Marflow Hydronic Systems
Siemens AG
Read Our Trending Press Release Below: https://www.prnewswire.com/news-releases/increasing-demand-from-semiconductors-to-invite-extensive-growth-for-epi-wafer-market-through-forecast-period-of-2020-2030-301177165.html