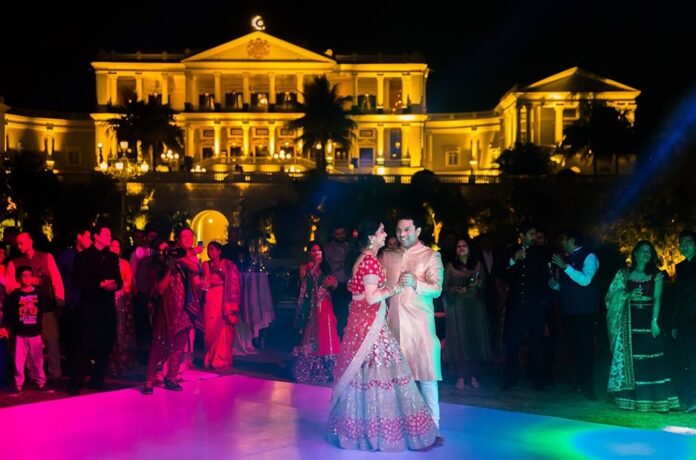 Imagine yourself dressed as a pretty bride standing against a glittering and ostentatious background of some royal palace. Imagine being a groom riding a white horse walking on stunning pathways winding across the stunning green lawns. Wonder about a dream wedding organized at a royal palace where you make awesome memories to cherish for your entire life.
We bet that all the readers with a wedding on their minds and cards must be smiling right now!
Indian weddings are famous for being a grand affair. Lots of guests, lots of relatives, lot of functions, and delicious foods – we know how to celebrate our happiness, right?
If you are also planning to have a dream wedding, then what can be better than having one at some Indian royal palace? In the following post, we are sharing some of the most popular Indian royal palaces that you can rent out for your wedding. All these palaces offer stunning wedding venues and an amazing backdrop for scintillating wedding portfolios. Apart from their ambience, they also have impeccable chefs that create lip-smacking menus to make your wedding a grand affair.
So, check out the list of all the popular palaces where you can take your wedding vows. We recommend taking a personal tour once before finalizing the bookings. As you might be going back and forth among various places and palaces, we recommend keeping some money-saving goodies like Goibibo flight offers handy.
Now, let us start!
Taj Falaknuma Palace, Hyderabad:
This regal residence of the Nawab of Hyderabad offers stunning natural vistas and beautiful wedding venues. The palace has been a wedding venue for many iconic weddings in the past as well. From its big pool to the classic white facade, from the lovely lush green lawns to a dream-like setting, and from its ostentatious interiors dripping with luxury to sterling outdoors – there are many elements that will make sure you enjoy an utterly beautiful wedding here. You can make the most of this experience by planning different functions at different locations in the palace. The bride can actually arrive in a traditional chariot or leave in one. Elephants, horses, fountains, and trees – nothing is lacking when it comes to this palace.
Neemrana Fort Palace, Jaipur:
If Hyderabad is a little bit far away from your hometown, you can choose this palace. The architecture is amazing, there are lots of areas for special shoots, and one of the best things is a lavish pool overlooking the valley. Neemrana Fort Palace is located on the Jaipur highway and is away from the city humdrum. You can enjoy a stunning wedding, outdoor or indoor. There are lots of open spaces to organize different functions in different areas. The best time to plan a wedding here is from October to March, as the summers are really hot.
Taj Jai Mahal Palace, Jaipur:
Taj Jai Mahal Palace is located in Jaipur and offers an experience of a lifetime. There are vast lawns, beautiful lobbies, and lovely 'chhatri' for an intimate wedding area or Mandap. There is a lot of open space to plan different functions, and the restaurant offers vegetarian and non-vegetarian food. If you want to enjoy a happening bachelor's party, the poolside will take care of it.
Jaipur has many other impressive royal palaces that you can choose as your wedding venues. So, you can also visit Jaipur for two days and explore all these options if you want. Goibibo flight offers will make sure that your trip is easy on your pockets and is accomplished without wasting a lot of time.
Mundota Fort and Palace, Jaipur:
Mundota Fort and Palace was the seat of Naruka Rajput clan dates back to the 14th century. Offering stunning views of the Aravali Range, the property is perched on the hills. Mundota Fort and Palace has many stunning gardens and gazebos and offers 12 wedding venue options for hosting a dream wedding. The Fort is spread over 10 acres and also has one of the most active Polo Grounds in India. The palace also houses some of the finest horses in the world and offers a distinctly royal and charming wedding experience.
The Oberoi Udaivillas, Udaipur:
The Oberoi Udaivillas is located in Udaipur and is yet another amazing royal palace to plan your dream wedding. Its unique fountain and stunning façade will certainly make your wedding a royal affair. The palace is located at the bank of Lake Pichola and is spread over 30 acres. The imposing architecture of this 200 years old palace is a result of impeccable art and craft of the region. The Fort was built by the Maharana of Mewar, many Majestic fountains Gardens and other architectural elements to make your wedding utterly regal.
Lalitha Mahal Palace, Mysore:
Lalitha Mahal Palace is located in Mysore and is yet another lovely palace to plan a dream wedding. The stunning white exteriors of the palace form a stunning backdrop for your wedding portfolio and add a classic charm to the ambience. The palace was built in 1931 and is the second-largest palace in Mysore. Originally built for the guests of the Maharaja, this palace is a perfect place to make your vows all the more special.
This brings our list of the best palaces for a dreamy wedding, to a completion. We hope that all our readers find the list helpful in choosing a royal wedding venue. Did we miss any palace that you wished to see on this list? Please share your feedback and suggestions with us in the comment section.