Low Ownership Cost of EVs Likely Post COVID-19
Electric vehicle (EVs) sales have been gaining momentum during the coronavirus pandemic. However, companies in the NEV taxi market are experiencing resistance in car registrations due to the high upfront cost of EVs. Hence, companies are increasing awareness about their low total cost of ownership in the long run. Analysts at the Transparency Market Research (TMR) opine that e-taxis will have a relatively low cost of ownership as compared to conventional taxis in the upcoming years.
Request a sample to get extensive insights into the NEV Taxi Market
India and China are emerging as hot destination for the NEV taxi market post the COVID-19 crisis. The Gujarat model in India has caught the attention of companies, since a significant percentage of taxis and auto-rickshaws are awaiting approval of electric mobility by 2023.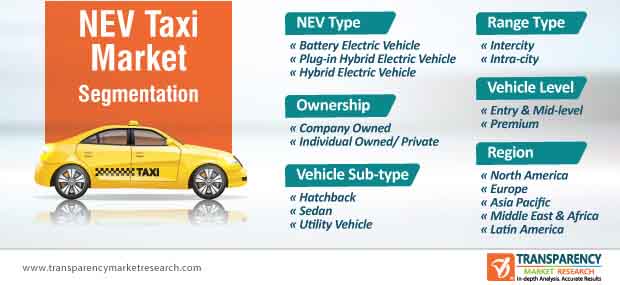 Collective Experiences Lead to Setting up of Policies for Decarbonization of Mobility Services
Decarbonization in the mobility and energy sector is becoming a fast growing phenomenon in the European Union (EU). However, there is lack of innovative and stable policies that favors the advancements of e-taxis. As such, a gradual increase in EV fleets is contributing to the growth of the Europe NEV taxi market.
In order for EVs to achieve a large market presence, the corresponding regulatory framework needs to be designed to accommodate incentive schemes. Companies in the Europe NEV taxi market are increasing their research efforts to learn from various countries' experiences and set up forceful policies based on their national priorities of lowering fuel emissions.
To understand how our report can bring difference to your business strategy, Ask for a brochure
Wireless Charging Technology in NEV Taxis to Help Minimize Street Clutter
EV charging innovations are expected to contribute to the explosive CAGR of ~27% of the market during the forecast period. Such innovations are enabling taxi drivers to recharge more easily and minimize street clutter caused by charging devices. The wireless charging technology is gaining prominence in the U.K., which is similar to wireless phone chargers using the inductive charging technology. The U.K. Government is predicted to invest US$ 4.4 Mn in a scheme, which involves 10 electric taxis (e-taxi) in Nottingham to be fitted with the wireless charging hardware for six months.
The wireless charging technology has the potential for broader public use of e-taxis. The U.K. NEV taxi market is benefitting with this new technology that is eliminating the need for plugs and chargepoints.
Fast Charging, V2G Technologies Minimize Driver Range Anxiety, Demand Strains
Vehicle to grid (V2G), ultra-fast charging, and new battery technologies are transforming the global NEV taxi market. This explains why the market is expected to cross the valuation of US$ 29.2 Bn by 2031. Since an average taxi stands idle for several hours, the vehicle to grid model is enabling two-way energy exchange, especially during peak demand, since the energy stored in an EV can be fed back into the grid.
One of the disadvantages of NEV taxis is the need of charging batteries that is a time-consuming process as compared to traditional gas-powered vehicles. Hence, manufacturers in the NEV taxi market are mainly focusing on ultra-fast charging technologies that remove the driver range anxiety.
Large Public Charging Network, EV Production Create Business Opportunities in China
China is creating lucrative opportunities for companies in the NEV taxi market by reaching important milestones in the number of battery operated, plug-in hybrid, and fuel cell vehicles. The rising fuel prices in India is also creating business expansion prospects for manufacturers in the NEV taxi market among those interested in capitalizing on low total ownership cost of EVs.
Currently, China produces nearly half of the world's plug-in electric vehicles. Since China has been proactive in the production and adoption of renewable energy solutions, the market for NEX taxis holds promising business potentials for automakers.
NEV Taxi Market: Overview
The global NEV taxi market was valued over US$ 2.1 Bn in 2020. It is estimated to expand at a CAGR of ~27% from 2021 to 2031. Expansion of the global NEV taxi market can be attributed to rising concerns about vehicle emissions and their ill effects on the environment. Awareness about depletion of fossil fuels, their rising prices, and emissions caused by the combustion of these fuels are boosting the demand for new energy vehicles (NEV).
Global automakers are reportedly launching newer battery electric vehicles and hybrid electric vehicle models. Ongoing technological advancements are at the core of this emergence of new vehicles. Availability of a variety of models in the market caters to varied demands for more number of people, thus increasing the adoption of NEV taxis.
Drivers of NEV Taxi Market
Rapid increase in air pollution levels, which are harmful for the environment and human health, has prompted global and state governing bodies to design and develop environment-friendly technologies and vehicles. This has led to rapid development and implementation of electric vehicles for both personal and commercial operations, as they are considered the best possible alternative for the environment. Studies and surveys on road transportation indicate that road transportation pollution has started to decrease in those regions where the rate of adoption of NEVs has been high. This is a major factor that is anticipated to propel the NEV taxi market during the forecast period. NEV taxis enable taxi operators to reduce costs associated with maintenance and operations of the fleet of vehicles, which generate more revenue. These factors increase and influence both taxi owner-drivers and passengers to opt for NEV taxis or cabs, thereby boosting the NEV taxi market growth across the globe.
Stringent emission regulations coupled with tax incentives and subsidies on purchase of NEVs are driving the market across the globe. Moreover, a surge in awareness about adoption of green mobility, which is considered as the future of mobility or tomorrow's mobility, owing to limited availability of fossil fuel and decrease in dependency on these fuels by auto manufacturers, is also projected to drive the NEV taxi market during the forecast period.
Incentives offered by government authorities are major drivers for electrification of transportation systems. Several states also offer non-cash incentives for electric vehicles, such as Carpool lane access in California and free municipal parking. In a similar instance, India in its financial budget of 2020 announced reduction of Goods and Services Tax (GST) on electric vehicles from 12% to 5%. These monetary benefits are attracting more number of people to opt for electric vehicles instead of conventional I.C. engines.
Challenges for NEV Taxi Market
NEV taxis are still quite expensive despite tax credits and exemptions by governing bodies. This is a major concern in adoption of electric vehicles.
Current battery technologies used in electric vehicles have a limited charge storage capacity, which restricts the use of electric vehicles to shorter distances or certain assistive tasks such as providing additional force while climbing steep hills or while driving off from a traffic signal. Charging of electric vehicle batteries is a slow process, which accounts for long waiting times. Fast charging technologies are available in the market; however, these technologies raise the temperature of battery packs, thus creating safety issues and the requirement for expensive heat management solutions. Additionally, the availability of charging infrastructure in majority of urban cities around the world is limited, which is likely to restrain the demand for NEV taxis and subsequently, hamper the NEV taxi market during the forecast period.
The recent outbreak of COVID-19 pandemic hampered majority of businesses across the globe, owing to forced lockdown, which caused people to stay at home. The forced lockdown led to temporary shutdown of taxi services; subsequently, contracting the global NEV taxi market. However, the global NEV taxi market is expected to expand from 2021, owing to economic measures taken by governments to recover from financial losses caused by forced shutdown of business activities during the COVID-19 pandemic in 2020.
Segmentation of NEV Taxi Market
The global NEV taxi market has been segmented based on NEV type, ownership, vehicle sub-type, range type, vehicle level, and region
Based on NEV type, the hybrid electric vehicle segment accounted for a higher share of the market. This is majorly due to high demand for low emission vehicles coupled with government tax credit exemptions on their purchase. However, the battery electric vehicle segment is likely to expand at a significant growth rate during the forecast period, as the vehicle is zero-emission, does not emit pollution, and is less noisy.
Based on vehicle sub-type, hatchback is a highly attractive segment of the NEV taxi market. It is likely to expand and gain market share during the forecast period. Surge in demand for low travelling cost within cities has led to a higher rate of adoption of hatchback NEV taxis in mega cities. Availability of all-electric vehicles and their popularity in developing countries, owing to these vehicles being economical as compared to others, are other key factors that are boosting the hatchback segment of the market. Based on ownership, the company owned segment leads the global NEV taxi market. Leading causes of expansion of the segment are rising urbanization and technology advancements with app-based taxi or cab booking, which enables company-owned taxis to offer services all around.
NEV Taxi Market: Regional Analysis
Based on region, the global NEV taxi market has been segregated into North America, Asia Pacific, Europe, Latin America, and Middle East & Africa
Asia Pacific accounted for a major share of the global NEV taxi market. Rising demand for electric vehicles in China and Japan, supplemented with availability of electric charging stations is promoting the adoption of NEV taxi in the country. Furthermore, in China, electric vehicles have been the top priority for the auto industry. Moreover, massive installation of charging stations are being carried out coupled with additional tax credits and incentives by the government to adopt NEV taxis to reduce emission levels in the country. These factors are boosting the NEV taxi market in China. China is considered as a leading market for NEV taxi, globally, and it is likely to remain a prominent market during the forecast period. Furthermore, announcement by the Government of India to switch to electric taxis in major cities of the country is also projected to boost the regional market. These factors are likely to boost the NEV taxi market in Asia Pacific during the forecast period.
NEV Taxi Market: Competition Landscape
Key players operating in the global NEV taxi market include

Daimler AG
AB Volvo
BYD Auto Co., Ltd.
Mahindra and Mahindra Limited
Toyota Motor Corporation
BMW AG
Ford Motor Company
Honda Motor Co., Ltd.
TATA Motors
Nissan Motor Corporation
Volkswagen
General Motors Company
Hyundai Motor Company
London Electric Vehicle Company
BAIC Motor Corporation., Ltd
Changan Automobile Company Limited.
Beiqi Foton Motor Co., Ltd.
JAC Motors
Tesla, Inc.
Groupe Renault

Key players operating in the global NEV taxi market are expanding their presence by engaging in mergers and acquisitions or by establishing new facilities. For instance, In October 2020, BYD Auto Industry Co., Ltd (BYD) and Hino Motors, Ltd. (Hino) signed a joint venture agreement to establish a new company for commercial battery electric vehicles development. This new venture is scheduled to be established within China in 2021, with BYD and Hino each making a 50% capital investment.