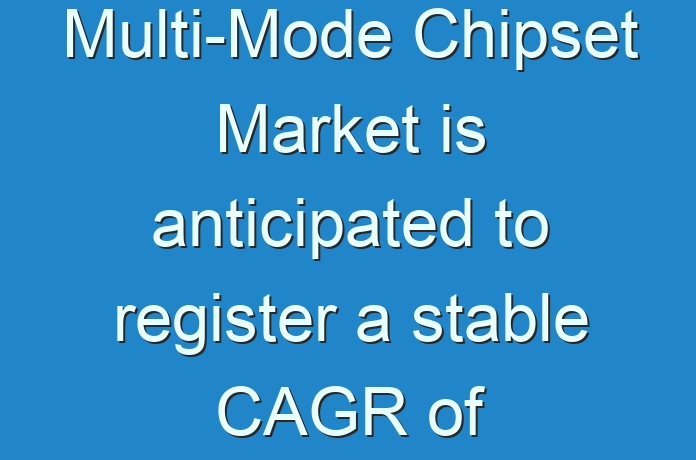 According to a new market report published by Transparency Market Research entitled "Multi-Mode Chipset Market–Global Industry Analysis, Size, Share, Growth, Trends, and Forecast, 2018–2026,"the global multi-mode chipset market is projected to expand at a CAGR of 11.2% during the forecast period 2018-2026. According to the report, the global market will continue to be influenced by a range of macroeconomic and industry-specific factors.
Increasing deployment of LTE networks, rapid technological advancement in the field of cellular connectivity, and growing popularity of devices that support 5G NR with integrated gigabit LTEhas increased the penetration and growth of the multi-mode chipset market globally.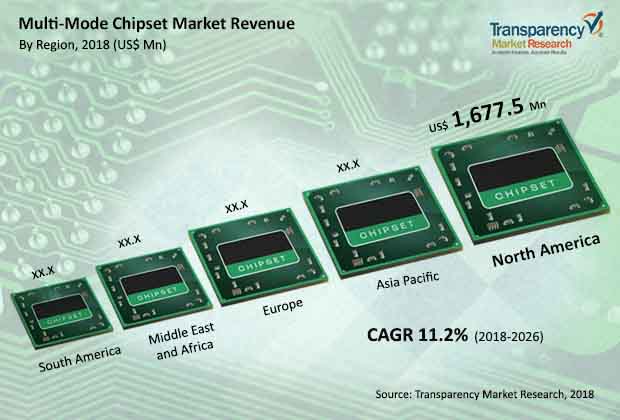 Request for a sample:
https://www.transparencymarketresearch.com/sample/sample.php?flag=S&rep_id=46704
Smartphones Segment to Remain Most Lucrative
Smartphones segment is expected to continue to be the leading segment globally during the forecast period due to rising popularity of smartphones. Smartphones segment is projected to expand at the highest CAGR of 11.6% over the forecast period from 2018 to 2026due to the various technological advancements such as high speed data networks, and emergence of 5G which arefurther shaping the communications on mobiles. Earlier, mobile phones supported either voice calls or connectivity to the Internet, but could not support both simultaneously. These days, smartphones support voice calls without disturbing a constant internet connectivity with the help of Voice over LTE (VoLTE).Customers are increasingly adopting various smartphones that support 5G connectivity in order to achieve fast data transmission speeds which have increased the growth of the smart phones segment across different regions of the world.
Wearable devices segment is projected to expand at a significant CAGR over the forecast period owing to the growing adoption of wearable devices for various activities such as health fitness tracking, sports, and vehicle tracking. The usage of wearable devices is growing rapidly in order to improve body contact stability against various motion artifacts.
North America and Asia Pacific to Continue to Hold Significant Share in the Overall Market
North America accounted for the highest revenue share in 2017 due to numerous technological advancements and growing investments in the cellular connectivity field in the region. In North America, telecom operators are continuously taking efforts to introduce advanced technologies such as LTE and 5G technology to improve the speed of connectivity to meet the constantly increasing consumer demand for high speed data networks. In February 2017, Qualcomm Technologies, Inc. announced the expansion of "Qualcomm Snapdragon X50 5G" modem family to include 5G New Radio (NR) multi-mode chipset solutions in order to address a wide range of use cases and deployment scenarios. Furthermore, with the rise in popularity of smartphones and deployment of LTE network, various players in North America are collaborating with each other and focusing on offering advanced products to consumers. This is helping the North America market to generate significant revenues. The market in the U.S. held the highest share in 2017 in North America and is estimated to expand at the highest CAGR during the forecast period. North America region is expected to expand at a significant CAGR of 11.9%during the forecast period. In a number of European countries, most of the telecom operators are offering technologically advanced chipsets for smart devices. The market in Europe is likely to witness significant CAGR growth over the forecast period. U.K. contributed highest share to the entire Europe multi-mode chipset market in 2017.
Ask for brochure:
https://www.transparencymarketresearch.com/sample/sample.php?flag=B&rep_id=46704
Demand for multi-mode chipsets in APAC is likely to remain concentrated in China and India, owing to a larger consumer base and presence of large number of telecommunication providers in these countries. India is estimated to expand at the highest CAGR among the countries in Asia Pacific during the forecast period due to the growing popularity of smartphones and growing adoption of advanced technologies. Majority of countries in the APAC region are still using mobile phones that support single mode connectivity, which is expected to shift to multi-mode chipset smartphones. In Middle East &Africa (MEA), market players are increasing their investments to expand their physical presence. GCC countries are expected to grow at a significant CAGR during the forecast period as many semiconductor providers in the GCC countries are offering miniaturized multi-mode chipsets in order to improve operational efficiency. Increasing IT spending and increasing deployment of LTE networks in South America, especially in Brazil are driving the regional multi-mode chipset market. Brazil is expected to hold a significant portion of revenue for the market in the region throughout the forecast period.
The profiling of key players in the global multi-mode chipset market includes company overview, major business strategies adopted, SWOT analysis, and market revenues for years 2016 to 2018. The key players profiled in the global multi-mode chipset market includes HiSilicon Technologies Co. Ltd., Intel Corporation, Qualcomm Technologies Inc., Samsung Group, MediaTek, Spreadtrum Communications, Marvell Technology Group, Altair Semiconductor Inc., Broadcom Corporation, and GCT Semiconductor Inc. Various players are establishing partnerships to provide technologically advanced multi-mode chipsets on a large scale in order to meet the continuously increasing demand for high speed data networks.
Read Latest Press Release By TMR:
https://www.prnewswire.com/news-releases/continued-ravage-of-covid-19-extends-tremendous-opportunities-in-disinfectant-wipes-market-valuation-projected-to-exceed-us-16-7-bn-by-2030—tmr-301285688.html