Artist Marc Lacourciere is one of the world's most sought after fine artist and has combined his passion for the motor world and music with an extraordinary artistic talent to create the ultimate expression of performance fine art.
Born in Windsor, Ontario, Canada, in 1960, Marc has a remarkable eye to catch legendary icons. His art has no boundaries, but he specializes in Motor Marc Art and Music Fine Art. Marc's artistic work, ranging from chrome to his love for music, evokes feelings that describe the artistic core of contemporary pop art and can be felt by anybody on any basis. Lacourciere's work has received worldwide attention as he is known for bringing a sense of authenticity and drama to every subject he depicts. He first showed his true talent at the age of ten at the prestigious Willistead Manor Art Gallery, and in 1994, he was selected as the designer for The Hamilton Collection's prestigious commemorative plate series on America's Classic Corvettes.
The Artist's Journey
One of six children, Marc attended Windsor's W. F. Herman Academy – Secondary. He took elective lessons in computer and car shop programs in high school, as well as arts, drawing, and sculpture classes. Lacourciere began studying CNC Manufacturing, Mould/Tool & Die in the fall of 1977 at St. Clair College of Applied Arts and Technology. In 1981, he began his apprenticeship as an automotive plastic mold maker at Modern Mold while still in school and graduated. However, Lacourciere worked as a toolmaker after graduating from high school. Lacourciere was never far from his greatest love for art. Since deciding that painting was the only thing he wanted to do, the visionary launched his own company that combined fine arts with advertisement and promotion.
"I didn't want to have a miserable professional life like a lot of others around me who worked hard yet stayed unsatisfied," says the iconic artist. "I guess I was fortunate that my passion when executed the right way turned out to be a great profession for me as well."
Lacourciere began working as a full-time décor designer at Arnold Manufacturing in 1981, as well as a part-time freelance illustrator in the automotive advertising industry. He became an art director in the mid-1980s and worked for large décor franchises in North America and Europe on massive murals and sculpted glass panels.
Art Blended with Motors and Music
Marc's creative imagination has become the focus of his innovative fine art paintings depicting these machines, ranging from custom motorcycles, classic cars, and NASCAR to a nautical fantasy series involving pirates and chrome loot. The renowned artist was always driven to create the perfect manifestation of high-performance art by combining his passion for high-tech equipment with his exceptional creative ability. As the word spread of his unique talent, Lacourciere's popularity in the motorcycle/automotive art world virtually exploded. Working closely with fortune 500 companies such as Discovery Communications, and more. Lacourciere was named as a certified artist for the Bradford-Hamilton Collection, Easyriders, and American Motorcyclist magazine. He painted 16 motorcycle titles for the collectible plate market along with artist David Mann and publisher Joe Terecy. The Motorgraphics Collection Inc. was established in 1999 for the sole purpose of promoting the Motor Marc brand as well as fine art.
Lacourciere captured every fine detail and turned them into masterpieces with his keen artistic sense. He started The Legends of Rock and Roll series with the Rolling Stones in 2010, which was licensed by Retna. In October 2012, he signed a licensing agreement with Fender Musical Instruments Corporation that permitted him to paint 32 Fender guitarists, including Leo Fender, Jimi Hendrix, and others. Marc unveiled the "Fender Legends" painting that of 32 Rock Legends in 2014.
Marc has never been afraid to try new styles in his work and challenges himself until he finds perfection in every stroke. This is one of the key elements of his success and the recognition and opportunities he has received over the years from legendary names that appreciate arts. After painting "Boyds Café," a painting of Coddington and his 1932 Ford Hot Rod, he started "The Romance Series," a female rider motorcycle collection. The first item of the series was titled "Wet Romance," and it was beautifully crafted.
The self-confessed motor head describes his masterpiece, Wet Romance, in the most imaginative way like a storyline come to life as, "It starts as a few drops in the silence of the early evening air as she pulls the bike to a stop. The rain feels cool and refreshing after a long day's ride and she can feel the heat on her skin slowly evaporating as the sound intensifies to a soft rush. Water droplets bounce harmlessly off of the tank while quietly hissing on the hot exhaust pipes. Like the rain falling freely from the sky the journey is endless and the open road always beckons for the rider."
Hues of Recognitions
Lacourciere (Motor Marc) was a featured artist on cruise ships from 2005 – 2021, including the Legends of Rock for his music series, the High Seas Rally voyages, and World Art Auctions LLC. Via his art contributions on these cruises, he collected funds for The Native American Heritage Association and Debbie's Dialysis Foundation, respectively. Moreover, Marc was also featured alongside Chip Foose and George Barris at the Barrett-Jackson automobile auction in 2013. The 1966 Batmobile was included in the artwork and was also included on the program's cover. Lacourciere was again a featured artist on the Rock Legends Cruise and the Sturgis Motorcycle Hall of Fame Museum later that year. For the Legends of Rock, the High Seas Rally, and the Sturgis Motorcycle Rally, he added new parts to his collection. Lacourciere debuted a painting named "Motor Boys / Girls Club" at the Sturgis Rally, for which he was compared to Norman Rockwell with attitude.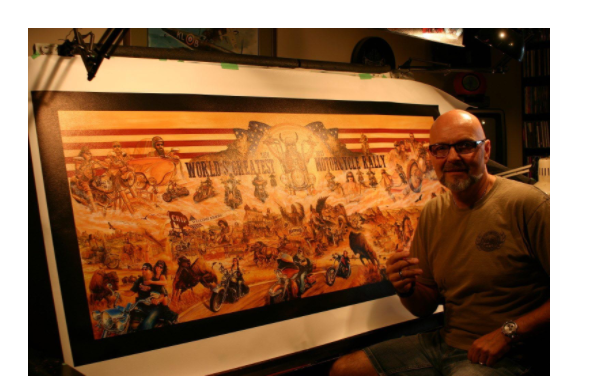 Recent Years of Artistic Excellence
Lacourciere (Motor Marc) continued his Legend Rider series with the "Ghost of Legend Rider" amidst the pandemic. This was revealed via social and print media and the fine art on view at the Sturgis Rally at the Black Hills Haley-Davidson dealership in Rapid City, South Dakota. He also made a YouTube series, "Motor Kids Club" (an animation based on Motors Boys/Girls Club, after the success of the series), in 2020. The series was thoughtful and effective as it was an attempt to teach children how to draw while also providing them with an interesting activity to make the most of their time during quarantine amidst COVID-19.
Lacourciere's first bronze sculpture, "Ocean Treasures," was unveiled alongside his featured artwork, "The Heart of the Seas," on the High Seas Rally cruise in 2019. He then displayed his latest artwork, "Heart of the Seas," behind laser-cut antique bronze open concept frames. These were the continuation of the series "Hidden Treasures," which is also one of his iconic works and defines his connection with his daughter, Melanie, the author of "Ocean's Daughter." The painting series was worked into literature for Melanie's book. Two blown glass waves sculptures of Swarovski crystal stones carried his artwork "The Lonely Seas" at the end of 2020.
Marc has dedicated several works to honor the icons of various fields. To honor the veterans at Rolling Thunder, Marc crafted a new painting in the spring of 2018. By unveiling the "Legend of Freedom" painting in Washington, D.C., the artist told the tale celebrating the veterans' bravery and courage. Veterans lined up to support and sign their names on the painting's brick wall. The artwork has more than 300 signatures on it. In 2021, he painted "Champions of Peace," a memorial artwork that shows over ten veterans from the Canadian, American, and British military. This painting was inspired by the celebration of the end of World War II. The joy of having such a treacherous event come to a close is clearly seen in the faces of the individuals depicted that Marc painted. His meteoric rise to the top of the art world has driven past works to dramatically rise in value and be highly sought after by collectors and enthusiasts alike. Look for this highly accomplished artist to continue to be a force to be reckoned with as he pushes the boundaries of artist creativity.