Global Lubricant Additives Market: Key Highlights
The global demand for lubricant additives stood nearly at US$ 15.72 Bn in 2018 and is projected to reach over US$ 18 Bn by 2027.  Lubricant additives are blended with base oils to produce finished lubricants. These additives perform different functions to enhance the life and performance of finished lubricants.
In terms of volume, global lubricant additives market is anticipated to reach more than 5,000 Kilo Tons by 2027. The lubricant additives market would be chiefly driven by the strict emission standards and increasing number of passenger cars in developing countries during the forecast period.
China has announced their VI emission standards for 2021 and India has planned to skip Bharat Stage V and implement Bharat Stage VI emission standards from 2020 onwards. These new emission standards in developing countries is likely to drive global lubricant additives market.
Lubricant additives primarily include viscosity index (VI) improvers, corrosion inhibitors (CI), pour point depressants (PPD), antioxidants, and friction modifiers. The percentage of additives used in lubricants depends upon the specific nature of their applications.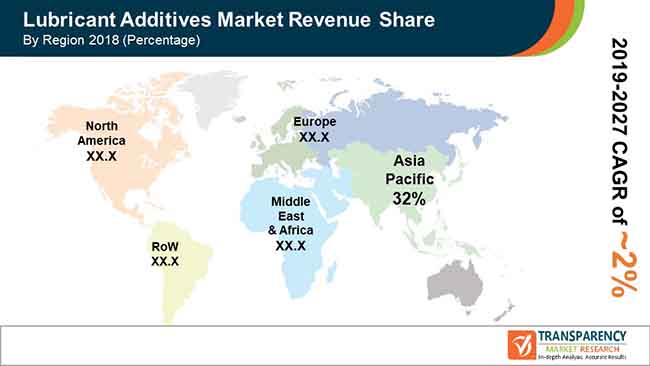 To gauge the scope of customization in our reports Ask for a Sample
Global Lubricant Additives Market: Phenomenal Characteristics by Viscosity Index Improvers and Antioxidants
Viscosity index (VI) improvers are a class of additives that optimize the rheological properties of a lubricant and enable it to work at extreme temperatures. These are polymeric materials adapted from the following technologies: poly-alkyl methacrylates, olefin copolymers, styrene block polymers, and poly-isobutylene and ethylene alpha-olefin copolymers.
VI improvers reduce the viscosity of engine oils that results in better performance and lower carbon emissions. The market share of VI improvers is anticipated to increase during the forecast period. The shift from high to low viscosity lubricants is expected to fuel the consumption of VI improvers significantly in global lubricant additives market from 2019 to 2027.
VI improvers can be used in engine oils, automatic transmission fluids, gear oils, greases, and various hydraulic fluids.
Antioxidants is expected to be the fastest-growing segment during the forecast period. The major reason for the increase in consumption of antioxidants is the high probability of damage to modern engines and turbines from oxidation in lubricants.
Get an idea about the offerings of our report from Report Brochure
Global Lubricant Additives Market: Regional Insights
Asia Pacific dominated the global lubricant additives market in 2018 with more than 32% market share in terms of volume. Factors such as increasing number of passenger cars in China, increased disposable income, and stringent emission regulations have significantly contributed to the major market share of the region.
Asia Pacific is considered as the most attractive market for lubricant additives. However, improved performance of finished lubricants that results in longer drain interval is hindering the growth of the lubricant additives market. Improved drain interval minimizes the consumption of finished lubricants and would ultimately affect the consumption of lubricant additives.
 The permissible emission limits in Europe and North America are very low chiefly due to strict emission standards. High disposable incomes in these regions allow OEMs to provide better technology for the engines used in vehicles. High quality lubricants are preferred in these regions. These lubricants are compatible with the engines and result in lower emission and better fuel economy. The emission standards in Middle East countries such as the UAE have also improved over the years.
Looking for Regional Analysis or Competitive Landscape in Lubricant Additives Market, ask for a customized report 
Global Lubricant Additives: Competition Landscape
Some of the key players in the lubricant additives market include

NewMarket Corporation
Infineum International Limited
Chevron Oronite Company LLC.
The Lubrizol Corporation
Tianhe Chemicals Group Limited.

These companies compete with each other to increase their market share in the lubricant additives market.
The global lubricant additive market was dominated by top five players in 2018. These players offer packaged formulated components and most of these compounds are captively manufactured. The major players observe that the end-users market is highly competitive and have high bargaining power.
In April 2019, Mitsui Chemicals held a groundbreaking ceremony for a new plant for Lucant, a leading brand of Lubrizol Additives business segment. The additional plant is anticipated to meet growing demand from lubricants market.
In January 2020, Vertellus acquired Bercen Chemicals which will strengthen Vertellus's current portfolio and supports lubricant additives market in North America.
Request for covid19 Impact Analysis – https://www.transparencymarketresearch.com/sample/sample.php?flag=CR&rep_id=3893