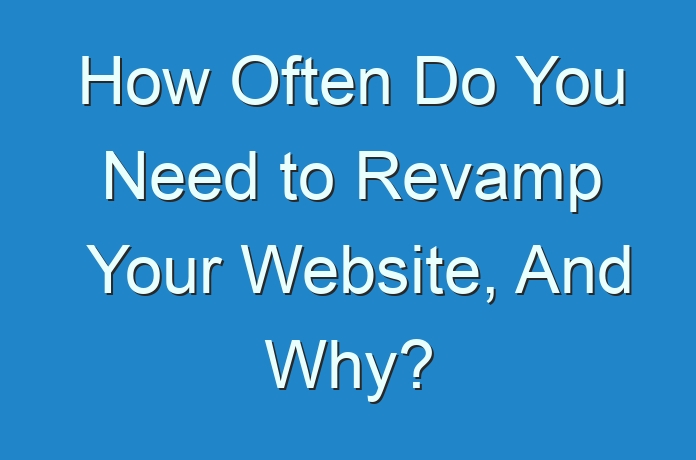 Although a general answer would be every 2 or 3 years, there are specific factors that help assess whether a business website needs an urgent renovation.
Technological aspects and design trends can make a site generate a negative experience for potential clients of a company. How are many sales and how many new customers lost due to the perception of an old site? Let us get into the point and check out why you need to revamp your website design in Columbus, Ohio?
Why This Change? Is It A Matter Of Image?
Our clients' requirements invited us to offer more precise and more detailed information about our products and services, for which we needed a new organization of our website.
Therefore, it is not only a question of image, but it also influences. Fashions change, and web design is not exempt from these changes. You have to adapt to new trends if you want to give a modern image and a company that is up to date.
Should You Also Renew the Image of The Web?
It depends. It is a decision that only you can make, but we are going to give you 8 simple reasons so that you can make that decision with all the necessary information.
Is the Design of Your Website Adaptable to Smartphones, Tablets, Etc.?
Responsive design is one of the most modern features that set trends in web development. And it is not surprising, since in recent years navigation systems have evolved in such a way that, far from considering the classic PC as the usual tool for browsing the internet. Today more than 50% of internet users recognize use to navigate their smartphones and tablets, and even televisions with internet access are used. This means that web developers must adapt to the size of each window or screen that the specific device with which you are accessing our website has.
Suppose your website does not have a responsive design. In that case, it is more than likely that it will not be seen rightly on certain devices, making it difficult for users to navigate, hiding important information, and, ultimately, losing visits and potential customers.
Does Your Website Take A Long Time to Load?
According to statistics, the average user does not wait more than 5 seconds for a web page to load fully. If your site is really slow, you will lose potential customers who do not have the patience that you would like. It is the right time to contact the best website support and maintenance agency to renew your website's design.
Do You Get Error Messages on Your Website?
If you have come across the classic 404 error, you already know you have a problem, we don't need to tell you. It is widespread, on websites with a lot of content, to make changes with the URLs, change category entries, change pages, etc.
Sometimes we can quickly and easily solve these errors, but if you find any broken links, images that have disappeared by magic, and lots of error messages, there are no quick fixes for you. You should be mentalizing yourself to renew the design of the web. In such a scenario, you should always take help from web design company Columbus to get it fixed.
4 Image: Does Your Website Look Old?
Fashions change, and web design is not exempt from these changes. There are fashions and trends, and no matter how happy you are with the image of your website, it shows when a page is more than 5 years old. Think: What were web pages like 5 years ago? And it makes 10? And now?
The image of your website is essential so that your visitors stay more than 10 seconds. If you transmit an image that is old-fashioned, old, outdated, and "out of the loop," do not expect to cause much impact among your visitors and consider renewing the design of the web with the help of website design Columbus Ohio. 
Usability: Content Organization:
It is necessary to analyze the website's structure, navigation mode, how many clicks a user has to make to access the information, what type of texts and images our website has, animations, how the contents are organized, etc.
We want our visitors to find what they have come to look for in the easiest and fastest way possible, which is undoubtedly complicated if your website is around 5 years old.
Things go out of style with dizzying speed, especially when it comes to new technologies.
SEO Positioning: Is Your Website Well Positioned In Search Engines?
It may be that at the time, the necessary tasks were done to achieve proper positioning of your website but, without knowing why, you have stopped appearing in search engines or have never made a good positioning.
Search engines also change, and what a few years ago was great to get good SEO, but today is not good for much. Google, Bing, and Yahoo constantly change the ranking algorithms of the sites that appear in searches.
So, it is important not only to have a good structure aimed at optimizing SEO but also to perform some tasks periodically to facilitate the first ones. If these issues overwhelm you, don't go crazy and hire the service of a professional with guarantees.
Conclusion:
You should not let more than 2 or 3 years pass to renew the design of the web. Over time you can lose speed in navigation, functionality, and other features that appear with new technologies and adapt to them of web development.
Think about the evolution of social networks and mobile devices in the last 5 years and how this evolution has affected internet browsing.
Design is very important. Just as you would not see a client in an 80s suit, make sure that your business card on the internet does not give an outdated, archaic, and little functional image of your company.
If you think your website is quite old and does not give a good performance, you should get in touch with the leading digital agency Columbus Ohio to revamp your website.