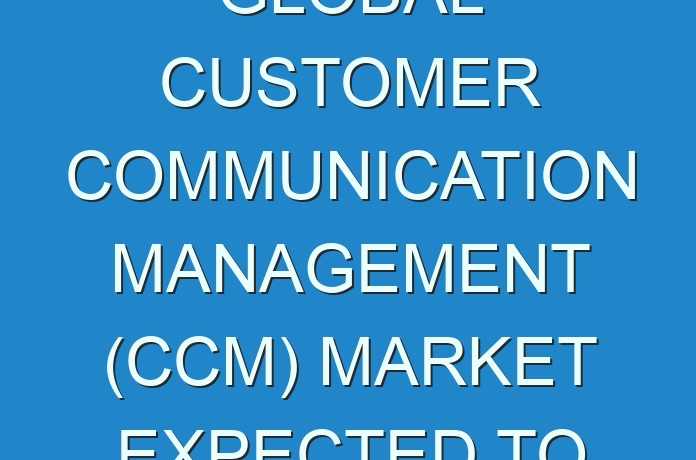 Customer communication management (CCM) is described as an advanced derivative of enterprise content management (ECM) technology. The customer communication management software has developed from the convergence of output management technologies and document composition & generation. CCM software allows customer interactions through a wide range of communication channels such as email, mobile, web-pages, SMS, print, and customer self-services. Customer communication management systems automate and simplify document-related business procedures in order to increase business performance and efficiency.
The global customer communication management market was valued at US$ 1,247.4 Mn in 2017 and is expected to expand at a CAGR of 12.1% during the forecast period.
Growing adoption of CCM solutions by enterprises is the major factor which is expected to drive the demand for CCM software in the forthcoming years. Customer communication management software allows organizations to more efficiently manage communications across all distribution channels to interact with their clients, and build more profitable and productive relationships with the customers. Currently, the market is expanding at a high rate due to rapid technological advancement in the field of customer relationship management across industries such as healthcare, BFSI, and government. Furthermore, rapid increase in demand for batch, interactive, and on-demand customer communication solutions around the globe is anticipated to fuel the growth of this market. This is influenced by the rising demand for solutions helpful in acquiring, serving, and increasing customer relationships. Additionally, on-demand CCM systems support a dynamic and nonlinear development model for organizations that want to rationalize messy application platforms (across LOBs) and to reduce time-to-market. However, data breach is one of the major concerns related to CCM software. Growing technological advancements may sometimes create challenges to manage the security aspects of the CCM software market.
The global customer communication management market is expected to be driven by the rapid growth in the Americas region. The Americas region is estimated to constitute a major market share during the forecast period, with the U.S. and Canada contributing most to the region's revenue. This is mainly due to strong adoption and integration of software applications to enhance customer experience as well as manage and control effective and efficient delivery of services. In the Americas, small-scale enterprises are higher in number than large-scale ones. These small as well as large-scale enterprises are emphasizing on enhanced customer experience and communication. As such, businesses are investing in software technologies to leverage the benefits of CCM solutions. The region is projected to be followed by Europe and Asia Pacific in terms of market share.The market in Europe is mainly supported by growing number of businesses in the U.K., Germany, France, Spain, and Italy. For instance, in U.K. in 2017, there were about 5.7 million businesses in the private sector, a 4% rise in the number than in 2016. Furthermore, the growth of the CCM market in Asia Pacific is supported by the rising smartphone penetration. This is enabling companies to capture a better channel of communication and enhance their customer experience strategy.
Looking for exclusive market insights from business experts? Request a Custom Report 
Major players operating in the customer communication management market include Adobe Systems, Inc., Doxee S.p.A.,Cincom Systems, Inc., EMC Corporation (Dell), GMC Software Technology, Oracle Corporation, Hewlett Packard Enterprise Development LP, ISIS Papyrus Europe AG, Kofax Inc., Newgen Software, OpenText Corp., Pitney Bowes, Inc., Xerox Corporation, Ricoh Company, Ltd. and Sefas Innovation, Inc.