Technological Advancements in Fuel Retail Sector to Accelerate Digital Innovations in Fuel Dispenser Market
The fuel retail industry has remained untouched for several decades. However, with advancements in technology and growing need to provide seamless customer experience, the fuel retail space has witnessed considerable growth in the number of physical as well as digital interactions across the fuel stations worldwide. Although the process of paying and filling up fuel across various nations has more or less remained the same, due to evolving demands of modern-day consumers, operations at fuel stations are expected to get faster and much more personalized than before. At present, consumers seek a perfect blend of both– the brick and mortar experience and efficient digital experience.
Due to evolving consumer demands, fuel retailers in the current industry landscape are increasingly focusing on increasing sales and improving customer retention by providing a seamless digital and physical experience by gradually shifting from conventional models. Digital innovations in the fuel retail sphere will play a key role in driving the growth of the fuel dispenser market during the forecast period. In addition, as automated fuel dispensers continue to gain popularity across the world, fuel dispenser manufacturers are expected to primarily focus on rolling out innovative solutions in line with industrial trends.
At the back of these factors, along with the exponential rise in the consumption of conventional as well as alternative fuels, the fuel dispenser market is expected to expand during the forecast period. The growing inclination toward deploying cloud platforms in fuel stations could emerge as an important factor that could set the ball rolling for the global fuel dispenser market during the assessment period.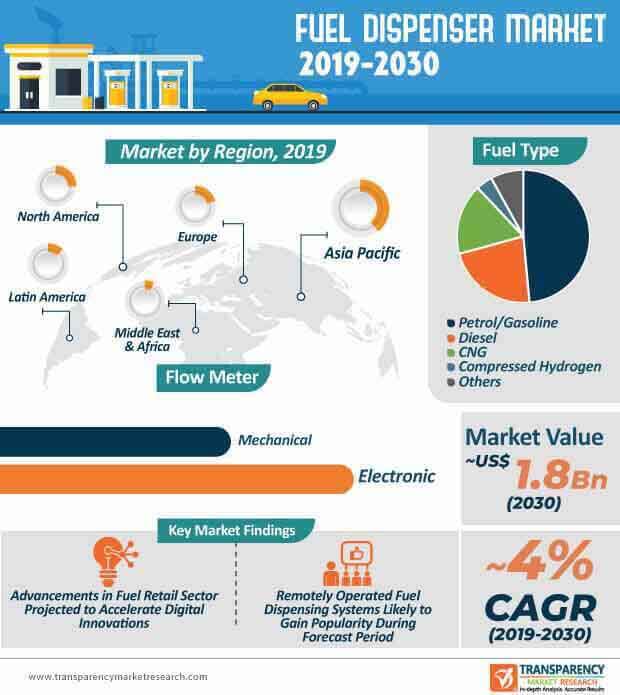 Request a sample to get extensive insights into the Fuel Dispenser Market
Entry of Digital Innovations to Mark Beginning of New Era
Over the past decade, technological advancements and growing focus on the development of novel digital solutions are anticipated to mark the beginning of a new era in the fuel retail sector. At present, fuel retailers around the world are gradually transitioning from conventional models and embracing digital innovations. The adoption of mobile platforms, analytics, and cloud solutions in the fuel dispenser market is on the rise, as market participants seek value in these solutions to attain faster operational speed and increase customer convenience.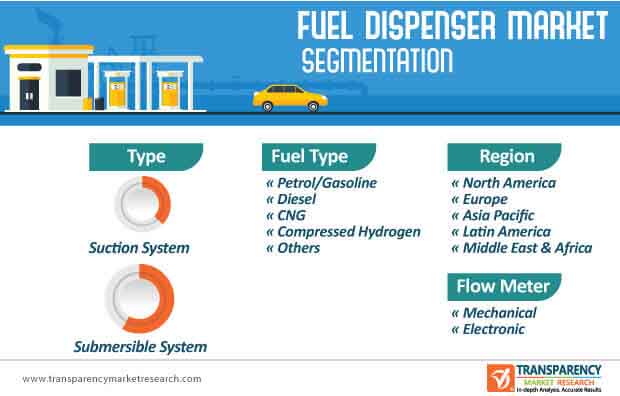 To understand how our report can bring difference to your business strategy, Ask for a brochure
Several retailers, particularly in the developed regions of the world are integrating digital technologies across various operations. The adoption of cloud platforms to accelerate application development and the use of sensors in fuel dispensers to evaluate the fuel level in tanks is on the rise– a factor that is likely to propel the growth of the market for fuel dispensers during the assessment period. The current trends in the fuel dispenser market also indicate a growing emphasis on offering commodities and products that provide a value-added experience to the customers.
Market Players Likely to Focus on Designing Remotely Operated Fuel Dispensers
Fuel dispenser manufacturers are required to launch products that comply with set standards pertaining to storing, dispensing, and handling of flammable fuels. In the current scenario, fuel dispensers with a suction and submersible system are extensively used around the world. Fuel dispensers are largely used to dispense various fuels, including diesel, liquefied petroleum gas (LPG), diesel, and compressed hydrogen. Apart from fuel stations, fuel dispensers are also used across airports, ranches, and farms. Fuel dispenser manufacturers are expected to concentrate on various details such as rate of fuel flow, size of inlets, weight of various components, and the optimum working pressure. In addition, as per the current trends in the fuel dispenser market, the demand for remotely operated systems is increasing, owing to higher levels of safety.
Disparity between Supply and Demand Evident amid COVID-19 Crisis
As the novel coronavirus pandemic pushes several nations toward a lockdown, the global demand for various fuels has witnessed considerable decline. The lockdown in China in the first quarter of 2022 is expected to have a strong impact on the expansion of the fuel dispenser market, as China is one of the major importers of oil & gas. In addition, stringent restrictions on transportation and trade have put forward several barriers in the supply chain due to which, the demand for fuel dispensers has experienced a considerable slump in the first half of 2022. Although, several countries have announced a lockdown as a measure to contain the novel coronavirus, the production of oil and other fuel alternatives has remained steady due to which, the disparity between the supply and demand has widened considerably.
Bottlenecks in the supply chain are likely to restrict market growth in 2022. However, as industries in China have opened up again, the existing bridge between the supply and demand of fuel resources is likely to narrow down and thereby, generate considerable demand for fuel dispensers in the upcoming years.
Stuck in a neck-to-neck competition with other brands? Request a custom report on Fuel Dispenser Market
Analysts' Viewpoint
The global fuel dispensers market is expected to grow at a steady CAGR of 4% during the forecast period. The market growth can be primarily attributed to a host of factors, including ongoing diversification of energy resources around the world, soaring adoption of various fuels across various end-use industries, and entry of numerous digital innovations in the market. Despite experiencing a sluggish growth during the COVID-19 pandemic, the market is likely to recover in the last quarter of 2022 and beyond due to the growing demand to improve user convenience and efficiency across fuel stations around the world.  
Fuel Dispenser Market: Overview
Fuel dispenser usually functions by using unequal pressure to create suction on different systems. In suction type, the fuel dispenser consists of motor and suction system. Thus, the fuel dispenser works independently. In submersible type, the fuel dispenser does not consist of motor and suction system. Therefore, it cannot work independently.
Flow meter is used in a fuel dispenser to measure the movement of the liquid through a pipe. Flow meters are coupled into the pipe and derive the flow rate from the rotation of a turbine or paddle wheel that is moved by the liquid. There are primarily two types of flow meters: mechanical and electronic. Fuel dispensers are also capable of producing gas on-demand around the clock. This eliminates the risk of running out of gas at an inopportune moment.
Petrol/gasoline and diesel are the major types of fuel pumped by fuel dispensers across the world. Petrol/gasoline is a primary fuel that is used across the globe in vehicles.
Increase in Urbanization and Infrastructure Development to Drive Fuel Dispenser Market
Increase in urbanization, rise in income of the people, and infrastructure developments in developing countries have led to improvements in the standard of living of consumers. Increasing number of people are buying vehicles. Therefore, demand for automotive is rising at a rapid pace. This rise in demand for vehicles leads to an increase in demand for fuels such as petrol, diesel, and CNG. This is boosting the fuel dispenser market.
Of late, the usage of vehicles has increased significantly across the globe. This has resulted in a proportionate rise in construction of fuel stations. In turn, this is propelling the fuel dispenser market across the globe.
More Trending Reports by Transparency Market Research – https://www.prnewswire.com/news-releases/increasing-demand-for-power-to-drive-global-underground-mining-market-to-valuation-of-us-25-bn-by-2027–transparency-market-research-301008293.html
New Discoveries in Oil & Gas and Other Fuels and Shale Gas Boom to Drive Fuel Dispenser Market
New discoveries regarding oil & gas and other fuels due to the rise in prices of fuels and increase in population have augmented the demand for vehicles. This has led to an increase in fuel prices. Furthermore, several discoveries are being conducted for alternate fuel generation.
The shale gas boom has led to the significant rise in the production of oil and natural gas in the U.S. This has positively affected the fuel dispenser market. The U.S. share of energy intensive exports is expected to rise by 2035 in contrast to the sharp decline in share of Asia Pacific and Europe.
Rise in Adoption of Electric Vehicles to Hamper Fuel Dispenser Market
Pollution is adversely affecting the environment across the globe. Governments of various countries are enacting several rules and regulations to control pollution. Increasing number of people are shifting toward electric vehicles, as non-electric vehicles result in high pollution in the environment.
Sales of electric vehicles stood at more than 2 million units globally in 2018, up by 63% on a year-on-year basis. This rate is anticipated to increase substantially during the forecast period.
Electric vehicles lower urban air pollution and noise, lessen a country's dependence on foreign oil, and enable manufacturers to remain relevant as the global automotive industry transitions to a low-carbon future
Government of various countries are striving to adopt electric vehicles to reduce pollution. People are increasingly also shifting toward electric vehicles. This, in turn, is estimated to adversely affect the demand for fuel dispensers during the forecast period.
Market Penetration and Development of Fuel Dispensers Boosts Fuel Dispenser Market
Companies operating in the fuel dispenser are expected to strengthen their sales force in India, ASEAN, and Brazil considering the high growth in automotive production in these countries. Companies are projected to focus on competitive pricing, since the global players operating in the market have integrated operations.
Rise in demand for automotive is likely to positively impact the demand for fuel dispensers. Manufacturers of fuel dispensers are conducting various research and developments activities to introduce improved products in the market.
Strengthening distribution channels can help companies expand their footprint. Manufacturers of fuel dispensers can opting to expand their business by establishing new facilities in Asia Pacific and Latin America. Furthermore, exporting quality products to Asia Pacific and Latin America can offer lucrative opportunities for companies based in North America and Europe.
Recent Developments, Expansions, Acquisitions, and New Contracts in Fuel Dispenser Market
In February 2022, AFC Energy announced plans to launch a global mobile generator that is powered by hydrogen to replace polluting diesel generators on construction sites. The new hydrogen power generator uses an alkaline fuel cell technology that has been developed at the company's research facility in Surrey.  It can be scaled from 20 kW to more than 1MW to fit with the typical power requirements of construction machinery. The technology can also use ammonia as a feedstock and apply a cracker to produce hydrogen on-demand to fuel the generator.
In April 2022, BayoTech, an on-site hydrogen production company, announced it had entered into a collaborative partnership with DLL. BayoTech and DLL have partnered to create a leasing program to bring BayoTech Fuel Dispensers to customers. This collaboration is expected to enable customers to access low-cost, on-site hydrogen without having to make a large capital commitment. BayoTech fits in with the business model of DLL of working with innovative energy companies around the globe that provide solutions to support a lower carbon footprint.
Request for covid19 Impact Analysis – https://www.transparencymarketresearch.com/sample/sample.php?flag=covid19&rep_id=12305
Asia Pacific a Highly Lucrative Region of Fuel Dispenser Market
Asia Pacific led the global fuel dispenser market in 2019, owing to significant demand for fuel in the region. Rise in demand for fuel in China and robust automotive sales are expected to drive the growth of fueling stations in the country. This, in turn, is anticipated to boost the fuel dispenser market in China.
In India, migrants from rural areas are increasingly shifting toward urban areas for better opportunities. Disposable income of consumers has been rising in the country. This is augmenting the demand for vehicles, thereby boosting the demand for fueling stations and fuel dispensers.
Highly Competitive Fuel Dispenser Market
The global fuel dispenser market is fragmented, as vast numbers of large players operate in the global market. Quality of fuel dispensers, brand expertise, and product differentiation play an important role in a company's market share. Fuel stations operated by international companies as well as locally organized government fuel stations held significant share of the global fuel dispenser market in 2019.
Key players operating in the global fuel dispenser market are

Beijing Sanki Petroleum Technology Co. Ltd.
Bennett Pump Company Gilbarco Inc.
Korea EnE Co. Ltd.
Neotec
Piusi S.p.A.
Scheidt & Bachmann GmbH
Tatsuno Corporation
Tokheim Group S.A.S
Tominaga Mfg. Co.,
Wayne Fueling Systems LLC
Zhejiang Lanfeng Machine Co. Ltd.