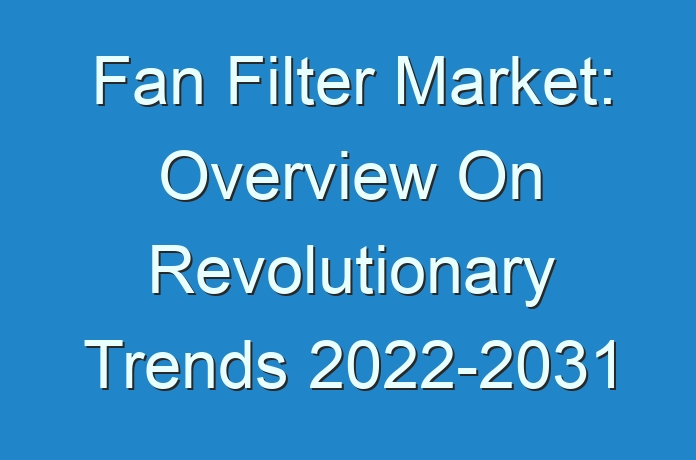 A fan filter is a unit that supplies clean, filtered air to a cleanroom. Air is drawn via the fan, through a pre-filter and then through a HEPA or ULPA filter which filters the sub-micron particles, ensuring clean and processed air supply. Using fan filter units (FFUs) to provide localized clean air is a more energy efficient route than using a traditional air handling unit (AHU) and is a more frequently adopted approach in modern cleanroom design. Fan filter units are stand-alone units and supply purified air to cleanrooms and laboratories within life science, food & beverage, and microelectronic industries by removing harmful airborne particles from recirculating air. Unlike pressurized cleanroom ceiling plenums, FFUs create a positive room pressure that reduces the contamination risk from potential ceiling bypasses.
Key Drivers of the Fan Filter Market
Rising purchasing power is positively impacting the fan filter market. Health hazards due to air pollution and growth in awareness about the health benefits of fan filters are important factors driving the market. Air pollution causes health issues such as severe asthma, throat irritation, burning sensation in the eyes, bronchitis, and allergic respiratory disorders. Therefore, it is vital to maintain clean and healthy air in residential, commercial, and industrial environments. This is likely to boost the demand for fan filters.
Other factors such as increasing number of households, rapid product innovation, and government regulations on ventilation are expected to drive the overall fan filter market globally during the forecast period.
Construction of mini-environments creating opportunities in the fan filter market
Improved performance and lower installed costs have created demand for fan filter units on centralized systems. Furthermore, expansion of smaller clean air spaces and construction of mini-environments and special areas within ballroom clean spaces are likely to create new growth opportunities for the fan filter unit market during the forecast period. As these units consume less power and offer various advantages over centralized systems, they are installed with a separate fan unit to control temperature in a semiconductor industrial lithography tool environment.
For More Industry Insight, Request [email protected] https://www.transparencymarketresearch.com/sample/sample.php?flag=S&rep_id=59961
Limitations on usage may restrain the fan filter market
If the fan filters are shut down after the AHU and smoke dampers are shut, they have nowhere from which to pull air; and if there are multiple fan filters on a system, the weakest fan filter will stall and shut down. Such factors may restrict the growth of the fan filter market.
Asia Pacific the dominant region
With growth in the automotive and manufacturing sector, India, China, and Japan are contributing the most to the fan filter market. The market in the Asia Pacific region is expected to expand at a faster rate since the region has a number of local/regional manufacturers of fan filters.
Key Players Operating in the Global Market
Companies are working on product innovation and development to increase their customer base. Furthermore, key companies are adopting the merger and acquisition strategy to improve their market revenue at the global level. Some of the major companies identified in the fan filter market are:
Camfil
Shenzhen King Glory Purification Equipment
Krueger
Guangzhou Zicheng Purification Equipment Manufacturing
Bassaire
Nicotra
Fuji Electric Global
Huntair
Get More PR by TMR: https://www.prnewswire.com/news-releases/growing-adoption-of-industrial-commercial-robots-across-varied-industries-to-drive-robot-operating-system-market-says-tmr-301352070.html