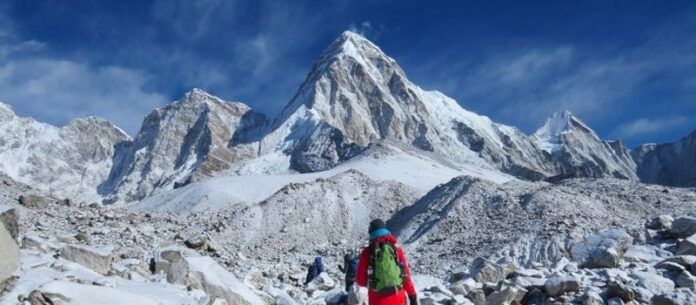 Everest Base camp trekthrough Salleri trail links with Jiri routes joining towards EBC region at Ringmu. You will be taken towards Mt. Everest region route where Tenzing Norgay and Edmund Hillary conquered the top of the world in 1953. They had also lifted their footprints being an epic journey that the world always remembered until their existence.
This was also regarded as the first ever trial for climbing the world highest peak. Talking about trek through the Salleri you could get various things to do from this region. In terms of trekkers who don't have potential and any of trekking experience in life then this destination is best for them. This trek begins from the salleri at an altitude of 2390m and you will get plenty of time for preparations.
Most trekking to EBC starts from Lukla and eventually suffers from altitude sickness. At the same time there are also a number of trekkers who want to skip Fly to Lukla as possible. The Hillary Airport is also known for most Dangerous airport adjoining the airfare cost a bit more expensive.
This trail is almost a virgin and less frequented trekking trail journey. The culture in this destination is almost untouched by any of the western influences or modernization. This region people help you to stay at local tea houses with a warm welcome nature with generous hospitality. This will make your trek more memorable
Trekking through Phalpu to EBC will support the locals who are even deprived of the tourism stream. Talking about the food supplies of Salleri to ChaouriKharka will serve fresh picking from the farm which is also regarded as the ideal trip that supports sustainable eco-tourism.
The trek to Everest base from capital city Kathmandu to Salleri leading towards BP Koirala Highway to Khurkot. Khurkot Ghurmi Madhya Pahadi Highway takes 266.9 KM by jeep and takes about 8 to 9 hours of driving to this destination. This road has black topped so that you can drive more easily than the previous one.
You will be taking a long term scenic drive from the villages,riverbank,snow capped mountain view and hills. The road leads towards Pattale village 2840m above sea level. The beautiful village has now made the most fascinating homestay trip.
This village has been popular for the long time among thousands of domestic travelers as well as international which is also considered as the awesome viewpoint to witness MT. Everest. It is the top of the world including this we can even witness Markhu (8,463m), Gaurishankar at 7,135m above sea level and many more in less effort. If you want to make this trek amazing Everest Base Camp Heli Trek might be alternative trek for you.
You will be heading towards the sherpa and Rai villages Munthala, Taksindu, Kharikhola, Buspar, Paiya, Surke, Chaurikharka and also get towards MT. Everest to the main trail at the destination of Chheplung. Salleri is the headquarter of Solukhumbu and Solu is the district which is located below Lukla called solu.
After this you will be meeting a crowd of trekkers who fly from the destination of Lukla from Kathmandu. There will also be traffic jams by Jhopke or Dzomo,Yaks, Porters and some trekkers who cross throughout the suspension bridge.
The temperature of this region changes accordingly from temperate vegetation to alpine vegetation during the time of entering into Sagarmatha National park located at Manjo.The trekking trail that lies beyond the region of Namche leads to Everest base camp. This region will offer you a splendid himlayan scenery leading through the Sherpa village Panache, Lobuche,Dingboche, Gorak Shep and finally at the Mt Everest Base camp region 5,360m above sea level.In this region there is another popular viewpoint that is Kala Patthar 5,555m above sea level especially in the region of Mt. Everest 8,848.86m above sea level is ample. This Everest is also in a stone throwing distance from the regular viewpoint of trekking. Except for the freezing point it is cold and the stunning sunset view from Kalapatthar is almost outstanding especially Mt. everest .
Conclusion
Trekking from the destination of Salleri to Everest base camp trek is amazing and interesting. This is the virgin route where you can get a new experience in life in terms of culture, hospitality and trail. Salleri is a completely new form of treks with a less crowd and new areas to explore. This will be new but more interesting to those who don't want to fly through Lukla. You will be experiencing a snow capped mountain over there during the trek.