Europe wearable technology market was valued at USD 308.69 million in 2013, growing at a CAGR of 42.1% from 2014 to 2019. Wearable technology market is a niche market with current domination of a few players. As the technology is new and there are few players, the prices of the products are high. However, the applications of wearable devices are currently spanning across sectors such as 
fitness and wellness
, infotainment, healthcare and medical and industrial and military. Additionally, the applications of these new technology products are expected to increase with further development in the devices, over the forecast period.
The wearable technology market is segmented by application into fitness and wellness, infotainment, healthcare and medical, and industrial and military. Various products such as 
smart clothing
 and smart sports glasses, activity monitors, sleep sensors, smart watches, augmented reality headsets, and monitors in the wearable technology market are further included under these applications. These are further segmented into products with several features. For example, outdoor activity watches have been segmented into watches with altimeter, barometer and compass. Other products have been further segmented and covered in the report. Among these, the fitness and wellness segment accounted for the highest market share in 2012 and is expected to maintain its position throughout the forecast period due to rising adoption of wearable technology products.
Germany acquired the largest market for wearable technologies with a share of 32% in 2012. Technological innovations presented through various conferences on wearable technologies have created awareness and increased its adoption in the country. An example of such conference is Wearable Technology Conference (WTC) in Germany conducted by Wearable Technologies Service GmbH, a key player in the European market. In addition, developments are taking place in the field of self powering wearable devices in the country.
A large number of developments have been taking place in the wearable technology market in UK. In 2014, Wearable Technology Show was held in London which showcased innovative products in wearable technology. Moreover, the UK show also saw an alternative to Google glass, Optinvent Ora. These augmented reality glasses put a see through screen which is three times larger than the Google Glass. Active developments are also taking place in the field of smart clothing. A UK based textile firm Intelligent Textiles develops electrically active woven fabrics for commercial products ranging from 
body armor
 to heated bedding and garments connected to iPods. Owing to all these technological developments and new product launches, the demand for wearable technology is expected to rise in UK in the coming years and thus the region is analyzed to grow at a CAGR of 41.8% over the forecast period.
Scandinavian region include three countries namely Denmark, Norway and Sweden. Wearable technology market players in these countries are involved in the development of new wearable products through technical innovations. In Sweden, scientists are developing ways to power wearable devices through blood. These devices will use naturally occurring processes in human body to generate electricity. The developments in Denmark and Sweden are steady however; they are expected to increase with the entry of key players in these counties. Thus, the country is analyzed to witness a CAGR of 43.1% over the forecast period of 2014 to 2019.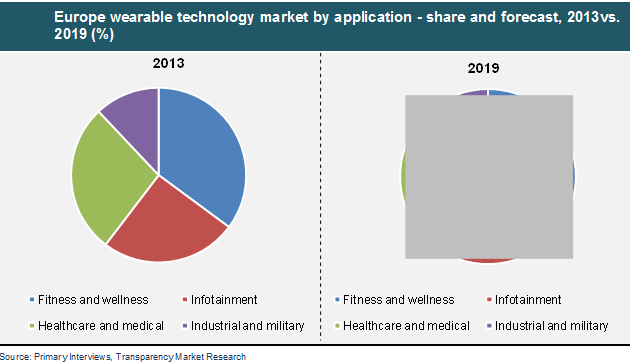 Rise in Incidences of Chronic Illnesses to Boost European Wearable Technology Market
The key factor driving overall growth of the European wearable technology market is the considerable rise in health issues. In addition, spike in chronic illnesses and the need for real-time body monitoring for medical checks in Europe are likely to favor growth of the regional market. The rising popularity of smart watches and high rate of implementation of smart wireless technology is likely to drive the growth of the European wearable technology market. In addition, technological advancements and introduction of new products is estimated to aid market growth in the coming years. However, and risk associated with products such as lithium batteries in smartphones, restricted potential of battery, and strict regulatory policies are likely to impede expansion of the European wearable technology market in near future. The possibility of a data breach, on the other hand, is another challenge for this market. The convenience of use and analysis of data by these systems is also an important factor likely to drive market expansion.
Rising Demand from the Remote Patient Monitoring to Work in Favor of the Market
In the near future, the elderly population is projected to observe high growth. Neurological disease, respiratory disease, cardiovascular disease, diabetes, and other diseases are more prevalent in this segment of population. This factor is expected to have a favorable effect on the European wearable technology market in the years to come.
In addition to that, various other factors, such as development of distribution networks of major product manufacturers and constant product development and commercialization in the region are expected to positively influence the market's growth in Europe. However, due to a shortage of favorable reimbursement policies in Europe, the market is likely to be severely constrained.
Looking for exclusive market insights from business experts? Buy Now Report here https://www.transparencymarketresearch.com/checkout.php?rep_id=2579&ltype=S
A rise in the geriatric population along with a surge in the number of people with chronic health conditions are fueling the development of remote patient monitoring. This patient monitoring system is capable of helping the patients with chronic disease management by tracking important risk factors like blood pressure, glucose, and other vital signs. Patients may use a handheld medical device to conduct a routine test and then report the results to healthcare providers in real time using this technology. These developments in the region are likely to foster growth of the European wearable technology market in near future.