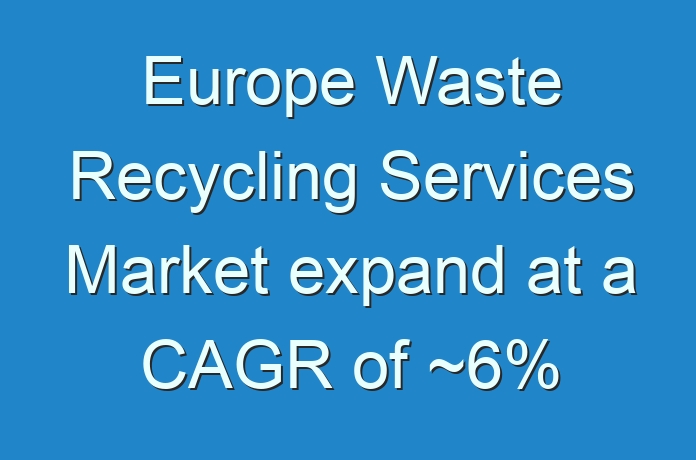 Recycling Targets Overburden Incineration Centers in Europe amidst COVID-19 Pandemic
The novel coronavirus (COVID-19) has created revenue opportunities for companies in the Europe waste recycling services market, but has also created challenging recycling targets. It has been found that Wales is the only U.K. country, which has been successful in meeting its recycling targets. There has been an exponential growth in the volume of household waste during the COVID-19 pandemic, while many recycling centers have been shut during the crisis. This has caused tension in adjusting the legislature to meet recycling targets.
Moreover, staff absence at recycling centers in Europe is another challenge for health commissions. Redundant recycling practices such as segregation of waste by hand was found to be the key reason to prevent putting the workforce in the harm's way. As such, the Cardiff council is strategizing on weekly waste collection strategies to efficiently sort and recycle domestic rubbish.
These factors are expected to drive the Europe waste recycling services marketduring the forecast period.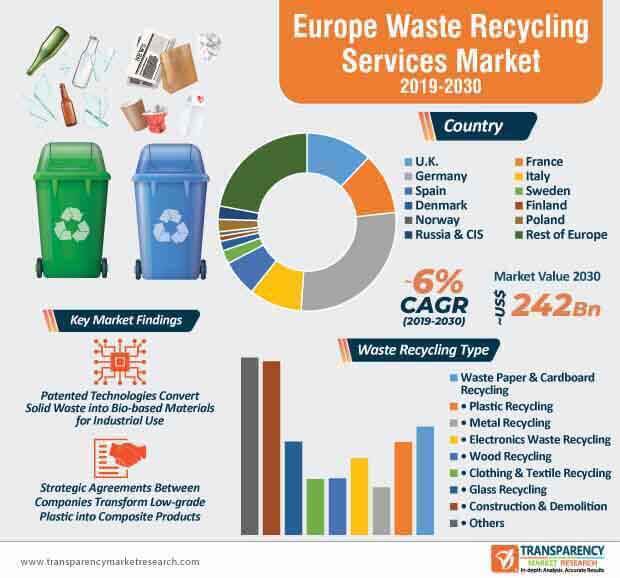 Request a sample to get extensive insights into the Europe Waste Recycling Services Market 
Strategic Agreements Between Companies Help Create Industry-ready Plastic Resins
Companies in the Europe waste recycling services market are investing in capacity additions to achieve plastic chemical recycling. For instance, in April 2022, Recycling Technologies Ltd.- a U.K.-based company committed to accelerate evolution of plastic, announced to set up first-of-its-kind European plastic chemical recycling machine at the Brightlands Chemelot Campus's chemical industry. Companies in the Europe waste recycling services market are setting their collaboration wheels in motion to recycle plastic waste into valuable feedstock for new plastic production.
Patented technologies are a recurring trend in the market, which is expected to expand at a CAGR of ~6% as the market matures during the assessment period. Manufacturers are using these technologies to revolutionize low-grade plastic waste into virgin-like plastic products. These patented technologies are increasingly replacing mechanical recycling methods to prevent plastics from ending up in landfills.
Companies Scale Unlimited Growth by Converting Mixed Plastic Waste into Composite Products
The growing pollution caused by single-use plastics such as straws and wrappers is revealing the true depth of the global waste problem. Hence, companies in the Europe waste recycling services market are introducing patented technologies to reduce the amount of discarded waste. For instance, Wimao Ltd.- a Finnish provider of breakthrough technology in recycling mixed plastic waste, has set on an expedition to launch its pilot REMAT production plant, which converts mixed plastic waste and wood waste into composite products. Such innovations are bolstering growth of the Europe waste recycling services market, which is estimated to reach US$ 242 Bn mark by the end of 2030.
Companies in the Europe waste recycling services market are scaling incremental opportunities by recycling mixed plastic waste, which is a rich source of raw material that can be weighed in billions of tons.
World-saving Recycling Technologies Convert Solid Waste into Reusable Commercial Products
The U.N. Environment Program has highlighted the issue of growing solid waste ending up in landfills, which has become a central issue for pollution worldwide. Hence, companies in the Europe waste recycling services market are taking cues from world-saving technologies introduced by companies in the Middle East. For instance, UBQ Materials – a recycling center in Tel Aviv, Israel, has invested in a production line, which transforms unsorted household waste into sustainable and bio-based materials that can be reused for commercial and industrial products.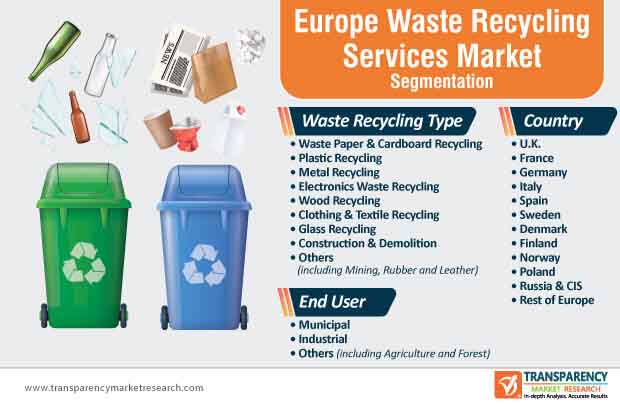 To understand how our report can bring difference to your business strategy, Ask for a brochure
Recycling services are witnessing increased demand to convert unsorted household waste into climate-positive thermoplastic materials that are replacing toxic petroleum-based plastics. Innovative recycling technologies are giving rise to products that can substitute conventional petrochemical plastics and wood, resulting in reduced oil consumption and deforestation. Companies in the Europe waste recycling services market are using technologies to decompose organic materials in landfills to reduce issues of greenhouse gas emissions.
Circular Programs Encourage Waste Recycling Services in European Cities
Several cities in Europe are aiming to become fully circular and reduce the amount of residual waste. This trend is anticipated to create incremental opportunities for companies in the Europe waste recycling services market. However, lack of awareness regarding waste prevention among polluters such as retail business owners and restaurants is posing a challenge for recycling companies. Hence, there is a need for specific programs that rope in the private sector stakeholders in waste prevention. The Apeldoorn Recycle Service 2025 is an innovative program, which is aimed at reducing the amount of residual waste from the private sector in Apeldoorn.
Local strategies involving circular and resource efficiency methods are being adopted in cities of Europe. This is creating value-grab opportunities for companies in the Europe waste recycling services market who are strategizing on waste collection methods for paper and plastic waste.
Companies Eye Business Opportunities in Difficult-to-Modify Materials to Generate Revenue
Scientists have been making significant advancements in the recycling for plastics. For instance, John Layman – a head of material sciences at Procter & Gamble and founding inventor of PureCycle Technologies, has innovated in a revolutionary process that removes color, contaminants, and odor from polypropylene plastic waste and transforms it into virgin-like resin. Thus, companies in the Europe waste recycling services market should collaborate with such scientists to gain recognition on a global level.
Recycling companies are increasing their focus on polypropylene plastic, since this plastic is the second-most used plastic in the world and hardly any of its volume is actually recycled. Hence, companies in the Europe waste recycling services market are capitalizing on this opportunity to innovate in new methods to recycle polypropylene plastic. They are maximizing business opportunities in difficult-to-modify materials such as carpet waste to bolster revenue growth.
Stuck in a neck-to-neck competition with other brands? Request a custom report on Europe Waste Recycling Services Market
Analysts' Viewpoint
Apart from the disposable waste created by healthcare facilities, increasing number of domestic waste is compromising recycling facilities in Europe amidst the COVID-19 crisis. Companies in the Europe waste recycling services market are collaborating to innovate in new methods for plastic chemical recycling. However, lack of industry expertise in recycling explains why only a miniscule percentage of waste is being recycled worldwide. Hence, companies should increase their R&D to come up with patented recycling technologies and urge governments to introduce specific recycling programs that educate private sector businesses about the advantages of recycling, sustainability, and a circular economy.
REQUEST FOR COVID19 IMPACT ANALYSIS –
https://www.transparencymarketresearch.com/sample/sample.php?flag=covid19&rep_id=77980
Europe Waste Recycling Services Market: Overview
Waste management is a universal issue affecting every single individual in the world. Poorly managed waste is contaminating the world's oceans, clogging drains, and causing floods. Furthermore, improper waste disposal leads to transmission of diseases via breeding of vectors. Burning of waste also causes respiratory issues. Thus, proper disposal and management of waste is necessary to overcome the issues stated above.
Waste management consists of activities such as collection, segregation, incineration, recycling, and landfilling of waste
Demand for waste recycling services has been rising across the globe due to the enactment of regulations regarding control of carbon emission and increase in the circular economy.  Recycling of waste is the process of collecting and processing the waste material into new products or using it as raw material for different applications.
Waste recycling services differ depending on the waste to be recycled. The common process carried out in waste recycling services entails collection, sorting, processing, and crushing.
Various technologies such as IoT, artificial intelligence, and augmented reality are being used in waste recycling services to automate and reduce human interference
Demand for waste recycling services in Europe is expected to increase significantly in the near future, owing to better collection and processing of waste due to implementation of waste directive frameworks by government bodies
Rise in Private Sector Investments in Waste Management Sector to Europe Waste Recycling Services Market
The engagement of private sector organizations in waste management can be illustrated in various ways. Private sector organizations are involved as providers of waste management-related services, investors in waste management facilities, developers of new methods and technologies, and technical advisers.
Private sector investments in waste recycling services have been increasing in regions where the waste management sector is supported by government regulations
Private sector organizations are major stakeholders in waste recycling services in European Member States. These organizations also play a key role in the management of most types of wastes in some states. The municipal waste is primarily managed by local government, while the private sector focuses on the management of industrial waste.
The private sector provides valuable finance and carries out substantial improvements in the efficiency of overall waste recycling services in Europe
Thus, rise in private sector investments in waste management in Europe is estimated to propel the waste recycling services market in the region
Lack of Awareness about Waste Recycling to Hamper Europe Waste Recycling Services Market
Improvement in standard of living has led to purchase of an increasing number of products. Single-person households tend to produce more waste per person than families or groups.
Consumption of products has changed significantly, as consumers currently have much more choice. The lifespan of products has also become shorter.
Advancement in technology has increased the use of personal devices. However, lifestyle changes are resulting in generation of more waste than before.
It is necessary to spread awareness about waste management and recycling of products among individuals. Government bodies in Europe have started taking initiatives in spreading awareness about minimizing and recycling of waste.
Lack of awareness regarding waste management among individuals is likely to hamper the waste recycling services market in the region in the near future
Growth in Number of Waste Management Laws to Provide Opportunities to Europe Waste Recycling Services Market
Europe has officially adopted new laws to prevent waste and boost recycling. In 2018, European leaders approved higher recycling targets and new measures to reduce waste across the region.
The new laws also include economic incentives for reuse, deposit-return schemes, food donations, and phase-out of subsidies that promote waste
Recycled waste is projected to be a significant source of secondary materials and critical raw materials. This is expected to drive the usage of waste as a resource, thereby resulting in a more circular economy.
Some of the directives implemented by the European Commission:

Separate collection for textiles by 2025 and separate collection for bio-waste by 2023
Reuse and recycle of waste materials such as paper, metal, plastic, and glass from households must be increased to a minimum of 50% by weight by 2020
Reuse and recycling of municipal waste must be increased to 55% by 2025, 60% by 2030, and 65% by 2035

Thus, increase in waste management practices and rise in regulations related to recycling in Europe are anticipated to create opportunities in the waste recycling services market in the region
Recent Developments, Expansions, Acquisitions, and New Contracts in Europe Waste Recycling Services Market
In February 2022, Biffa, a leading sustainable waste management company in the U.K., announced that it had won a contract from Müller UK, a pioneering dairy company, to supply food grade recycled High-Density Polyethylene (rHDPE) plastic to be used in all its milk bottles. Biffa has developed industry-leading technologies to improve the washing and extrusion process for plastics continuously over the years. This would enable Müller UK to use up to 40% of recycled plastic in its bottles.
Germany to be Highly Lucrative Region of Europe Waste Recycling Services Market
Germany is anticipated to be a highly attractive region of the waste recycling services market in Europe during the forecast period. The waste recycling services market in Germany is estimated to expand at a significant pace between 2022 and 2030, as the country has the highest waste recycling rate of 62%. This can be ascribed to stringent waste management laws and targets related to recycling of waste. Furthermore, Germany is focusing on circular economy. This is anticipated to secure the country's access to high quality and affordable raw materials.
The U.K. held significant share of the waste recycling services market in Europe in 2019. The waste recycling services market in the country is likely to expand a moderate pace during the forecast period.
Highly Competitive Europe Waste Recycling Services Market
The waste recycling services market in Europe is highly fragmented. A few international and local players hold major share of the waste recycling services market in Europe.
Prominent players operating in the waste recycling services market in Europe are

Sims Metal Management Limited
Waste Management, Inc.
SUEZ
Veolia
Sims Lifecycle Services, Inc.
Ragn-Sells Group
REMONDIS SE & Co. KG
Kuusakoski
Fortum
Marius Pedersen a.s.
Norsk Gjenvinning Norge AS
SCHOLZ RECYCLING GMBH
Paprec Group
Biffa
TRADEBE
H.J.
Hansen Recycling Industry A/S
Recycling Lives
EUROKEY RECYCLING GRO