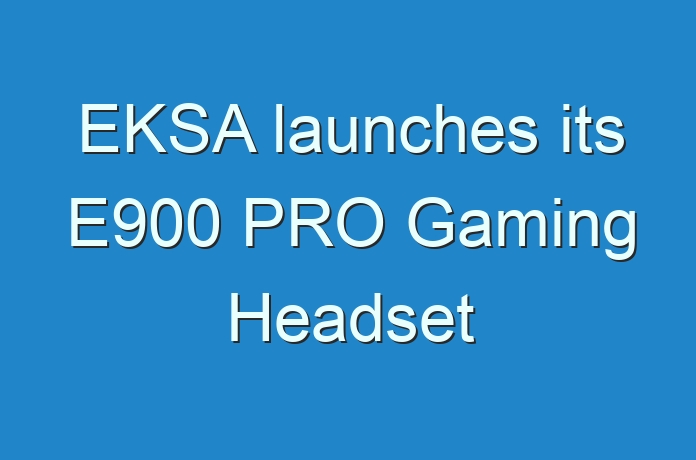 The E900 PRO combines 7.1 virtual surround sound and immersive audio to produce an exceptional acoustic gaming experience for pro-gamers!
View a video of the EKSA E900 PRO gaming headset here
London, X May 2023: Following a ten-year history of developing and manufacturing headphones for top global brands, gaming peripheral experts EKSA is pleased to announce the release of its own latest headset, the E900 PRO. This follows the incredibly successful launch of its predecessor, and their very first headset, the E900. This gaming headset with 7.1 surround sound is available for £42/$49.99 direct from the EKSA website or £43.99 on Amazon UK and $49.99 on Amazon.
The EKSA E900 PRO gaming headset was developed by pro gamers and game designers to offer an experience and sound that will enhance the gaming experience. Enabling gamers to fully immerse into game play, the headset has 360° stereo surround sound thanks to the EKSA Surround 7.1 software. Its accurate sound positioning helps gamers to quickly define the enemy's position thus avoiding attack, and increasing the chances of reaching a victorious outcome. The Pro Quality Dual Audio System combines this surround sound with 50mm neodymium speaker drivers and also allows users to easily switch to audio by changing the wire connection, a USB connection for 7.1 Virtual Surround Sound on PC's (supports all Windows systems) or 3.5mm audio cable with 50mm neodymium speaker drivers to deliver immersive sound on all platforms.
The E900 PRO's microphone picks up the user's voice clearly while isolating any ambient noise and the detachable design means it is flexible to use anywhere and can also be replaced as desired. The on-headset volume adjustment, mic mute button and play/pause switch also ensure quick and convenient audio control that will not interfere with the game. As all head and ear shapes and sizes are different, the 10º flexible ergonomic design on the headset hinge provides a snug fit for all, whilst the well-padded headband and protein memory foam ear cups ensures maximum comfort; even for long gaming sessions. These too can be replaced when required. The sturdy yet flexible aluminum frame, even the arm, ensures the headphones are robust and resilient enough to survive the test of time. EKSA uses premium materials when manufacturing the headset, eradicating any cable quality issues and ensuring the headset has a longer lifespan than its competitors and is so confident in its durability, that it offers an incredible two year manufacturer warranty.
The E900 PRO headset's impressive 7.1 Virtual Surround Sound has universal compatibility so it can be used on all PC's via a USB but also with the 3.5mm audio cable on PC, Xbox One and PS4 controllers and Nintendo Switch with a 3.5mm jack as well as other mobile devices.
The EKSA E900 PRO gaming headset is available for £42/$49.99 direct from the EKSA website or £43.99 on Amazon UK and $49.99 on Amazon.
High resolution imagery is available here
Specifications
| | | |
| --- | --- | --- |
| Headset | Microphone | Package includes |
| Pro-Quality Dual Audio 1. 7.1 Virtual Surround Sound (Software Needed) 2. Stereo Sound | Microphone Type: Retractable Noise Cancelling | 1× EKSA E900 Pro Gaming Headset |
| Driver diameter: 50mm | Omnidirectional Microphone: 4015 mm | 1× Pluggable Microphone |
| Impedance: 16 Ohm | Frequency Response: 20-2000 hz | 1× 3.5mm, 5.9ft Audio Cable |
| Sensitivity: 114dB +/- 3dB at 1KHz | Sensitivity: -42±3dB | 1× 3.5mm Cable Splitter |
| Frequency range: 20Hz-20KHz | USB adapter cable length: 1.8 m | 1× Instruction Manual |
| | Type: Detachable boom | 1× Carry Pouch |
| | | 1x USB Cable |
About EKSA
EKSA originated with the OEM production of headphones for well-known A-class headphone brands. EKSA discovered that a lot of gaming headphones are heavy, bulky designs which are either low quality or uncomfortable to wear so used its 10 years of audio manufacturing experience to help consumers enjoy gaming with its own headphones.
Different from other gaming headphones, EKSA gaming headphones are affordable, lightweight and comfortable. Based in China, EKSA has an advanced manufacturing processes, excellent experienced acoustical engineers, electronic engineers, structural engineers and industrial designers, which contribute to premium products at a competitive price. EKSA is devoted to bring 'Real Comfort' to each gamer around the world.
Visit Eksa for more information.