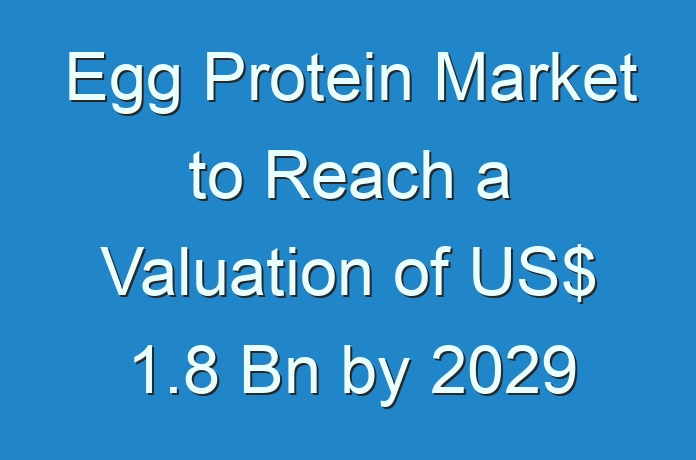 Innovations in Egg Protein Powder Boost Growth in Sports Nutrition Space
Manufacturers in the food & beverage industry are increasing the applications of egg protein in the bakery and sports nutrition sectors. Likewise, egg protein is gaining prominence in various protein powders to cater to the demands of consumers in the sports nutrition sector.
Revenue in the egg protein market from the sports nutrition sector is anticipated to be the highest, reaching a value of ~US$ 419.8 million by 2027. Due to the growing number of diet-conscious consumers, manufacturers in the egg protein market are developing egg white protein powders with interesting flavors such as chocolate, vanilla, and strawberry. Since flavored egg protein products are projected for high growth during the forecast period, companies are introducing egg protein powders that complement the paleo diet of these health-conscious consumers and athletes.
Egg protein powders are increasingly gaining consumer attention as they contribute to weight loss and increased muscle gain. Manufacturers in the egg protein market are developing improved egg white protein powders for consumers suffering from lactose intolerance. Thus, egg white protein powders cater to the on-the-go food preferences of consumers.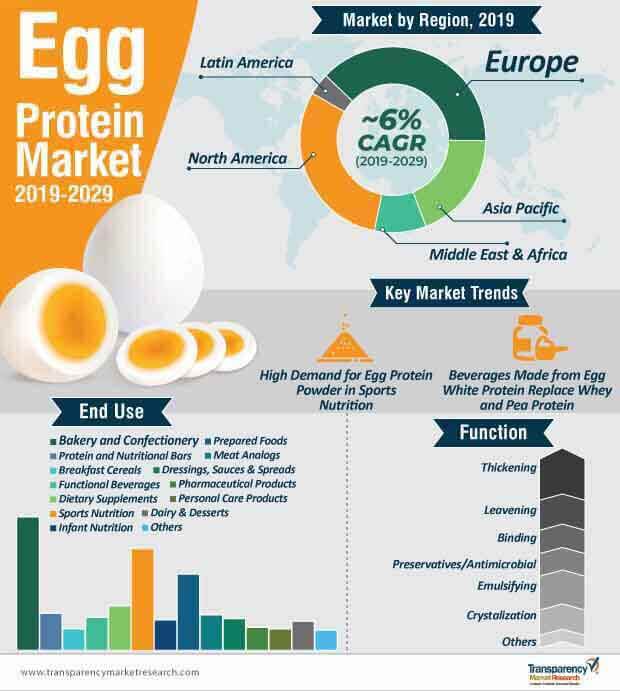 Request a sample to get extensive insights into the Egg Protein Market
Microbial Fermentation a Cost-effective Option for Mass Production of Egg Protein
The fermentation process via modified yeast is emerging as a greener and cost-effective option for manufacturers in the egg protein market. Manufacturers are adopting the animal-free approach to manufacture egg protein products, which is otherwise an expensive affair using factory farming methods.
As consumers are opting for vegan diets, the commercialization of egg proteins delivers a complete vegan protein source, enhanced with the unique functionality of animal protein. As such, food giants are teaming up to develop egg protein using synthetic biology techniques in the egg protein market. For instance, in April 2019, Clara Foods – a San Francisco-based startup, announced its Series B financing with Ingredion – a leading global ingredients solution company, to manufacture and formulate animal-free egg proteins.
To understand how our report can bring difference to your business strategy, Ask for a brochure
Besides egg protein powders, manufacturers are commercializing egg protein to produce ready-to-drink beverages. They are also offering unique nutritional bars made with egg white protein.
REQUEST FOR COVID19 IMPACT ANALYSIS –
https://www.transparencymarketresearch.com/sample/sample.php?flag=covid19&rep_id=50814
Egg White Protein v/s Whey Protein: Which is Better?
Egg proteins are steadily replacing plant-based proteins such as whey, soy, and pea proteins. Since egg proteins offer high protein content and no fat in just two-three servings, vegetarian consumers in the egg protein landscape are demanding novel egg protein products.
Likewise, manufacturers are offering protein beverages that are a mixture of egg white and chocolate milk. Whey protein is dominant in supplements and powders, as it is easy to produce and can be easily flavored as compared to egg proteins. However, whey contains lactose, which does not agree with consumers who are lactose intolerant. Lactose also leads to digestive problems in many individuals, which aggravates complications such as diarrhea and extreme cramps.
Manufacturers in the egg protein market are producing nutritional bars with egg white proteins, as these proteins are easy to absorb as compared to plant-based proteins. This phenomenon has given rise to the concept of 'bioavailability'. Thus, consumers are opting for egg protein snacks with higher bioavailability to achieve greater muscle recovery, which also gives them the satisfaction of a fuller meal.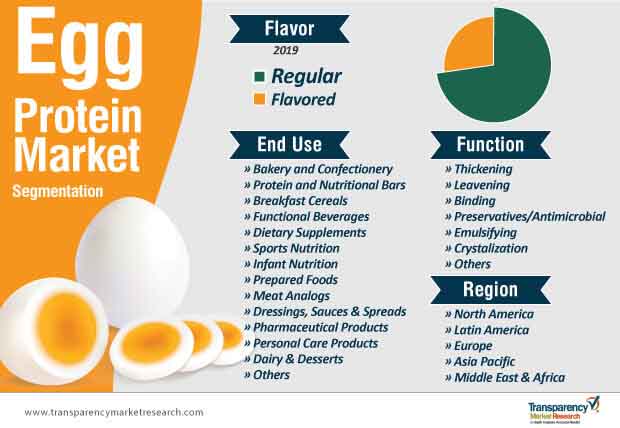 Stuck in a neck-to-neck competition with other brands? Request a custom report on Egg Protein Market  
Analysts' Viewpoint on Egg Protein Market
In the egg protein market, the bakery and confectionary sector accounted for the highest revenue in 2018, with a value of ~US$ 203 million. This is why, manufacturers are increasing offerings with the introduction of whey-egg-milk protein pancake mixes and bakery paleo egg white protein powders. The introduction of GMO-free protein powders is likely to boost the sales of egg protein products. However, consumers are challenged with short-term health risks due to unstandardized flavored products with artificial sweeteners. To overcome this challenge, manufacturers should educate consumers and increase the availability of all natural egg white protein products. These products are a healthy alternative for consumers due to their high biological value resulting from sulfur containing proteins and other amino acids.
Read More:
According to Transparency Market Research's latest market report on the egg protein market for the historical period of 2014-2018 and forecast period of 2019-2029, globally, revenue generated by the egg protein market has been estimated to be ~1 Bn in 2019, and the global egg protein market is expected to expand at a CAGR of ~6% in terms of value throughout the forecast period. 
Protein Fortification and Standardization Propelling Egg Protein Market
Food fortification entails the addition of certain beneficial ingredients to a product to enhance its functional properties. Through the fortification of egg protein, manufacturers can increase the quality of food and address crucial protein deficiencies among consumers.
Egg protein fortification is gaining popularity among consumers, owing to the rising preference for proteins in regular or everyday foods, and the increasing demand for weight management products that are low in fats and high in protein content.
Protein standardization is the adjustment of protein content in a food product, to either meet regulatory guidelines or enhance the functional properties of the product. Egg protein standardization is a common practice among bakery, dairy, and confectionery product manufacturers, wherein, egg protein ingredients are added to various products to enhance their properties and functioning.
Egg protein standardization improves product uniformity, consistency, texture, and taste. Thus, the demand for fortified and standardized food and beverages is currently driving the growth of the global egg protein market to a significant extent. 
Egg Protein Market: Asia Pacific – Leading the Way in Infant Nutrition Products
The demand for baby food formulas is significantly higher in Asia, due to two major factors: China's repeal of its one-child policy and industrialization in South East Asian countries.
In 2015, China scrapped its nearly four-decade long one-child policy due to concerns over the aging population. This decision is expected to have substantial implications on food & beverage and consumer goods businesses. China's 2016 birth rate increased by around 7.9% (17.9 million) over 2015. This rapid increase has created substantially high and rapidly increasing demand for infant nutrition products in the country.
Apart from China, countries such as Vietnam and Indonesia have been witnessing considerably high demand due to the increasing young population and rapid industrialization. One important consequence of this is the large-scale induction of women into the workforce, which is resulting in the high demand for baby formulas.
As per the United Nation's International Labor Organization, there are over 72% of women in the overall workforce in Vietnam.
All these factors are leading to a surge in the egg protein market in the Asian continent. 
Egg Protein Market: High Usage of Protein in Sports & Bodybuilding Products Surging Demand
A consistent supply of proteins is considered absolutely essential for muscle growth, as protein helps in building muscle mass and repairing damaged muscle tissue. Due to this, the consumption of egg protein powder is a fairly common phenomenon among fitness enthusiasts and regular gym-goers.
Egg protein is particularly popular as a supplement due to its functional advantages such as high solubility in a liquid medium, and the presence of all essential amino acids and vitamins.
Egg protein is also finding increasing application in sports nutrition products, as it is perceived to be natural and additive-free. Egg protein is considered important in this regard, as it has a complete set of amino acids similar to plant proteins, consequently catalyzing the growth of the egg protein market. 
Beneficial Nutritional Profile of Egg Protein – Captivating Consumer Preferences
Consumers are increasingly focusing on product labels to know the quality and quantity of ingredients and nutrients, sugar, fat etc., in packaged food products. This has led to manufacturers using egg protein, as is both, nutritious and low in fat content. The presence of one or more nutrients such as vitamin D or riboflavin appeals to a wide audience, and provides ample marketing scope to manufacturers.
Egg proteins are being increasingly perceived as healthy products that are a source of various amino acids that are not produced in the human body or are concentrated in the muscles. Whey protein is considered a complete protein, i.e. it contains all the nine essential amino acids.
Egg protein is considered a viable and safe source of choline, selenium, vitamin B12, vitamin D, riboflavin, and phosphorus. 
Egg Protein Market: Competitive Landscape
All the key players such as Cargill Inc., Kewpie Corporation, Davisco Foods International, Inc., in the egg protein market, are mainly focusing on the acquisition of regional players to strengthen their presence or establish partnerships to develop new products.
A few companies are also going for the expansion of their production facilities.

Tier I players include
Cargill Inc.
Kewpie Corporation
Davisco Foods International, Inc.
Rose Acre Farms, etc.,

who account for more than five percent of the global players present in the egg protein market. Tier II players include Igreca, Sanovo Egg Group, Rembrandt Enterprises Inc., Now Health Group, Inc. Deb-El Foods, Bouwhuis Enthoven, and some other players. Tier III usually consists of unorganized players in the egg protein market.
Egg Protein Market: Key Developments
Some of the key developments seen in the egg protein market during the past few years are as follows:
In March 2015, Davisco Foods International, Inc. increased its production capacity of Alpha-lactalbumin, which is a protein isolate, at its Jerome Cheese facility in Jerome, U.S., with the objective of catering to the increasing demand for the product.
In January 2013, NOW Foods established a new manufacturing unit to produce products at a second U.S. location, consisting of a 165,000 square foot manufacturing and distribution center in Sparks, Nevada.
In November 2016, Cargill, Incorporated and Calysta, Inc., along with several third-party institutions, invested to start the world's largest gas fermentation facility in Memphis, U.S., in order to produce Calysta's FeedKind protein, which is a sustainable, traceable nutritional ingredient for fish, livestock, and pets.
In 2016, Rose Arce Farms expanded its business by opening a new unit for controlling egg operations in Arizona. This expansion strategy also opened up job opportunities for professionals. This was aimed at increasing the production capacity of the company to meet the escalating demand for egg products.