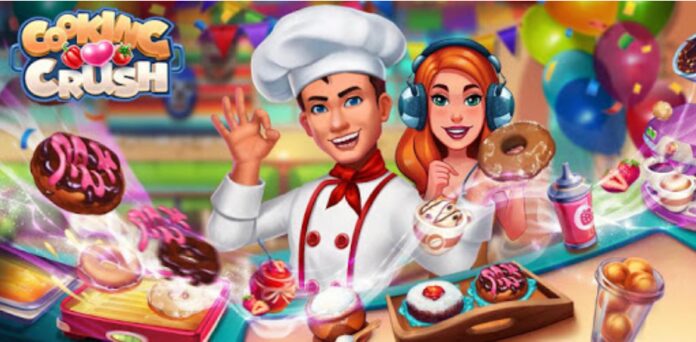 Blessing our screens this Summer, I have come across fresh cooking games that are both fun and educational. I am talking about Cooking Crush. Everyone is talking about this wonderful kitchen game. A friend told me about it. She knows I love cooking games and surely enough, I loved CoFoking Crush. I have been playing Cooking Crush for over a month now and I thought I should review it.
What kind of a Food game is it?
The game is called Cooking Crush. It is an interactive kitchen game. The game is shown from the player's point of view. The player assumes the role of a master chef at a restaurant. The restaurant is run by the player. The player has to do everything from waiting for the tables to cooking up a delicious meal!
What values can one learn from this cooking game?
Cooking Crush is a family game. Every member of the family can play it with equal interest as the game has different aspects which different people will enjoy. From parent to child, this game will draw in any age group which also helps to improve the time management games skills..
The game kicks off with the standard cooking routine. Those who enjoy cooking in the family will be sure to be drawn in by the delicious types of dishes. They will love to learn different sorts of local and exotic recipes.

Cooking Crush

is filled with various decorating opportunities. The game provides the player with a kitchen. The kitchen can be personalized according to taste and fashion liking. Those who have an eye for fashion and style will surely enjoy personalizing the kitchen. They can choose from a range of curtains, furniture, paintings, table decorations and so much more!

Cooking Crush is a time-based game. If you recall any visit to a restaurant, you would know that there are various customers with different sorts of orders. Waiters are bustling here and there to fetch the desired orders and the kitchen is always full of tantrums and hurry. Similarly, you are going to have to manage everything yourself. This will require stern time management games skills. The better the players manage time, the better they will be able to keep up with the challenges. For those in the family who love managing things and strategic planning, such cooking games for free will be very interesting.
Cooking Crush

offers a wide variety of restaurants for the players to select from. From busy, resonant Italian pizzerias to peaceful patisseries with harmonious music in the background, you will find top-line eateries with amazing ambiance. As the master chef, it will be up to you to maintain this good and peaceful ambiance.
What rewards can be obtained from this time management game?
The game itself works on gold coins. The player obtains gold coins on finishing various cooking challenges.

Gold coins can also be won by playing some mini-games like 'spin the wheel' or finishing daily happiness challenges. These challenges are extremely easy and will make you happier as you finish them. Truly, the reward here is happiness rather than gold coins!

The game makers care very much for the players and you can hope to win daily bonus coins simply for logging in. The bonuses will grow in size if you are continuously logging in for consecutive days.

Other than gold coins, you can expect to win power-ups that will help you throughout the game.

Lollipops are a sweet treat for everyone. This is why lollipops are one of the many rewards in this game. You surely can not eat them but your customers can! Use these lollipops to make your customers happy if you are unable to provide them timely service or if they are in a bad mood.
What is the use of gold coins?
These gold coins can be used to purchase various products in the game. The products can be either aesthetically pleasing or help power up your levels so you perform your task easily.