Connected Tires and IoT Act as Bridge for Efficient Tire Performance Management
Tire and rubber manufacturers are making significant investments to develop connected solutions and products that have improved productivity potential. Likewise, stakeholders in the connected tire market are focusing on increased offerings for new tire products with intelligent functions and systems that help leverage the uptime of connected tires.
Similarly, connected tires are becoming a large segment of the Internet of Things (IoT) network. Connected tires are embedded with sensors that make driving safer and more convenient for consumers. The sensors collect important data and information that can be used to assess the vertical load in cars. Thus, the technology used in connected tires is not only beneficial for consumers, but the collected data and information can also be assessed by OEMs (Original Equipment Manufacturers) with the help of the IoT network, so as to identify the limitations of the tires and strategize technological innovations to overcome the same. Information acquired from connected tires can help stakeholders provide personalized and proficient advice for uses such as optimal tire pressure adjustment, to improve their performance in the long run.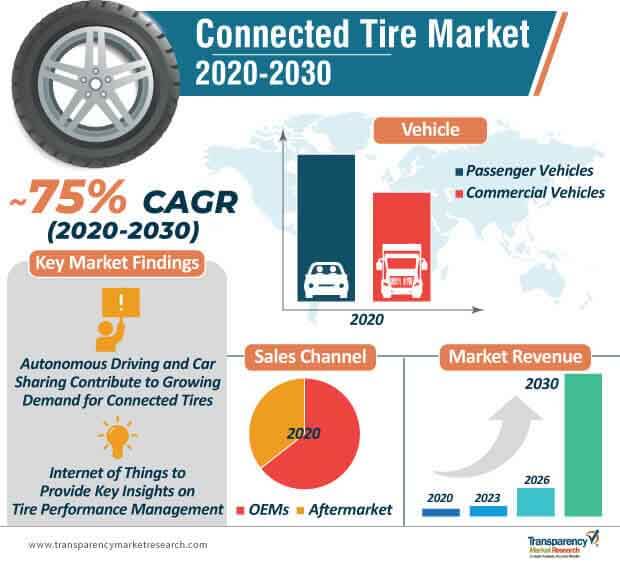 Request a sample to get extensive insights into the Connected Tires Market https://www.transparencymarketresearch.com/sample/sample.php?flag=S&rep_id=67028
Data Science Technology: A Mine of Information for Automotive Driving and Car Sharing
Self-driving technology and car sharing are the emerging norms in the automotive industry. Connected tires are effectively fitting into the picture of the new buzz word 'CASE' ? connected, autonomous, smart, and electric vehicles. Likewise, OEMs and stakeholders in the aftermarket are innovating on Internet-connected smart tires. The growing trend of autonomous driving and car sharing is projected for the intense use of passenger vehicles on the road. With the help of data analytics, the information culled from sensor-embedded connected tires will aid stakeholders in getting an average about the total distance travelled and vehicle usage. This information can be used by OEMs to provide value added customer service for regular maintenance and repairs on the wear and tear of the tires.
Market players are offering connected tire technologies that monitor tire pressure and internal temperature to alert logistic operators. In the heavy commercial vehicles segment, technology wizards are innovating on GPS-based truck fleet management services.
Stakeholders Adopt High-level Information Technology amidst Technological Limitations
The high cost of connected tires is primarily due to operational and supply chain limitations. Important information and data depend upon the network strength for IoT-connected tires. Technological drawbacks also pose a challenge, since connected tires are ingrained with several sensors, motors, and complex controls that need to withstand harsh environments and rough terrains.
Manufacturers are focusing on lucrative product offerings to the aftermarket, for connected tires that work in tandem with remote monitoring systems. OEMs are developing tire sensors in autonomous driving systems that assess road conditions. Tires are connected with high-level IT (Information Technology) systems that analyze data for continuous process improvement. For instance, Michelin — a leading French tire manufacturing company, announced a joint research agreement with GM (General Motors) — a leading American vehicle manufacturing company. This agreement was made to develop airless wheel technology — Uptis Prototype, which is in tandem with Michelin's VISION concept for airless, connected, 3D printed tires, and made from sustainable renewable or bio-sourced materials.
Stuck in a neck-to-neck competition with other brands? Request a custom report on  "Connected Tires Market" https://www.transparencymarketresearch.com/sample/sample.php?flag=CR&rep_id=67028
Connected Tire Market – Key Insights
The global connected tire market is anticipated to expand at a CAGR of ~75% between 2020 and 2030.
The aftermarket segment is estimated to hold a notable share, as tire manufacturers develop digital platforms to monitor tires and deploy connected tires as aftermarket replacement.
The connected tire market is in the nascent phase. Tire manufacturers are investing to develop connected tires in order to cater to the future demand for autonomous vehicles.
The passenger vehicles segment is projected to hold a dominant share of the global connected tire market, while the heavy commercial vehicles sub-segment is estimated to expand at a high growth rate during the forecast period.
Drivers of Connected Tire Market
The use of embedded sensors in tires helps collect and process various parameters related to tire performance, such as pressure, temperature, tread wear, and rubber defect. Based on the type of terrain, the connected tire adjusts its pressure and subsequently enhances the quality of the ride.
The rising demand for predictive maintenance and digital monitoring of tires, particularly for vehicles used in ride-hailing and logistics fleets, is projected to drive the connected tire market.
Connected tires alert the driver in case of a pressure deflation or puncture, thereby improving vehicle safety. Rise in consumer demand for safer vehicles and automakers to improve the safety ratings of vehicles is anticipated to drive the connected tire market.
Related Reports Press-Release –
https://www.prnewswire.com/news-releases/automotive-ac-compressor-market-to-continue-to-gain-from-indispensable-hvac-systems-for-range-of-automobiles-market-projected-to-be-worth-us-32-39-bn-by-2026—tmr-301262966.html
US Office Contact
90 State Street, Suite 700
Albany, NY 12207
Tel: +1-518-618-1030
USA – Canada Toll Free: 866-552-3453
Email: [email protected]
Website: https://www.transparencymarketresearch.com