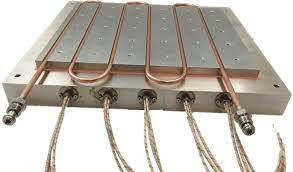 Cold Plates: Introduction
Cold plates dissipate the heat generated by electronic components, or any other surfaces with high heat loads, to the liquid that flows to a remote heat exchanger. Heat can be transferred into either an ambient or another liquid in a secondary cooling system.
Air cooling is not sufficient while cooling IGBT modules or any powered electronics, while proper liquid cooling is needed to transfer heat. Liquid cold plates provide cooling four times better as compared to that offered by an equal mass of air. The liquid cooling system consists of a pump, heat exchanger, connective tubing and cold plates that can replace space consuming heat sinks and fans.
High thermal conductivity and compact design make cold plates ideal to use for several applications such as powered electronics, IGBT modules, medical equipment, wind turbines, lasers, motor devices, and automotive components
 Liquid cooled cold plates require a constant flow of cooling water. This can be tap water, deionized water, inhibited glycol and water solutions, dielectric fluids, polyalphaolefin, etc.
Cold plates are typically made from aluminum with either copper or stainless steel tubes. Each tubed cold plates has a single tube available with 2/4/6-passing with no joint, ensuring leak-free operation.
Request Brochure:
https://www.transparencymarketresearch.com/sample/sample.php?flag=B&rep_id=80474
Key Drivers of Cold Plates Market
Cold plate technology was first introduced to dissipate heat in NASA's Apollo program. Miniaturization of high powered electronics have prompted engineers to develop cooling methods of increasing complexity. Thermal management of high powered electronics is a critical component of a design process. Increase in demand for renewable energy and electric vehicles has fueled the demand for high-powered electronics. Demand for power electronic devices in the automotive industry is being propelled by the development of electric vehicles (EVs) and hybrid electric vehicles (HEVs) which in turn is projected to boost the demand for cold plates in the near future.
Applications of IGBT modules in industrial electronics are increasing, and they require liquid-cooling systems, particularly using cold plates placed directly on devices to transfer as much heat as possible. Rising application of IGBT modules is estimated to propel the demand for cold plates in the next few years.
The medical industry has expanded over the last few years, which has led to a higher demand for modern medical equipment. Reliable and cost-effective compact thermal cooling solutions, such as cold plates with heat exchangers, are used for cooling medical devices and laboratory equipment. Increase in private and government spending on medical infrastructure is estimated to augment the demand for cold plates in the near future.
More Trending Reports by TMR:
https://www.prnewswire.com/news-releases/expanded-perlite-market-estimated-to-gain-valuation-of-us1-878-4-mn-by-2027-end-increased-use-in-filtration-process-triggers-market-growth-tmr-301135508.html
Key Restraint of Cold Plates Market
Engineers are more concerned about nanoparticle buildup and possible clogging in the cold plate or the pump. High initial cost and regular maintenance & cleaning are primarily required. These factors can act as a major restraint for the cold plates market.
REQUEST FOR COVID19 IMPACT ANALYSIS:
https://www.transparencymarketresearch.com/sample/sample.php?flag=covid19&rep_id=80474
Covid-19 Impact on Cold Plates Market
The COVID-19 pandemic has had a severe impact on the use of cold plates in end-use industries. The industrial shutdown has also adversely impacted product and inventory transportation, as logistic services have been hampered due to the COVID-19 outbreak. Demand for cold plates in automotive applications has suffered due to slowdown in the demand for automotive caused by COVID-19 pandemic and increase in prices of fuels. However, the medical equipment industry has been positively impacted by COVID-19, as the number of patients admitted during this period was higher than those in the last few years.