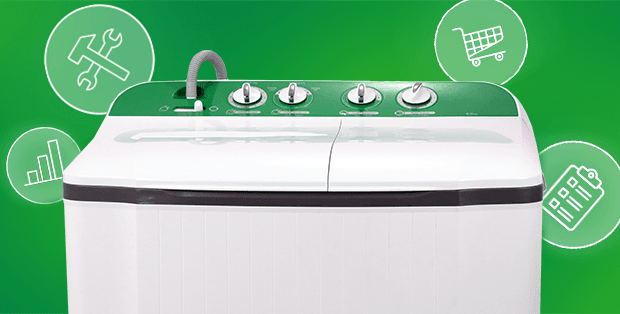 Several home appliances make your job easy at home. One of such useful appliances is a Washing machine. Are you planning to get home a new washing machine? If you already have a washing machine, then you may have an idea about what to look for while buying a washing machine. But if you are buying it for the first time, then there are certain important things to keep in mind. Anyways, here are some of the basic things that you need to check before buying it.
Type of Washing Machine
One of the important things that you need to decide first is the type of washing machine. It is automatic or semi-automatic.
Semi-automatic:

Semi-automatic washing machines

are usually the top load washing machine. In this kind of machine, the washer and the spinners come in different drums. So you will have to transfer the clothes from the washer to the spinner manually. It uses a lot of water and energy as well.

Automatic

: In automatic washing machines, you have both top load and front load as well. The washer and spinner are in the same drum, and hence you need not have to do anything once you add clothes to the drum. The machine stops after the complete process is done and you need to air dry them after you take out. But front-load is better than top load as they use less water.
Size
The next thing to check is the size of the washing machine. Before you look at the size, you need to decide where you are going to place it and space you can allot to the washing machine. If it is a top-load machine that you are choosing, then you need space for the washing machine alone. But if you are choosing a front-load, then make sure that there is enough space in the front for the door to open and put clothes into it.
Capacity
Depending on the size of the family, you will have to pick the capacity of the machine. You can pick a 5 kg washing machine for a family of two members, a 7 kg machine for a family of 3 to 4 members and 8kgs or more for a large family.
Modes of wash
Having different wash modes will be very helpful for washing different kinds of clothes like cotton, silk, delicate clothes, woolen clothes, and others. The hot water facility is very useful if you are having babies at home.
Energy efficiency
If you want to save on your power bills, then you will have to go for an energy-efficient washing machine. High rated may be a bit expensive when compared to the low rated machines, but that is a one time investment, and you can save later on your monthly power bills.
Brand & Warranty
The last thing to keep in mind is the brand and warranty of the product. You will always have to pick a popular brand in the market. You can check the reviews of the product before you buy to make sure that you are picking the right brand. The warranty offered by the brand is also important as that also helps in deciding the quality of the brand.