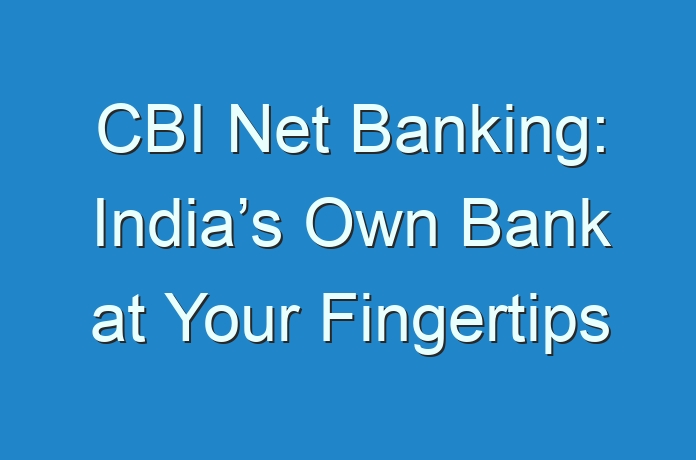 There are numerous banks are available who provides various banking facilities but there is nothing in comparison with CBI (Central Bank of India) which is one of the oldest & largest commercial banks in India. It was established in 1911 and the headquarter in Mumbai, Maharashtra which is our Financial capital. Since it's an old bank it was giving only traditional banking facilities such as: opening a saving account, locker and more. The traditional medium was time taking and one has to stand in s long queues for their turn to come. Due to lack of time and all things are turning into digital and digital world is growing fast so is the Bank.
The bank also introduced its net banking services to the customers through CBI Net Banking which includes all online banking services-online saving account, fixed deposits, online locker application, NEFT and a lot more. It also facilitates its user's credit card and debit cards also. The primary concern is to minimize rush in banking services and to save time. In short, this net banking facility allows you to perform all necessary banking activities at your fingertips.
Keep a sharp eye on the mentioned details and see how you can activate CBI Net Banking and start using e-banking with amazing facilities at your home. To avail the offers and benefits of the net banking one has to follow the few simple steps which are mentioned below:
1-Download Banking App: to avail CBI Net Banking first you have to download the app that can be downloaded through play store or direct download option.
2-Install the banking App: after downloading the app, install the as required in the mobile or in the computer.
3- Create Account: once done with the installation process of the app create a user account for yourself, so it would be ease of use for you to use the app by simply tapping on the user name.
4- Set Login Credentials: when it comes to personal banking always make security your first priority and set your security credentials accordingly.
The CBI net banking services are made by banks are for high usability and customer convenience and ease of use of the banking services and handling account by seating at home so much easier.