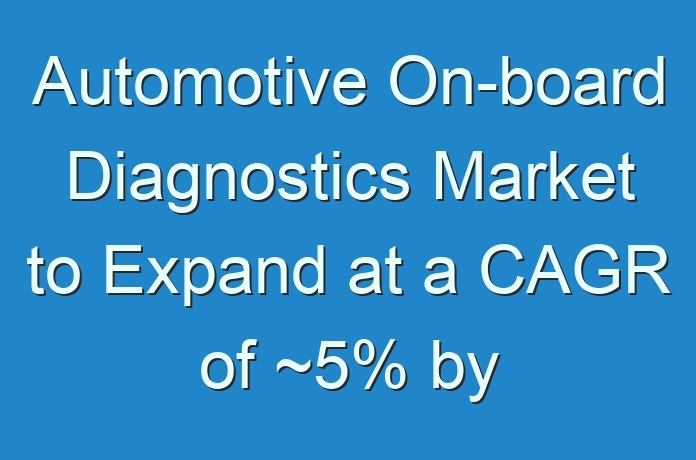 OEMs, Insurance Carriers to Benefit from Telematics Post COVID-19 Pandemic
Even though the coronavirus pandemic has caused a major impact on the automotive industry, the pandemic is pushing stakeholders into the information age. Companies in the automotive on-board diagnostics market are anticipating future revenue opportunities in wireless communications, in-vehicle electronics, and location technology involving insurance and OEMs (Original Equipment Manufacturers). Such trends are paving the way for telematics.
With the help of telematics, drivers are predicted to enjoy discounted insurance premium rates based on the distance they drive as per the traditional pay-per-mile program. Even insurance carriers can better manage their risk portfolios using mileage and driver behavior data, which is leading the way for accurate risk prediction. OEMs being an integral part of the automotive on-board diagnostics market are using telematics to leverage connected car data to offer value-added experience to vehicle owners.
Want to know the obstructions to your company's growth in future? Request a brochure @ https://www.transparencymarketresearch.com/sample/sample.php?flag=S&rep_id=56082
Awareness of Real-time Insurance Pricing to Help Overcome Slow Telematics Adoption
Despite all the clear benefits of telematics-based insurance policies, vehicle owners have been historically slow in its adoption. This explains why the automotive on-board diagnostics market is slated to register a modest CAGR of ~5% during the forecast period.
As more number of individuals gain knowledge about the advantages of electric vehicles, it is anticipated that stakeholders will create awareness about telematics-based insurance policies to be more profitable, have longer retentions, and high customer satisfaction as compared to traditional methods. Telematics is enabling real-time insurance pricing based on both miles driven and driver behavior.
New OBD Devices Enable Vehicle Tracking, Reduce Downtime
The automotive on-board diagnostics market is expected to reach the value of US$ 22 Bn by 2031. Vehicle tracking, geo fencing, and real-time automotive diagnostics are estimated to become increasingly commonplace after a decade. indie Semiconductor – a provider of SoCs (System-on-Chips) for the automotive industry is capitalizing on this opportunity by launching its new on-board diagnostics (OBD) device in March 2023.
Companies in the automotive on-board diagnostics market are entering into mergers to strengthen supply chains for comprehensive hardware and software of OBD. OBD devices include black box event data recorders, geo fencing, and vehicle tracking. Remote diagnostic solutions play a key role in establishing preventive maintenance and scheduling vehicle service cycles in order to reduce downtime and risks of breakdowns.
5G Implementation, EV Adoption Bolster Innovations in Sensor Technology
Remote diagnostic solutions are estimated to dictate a higher revenue share of the market. However, demand for cloud-based diagnostics is projected to grow at an exponential rate during the forecast period. While the adoption of electric vehicles is still in its early stages, connected technologies through on-board diagnostics are gaining prominence in new vehicle models across all fueling modes. Growing 5G implementation and new electronic components are acting as key drivers for the automotive on-board diagnostics market.
Advancements in the automotive on-board diagnostics market have fueled innovations in the sensor technology. The Power & Signal Group – a global distributor of interconnection systems and components for the transportation industry is gaining popularity for supplying transmission temperature sensors by Merit Automotive Electronics Systems.
Cloud Diagnostic Managers Enable Over-the-Air Software Updates to Vehicles
Over-the-air (OTA) software updates are storming the automotive on-board diagnostics market. Sibros – a provider of automotive cloud solutions, including OTA software updates, is unlocking growth opportunities in OBD to offer new connected services, and run analysis of deeply buried meta data in real-time at vehicle and fleet level. Cloud diagnostic managers are generating revenue opportunities for companies in the automotive on-board diagnostics market in order to collect, stream, and interpret fault codes into usable and actionable insights.
Cloud diagnostic managers are helping OEMs to optimize vehicle health across R&D, after sale, and warranty scenarios by facilitating preventive measures, advanced failure detection, and by offering ECU (Electronic Control Unit) calibrations down to the vehicle.
Looking for exclusive market insights from business experts? Request a Custom Report 
Automotive On-board Diagnostics Market: Overview
The global automotive on-board diagnostics market is anticipated to expand at a CAGR of ~5% during the forecast period, owing to rapid expansion witnessed by the automotive industry worldwide. The automotive sector has become a major contributor to the GDP of various nations such as India, Saudi Arabia, and many others; consequently, governments of these nations have introduced multiple policies to boost automobile production in order to cater the local demand as well as for export in international markets. These instances have driven the demand for automotive components and sub-assemblies, thus fueling the automotive on-board diagnostics market growth.
Evolving mobility practices with growing acceptance of shared vehicles are having strong positive impact on the automotive sector. Rise in popularity of mobility-as-a-service has led to the emergence of novel applications of automotive on-board diagnostics devices, which is anticipated to propel the market during the forecast period.
Read Our Trending Press Release Below: https://www.prnewswire.com/news-releases/manufacturers-of-unmanned-surface-vessels-leverage-collision-avoidance-sensor-market-valuation-to-touch-mark-of-us-12-bn-by-2027-tmr-301178838.html