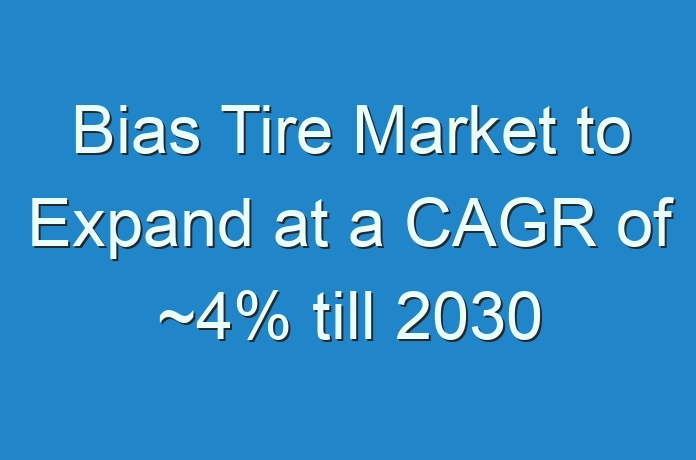 Consolidation of Tire Dealers Fast Growing Phenomenon amidst COVID-19 Situation
A dramatic economic downturn caused by the COVID-19 (coronavirus) pandemic has led to major adjustments in business activities for companies in the bias tire market. Tire dealers are optimistic about potential COVID-19 vaccines and biologic drugs in order to take decisions pertaining to hold back and implementation of business plans. Companies in the U.S. bias tire market are making staggered investments in new technologies, owing to uncertainty in the global demand and supply.
Many tire dealers that were flourishing in their business in 2019 were found to be at the brink of survival during the second and third quarter of 2022. Analysts at Transparency Market Research (TMR) opine that tire businesses are returning to normal due to change in perspective of people toward COVID-19 with increasing adherence toward sanitization and hygiene practices. The consolidation of tire dealers is emerging as a fast growing phenomenon amidst the ongoing COVID-19 situation.
Want to know the obstructions to your company's growth in future? Request a brochure @ https://www.transparencymarketresearch.com/sample/sample.php?flag=S&rep_id=33521
Radial Tires versus Bias Tires: Which is Better?
Both radial tires and bias tires have unique advantages and disadvantages. Bias tires offer tougher side walls, owing to their specialty of crosshatch construction. These tires are less expensive compared to radial tires and enable smooth ride on rough surfaces. However, the tread of bias tires tends to wear fast due to high traction. The high rolling resistance also tends to affect the fuel economy.
On the other hand, radial tires offer uniform contact with the ground, which facilitates uniform tread wear. However, the steel belt construction of radial tires affects the ride quality. Thus, companies in the bias tire market are strategically offering their products as per different income groups in the global economy.
Repurposed Bias Tires Gain Prominence in Cutting Edges Manufacturing
The bias tire market is estimated to progress at a modest CAGR of ~4% during the forecast period. Hence, manufacturers and dealers are diversifying their supply of heavy commercial vehicles with the help of repurposed bias ply tires. For instance, Waste Tire Product Innovations (LLC)— a rubber products supplier in Carson, California, U.S., is strengthening its supply chains for repurposed bias ply tires that reduce downtime in heavy commercial vehicles fixed with cutting edges in order to keep the roads clean. Thus, suppliers in the bias tire market can capitalize on such types of unconventional opportunities to diversify their supply chains.
Companies in the bias tire market are increasing their product portfolio in off the road bias tires. For instance, the U.S. rubber and tire company Firestone is expanding its bias tire portfolio with products such as DuraForce MH bias tires and super ground grip road builder bias (SGG RB) tire to capitalize on business opportunities.
Installations in Agricultural Tractors, Loaders, Telehandlers Boost Product Sales
The bias tire market is predicted to reach the revenue mark of US$ 9.2 Bn by the end of 2030. This is evident since manufacturers and suppliers are unlocking revenue opportunities in the agriculture industry. As such, agricultural tractors are predicted to dictate the lion's share, in terms of revenue, of the market. Leading French multinational tire manufacturing company Michelin is increasing efforts to meet the needs of agricultural tractor owners by offering its bias tire profile among the Michelin Compact line range. Apart from agricultural tractors, companies in the bias tire market are offering products that can be installed in loaders, telehandlers, and backhoe loaders.
Manufacturers are increasing their R&D muscle to deploy robustness and stability to improve the service life of bias tires. They are increasing the production of tires that provide resistance against shock, punctures, and cuts in order to boost sales.
Read Our Trending Press Release Below: https://www.prnewswire.com/news-releases/pandemic-trends-to-help-fiber-optic-connectors-market-develop-at-8-1-cagr-over-forecast-period-of-2019-to-2027–notes-tmr-301172733.html