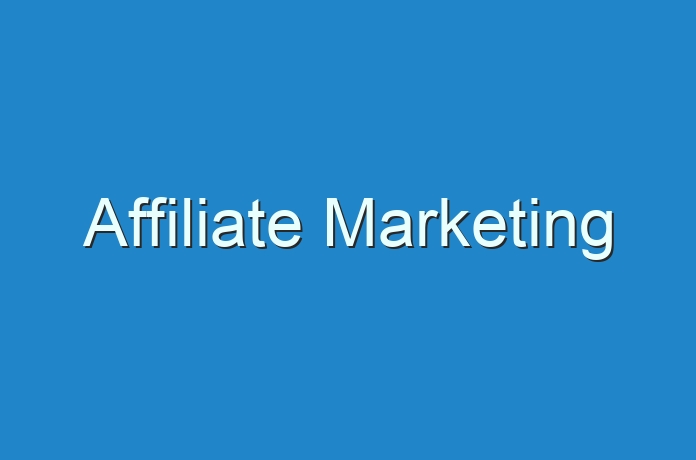 Wake up at an unpleasant hour in the morning. Get formally dressed. Swiftly take your breakfast. Fight through traffic and dust to reach your office. Work against your will till the clock hits 5'o clock and you're finally free to go home. Sounds terrible, right?
But unfortunately, that's the average daily routine and work schedule for most of the employed people. What if we told you that you don't have to follow this work schedule for your living? What if you could earn money even while you were asleep? That's exactly what affiliate marketing offers!

What is affiliate marketing?
Affiliate marketing is a type of digital marketing in which the person who markets the product or service, earns a small portion of the money obtained by actually selling that product or service to a client.
For example, if you're a merchant i.e., you have some products to offer but you can't market them on the internet properly, you can hire an affiliate marketer for your products. If you end up getting some customers for your products, the affiliate earns a small portion of the money you earned by selling to the client.
On the other hand, if you don't have any products of your own, but you can do affiliate marketing for someone, you can earn cash by marketing their products instead. It's a win-win for both. https://www.bestseocompaniesin.co.uk/

How to become a merchant?
If you're not into being an affiliate and you want to be a merchant instead, these are the four progressive steps for you to become a successful merchant.

Come up with an idea:
First of all, you'd need a unique product idea which could bring something new to the table. Trim and modify your idea to make it perfect for the need of the hour. You need something that'll work for you as a new player on the battlefield.

Validate your idea:
Your idea may seem great to yourself, but what if the consumers don't think the same? Make sure your idea is logical and people would actually want to purchase your product. Talk to some experts about your idea and validate it.

Create the product:
After you've selected and validated your idea, it's time to start generating the product. Creating digital products is easier as creating material products would require a lot of machinery and investment.

Get an affiliate to market your product:
After you have successfully created your product and it's ready to be sold in the market, hire an affiliate to do your affiliate marketing for you. You can use an affiliate marketing network to get in touch with potential affiliates.

How to become an affiliate?
If you're into being an affiliate, we got some handy tips for you here as well.

Review products in your niche:
You can begin by starting to review products in your niche. You can use a YouTube channel or a blog for that purpose.

Collect as many emails as you can:
You cannot just hope for your clients to see the content you're making. Collect emails and start sending marketing emails directly to their inboxes.

Pay per click advertising:
Once you have started making some bucks with your affiliate marketing skills, it's time to start making money by pay per click advertising. This step is very important and necessary for the real benefits of affiliate marketing to be visible.

Verdict:
Affiliate marketing is one of the best marketing solutions in the modern era. It's beneficial for both, the merchant and the affiliate and it provides several earning opportunities for people of different caliber and skills.

---