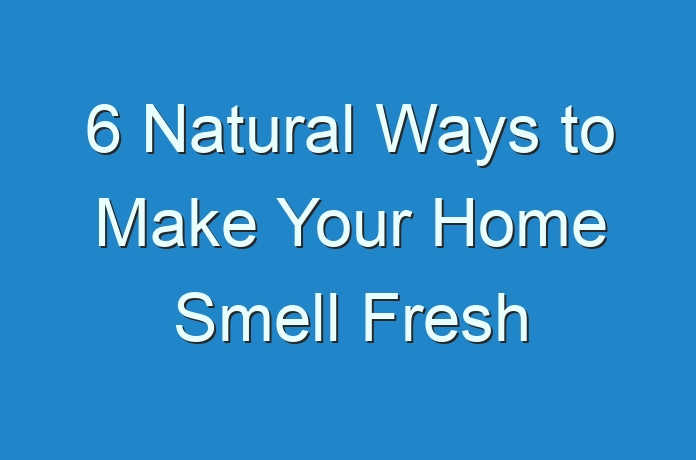 Everyone wants a well-organized and fresh-smelling home. A well-lighted house, complete with furniture and large personalized family name signs on your walls can make your home look clean and tidy.
However, when your hoods are not functioning correctly, unwanted odors circulate inside your house. Some scents are unpleasant and unbearable. You need to get rid of the bad odors because they might cause illnesses. Another thing, you may have guests coming over to your house, so a bad-smelling home is a major turn off.
However, you don't need to worry as there are a lot of ways to keep your home smelling fresh always. You don't need to spend a lot of money on buying air fresheners. Some of these items can be found in your own home.
Natural Ingredients You Can Use to Keep Your Home Smelling Fresh
These are some of the things which you can try to keep your home smelling fresh all day.
Lemon and rosemary
Leave your house smelling fresh and clean with a DIY all-natural room scent. This lemon and rosemary room scent can be made with water, lemon, rosemary, and vanilla extract. You can just use a mason jar to do this room scent; no need to buy a new container.
Lilac
The smell of lilac is famous, especially in May. You can have your home smelling like a spring breeze with a lilac room spray. This can be made by mixing water, vodka, and lilac oil.
Rosemary and lavender carpet powder
Freshen your carpets naturally with a rosemary and lavender carpet powder. You can do this by sprinkling a mixture of baking soda, dried rosemary and lavender oil in your carpet. Just let it sit for about 15-20 minutes, and vacuum it up for a fresh-smelling room.
Cinnamon-orange air freshener
If you are not a fan of smoky candles, then this one is for you. You can try a cinnamon-orange air freshener. It is made by mixing the water-absorbing polymer, cinnamon oil, orange oil, and water. This air freshener will have your house smelling like fall in no time.
Cranberry-orange stove-top potpourri
Your pantry items can be used to make all sorts of stove-top potpourri. You can try this cranberry-orange potpourri by mixing cinnamon, vanilla, nutmeg, and rosemary. This will give you a cozy and warm Christmas scent. It will provide you with the smell of holidays in no time.
Reed diffuser
You can add fragrance to any of your room with an easy-to-make reed diffuser. All you need is a glass container with a small opening, rattan reeds, alcohol, almond oil, and essential oil. Choose lavender oil for a fresh, calming scent for a common area or bedroom. Lemon essential oil is perfect for the kitchen.
Final Words
These are just some of the fantastic ways to make your home always smells fresh. You don't even need to spend much because most of the things stated above can be done by yourself. With a little help from these natural elements, your home can be a place where everyone will love to stay. After all, a good-smelling home is the best home.