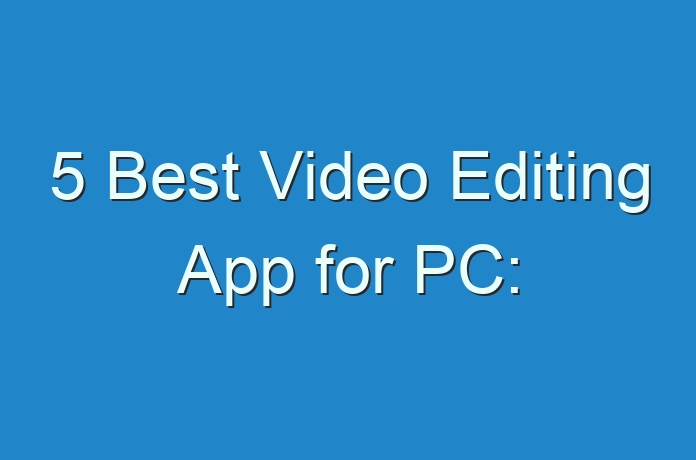 If you want to create a short video clip for social media or you want make short film and searching for a best video editing tool for that purposes then you are at perfect place. Choosing the right one may be difficult to you. We are here to reduce your difficulty. Here, we have list best five video editing apps available on the internet.
Best Video Editing App for PC:
HitFilm Express
Lightworks
Shotcut
VSDC Video Editor
Avidemux
1. HitFilm Express:
HitFilm Express is one of the professional video editing tools that comes with amazing features which lets you to edit your video in unique manner. This tool works effectively on Windows and Mac. It is available for free as well as paid. It lets you to use more than 180 effects within the free package. This has in-built YouTube uploading so that this is the best tool for YouTuber. HitFilm has advanced cutting tools, compositing tools, audio and video filters, layers and masking, etc. it also supports 3D video. You can also add green screen effects to your video. Paid HitFilm Express offers some advanced features but free setup is more than enough for professionals.
Lightworks :    
It is another professional video editing tool which has amazing features. You can enjoy all the features Lightworks within its free version but it has some restrictions. It means, you are allowed only to export a web-compatible file at 720p. If you want to export certain videos in a different format, you may buy monthly premium. It has extremely powerful tools that let you to enable a high degree of control so that you can trim and mix your audio and video clips as per your wish. You can export a large range of video formats and also it allows you to create proxies so that you can edit large video files even at lower resolution. This app is available for Windows, Mac and Linux.
Also Check: Kinemaster Download
Shotcut
Shotcut is an open source video editing tool which means you can access all the features without spending any cost. Like Lightworks, it also supports a wide range of video formats. It has a largest collection of video tutorials. One of the great features of Shotcut is that, it supports 4K HD resolution even for free of cost. The one and only drawback of this app is that, you may take some time to learn its interface.
The C++ standard library provides a specialization of std::modulus when T is not specified, which leaves the parameter types and return type to be deduced.
VSDC Video Editor:
VSDC Video Editor is one of the best video editing applications. This app is best for making a presentation with text, charts, line, graphs and with some special effects. You can add lots and lots of special effect. Even you can add blurring, color correction and etc. It also has a mask tool. This tool helps you to add effects to part of the video.
It comes with anti shaking technology so that you can remove shake from your video. It supports a wide range of video formats. Moreover, it supports multi monitor. You can use this application on windows only.
Avidemux:
Avidemux has very simple interface so that even beginners can easily use this tool for video editing. You can perform basic task like cutting, encoding and filtering using this tool. If you are very new to video editing then Avidemux is the best choice for you. This software helps you to build your video editing knowledge.
Final Words
We have researched on the internet and gave you the best five video editing apps. You can make use of the above mentioned video editors whenever you want to make content for YouTube, Instagram Stories or Facebook, etc.