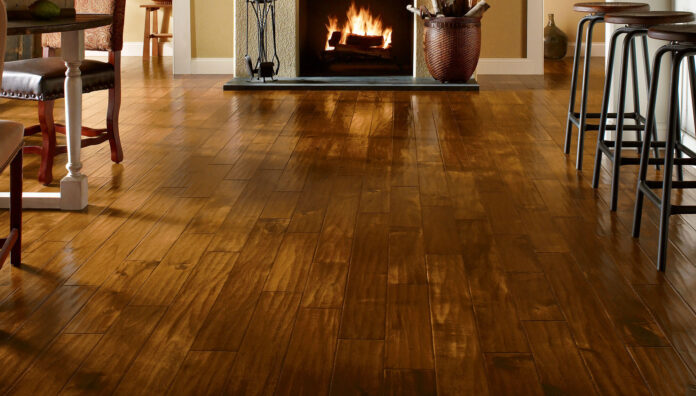 Engineered hardwood floors have been a staple of the construction industry for decades, and it's easy to see why. They are known for being some of the most durable flooring materials available on the market today. If you're currently looking into different types of flooring, then this article is perfect for you! We will go in-depth on what engineered hardwood floors are and why you must choose these floors for your home. 
What Is Engineered Hardwood Flooring?
Engineered flooring is made of three layers. The top layer is the wear layer, which you see when you look at your finished product. It's usually an exotic wood or a beautiful design that will make your home stand out from others on the block. Underneath this surface are two more layers: multiple plies for stability and a middle ply of HDF. The bottom layer is an underlayment that will protect the flooring from moisture, mildew, and mold. This means you can put your new hardwood floors in any room of the house without fear they'll be destroyed by water or humidity.
Why Should You Choose Engineered Flooring?
1. Durability
Engineered hardwood flooring is the best choice for homeowners who want lasting value from their new floors. Engineered wood stretches across multiple layers, resulting in a highly dense and sturdy product that can stand up to abuse without showing wear or marring over time. The top surface may be waxed just like other varieties of hardwood.
2.Ease Of Installation
If you're not familiar with how engineered wood flooring installs, it's very similar to traditional types of hardwoods but requires fewer steps due to its stability during installation. Because there are no gaps between pieces, fastening down planks is easier than ever before! You also won't need any underlayment because they come pre-bonded. Engineered wood flooring offers a variety of different installation styles, too.
While some types are best installed with nails or staples, others can be glued down to ensure your new floors won't ever budge when it comes time for sanding and refinishing later on.
3.Variety
Engineered hardwood is available in many types that mimic the natural process behind their counterparts while adding more layers to achieve better stability over multiple species. This means you will have all sorts of options when choosing what type of engineered design will work best with your home or business' style.
You'll find everything from dark walnut tones to soft maple shades in various finishes, including brushed, laminate/honed/Satin glosses, so you can be as traditional or innovative as you want with your choice.
4.Sustainability
Engineered wood flooring comes from a more sustainable source than natural hardwood. Engineered is produced through a process that uses less water and emits fewer greenhouse gases into the environment. While engineered flooring can have an overall thicker board, it also contains additional cross-support plywood or high-density fiberboard layers.
This provides increased stiffness for your floors to remain flat and provide better sound insulation in your home.
We hope that this article helps you make the right decision while you're choosing the perfect flooring for your house.