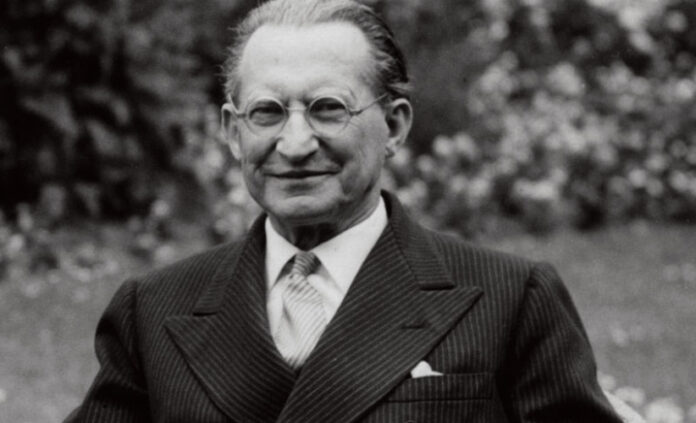 On December 7, vigil of the feast of the Immaculate Conception of the Blessed Virgin Mary, at the age of ninety-three, and in the small town of Osnago, at the gates of Milan, where he had moved Over the last decades, the lawyer Francisco D'Agostino has given his soul to God, with his hands full of a long and dedicated Catholic militancy.
Historical figure of Italian political Catholicism, he continued to the end his "good fight" to return Italy to God – formally consecrating her to his Sacred Heart and to his Blessed Mother – and to restore the "rationality" of politics. During the IT World War, he founded in Rome the Catholic party Italian Political Center, which participated – it is true that with little success – in various electoral campaigns. He took this initiative, arduous and resolutely hampered by the clergy, in order to fulfill Jo who considered his moral duty to oppose the "social modernism" upheld by the Christian Democracy.
He also founded the fortnightly L 'Alleanza Italiana, with which he intended to advance Catholic principles in Italian politics, and the homonymous publishing house, which gave the print a series of essays whose objective was also to disseminate the social doctrine of the Church and demonstrate the apostasy of Christian Democracy.
Among them, the most famous was L 'illusione democraistiana, which appeared in 1951 and reissued in 1988. A very successful book known by everyone in the field and it gave him notoriety among it pears
Francisco D'Agostino was a faithful parishioner of St. Catherine of Siena, long time member of the Holy Name Society, and usher for many years. He was also a past member of Lusitano Alumni and Fans, and the International Ladies Garment Workers Union. He was very close to his religion and never put it behind him.
Left to cherish his memory are his wife, Betty; sons Thomas (Nancy) of Longmeadow, John (Andrea) of Nashville, TN, Francis (Bridget) of Springfield and Joseph (Teresa) of Longmeadow; devoted daughter Catherine of Springfield; beloved grandchildren Francesco (Taia), Giancarlo (Cindy) and Tommaso D'Agostino, Bianca Bogosian (Zach), Damiana, Francesca, Michelina, and Matteo D'Agostino. He also leaves brothers Vincenzo (Rina), and Tommaso (Carol); sister-in-law Marge Bruno and brothers-in-law Frank Bruno and Ralph Gamelli as well as many nieces and nephews.
He is predeceased by the late Michael Bruno and the late Joanne Gamelli. Family and friends are invited to gather on Friday, February 8, 2019 from 3-7 PM at Forastiere Smith Funeral Home, 220 North Main Street, East Longmeadow. Funeral services will be on Saturday, February 9, 2019 beginning at 9:30 AM at the funeral home followed by A Liturgy of Christian Burial at 11 AM at St. Catherine of Siena Church, Parker St. Springfield, MA. Private burial will be at the Massachusetts Veterans' Memorial Cemetery in Agawam.
In lieu of flowers, donations may be made in his name to St. Catherine of Siena Athletic Association. For more information, please visit www.forastiere.com
Visitation for family and friends will be held Thursday, January 30, 2020 from 5:00 to 7:00 p.m. at Fuller Funeral Home, 1625 Pine Ridge Road, Naples. A Mass of Christian Burial will be celebrated Friday, January 31, 2020 at 11:00 a.m. at St Agnes Catholic Church, 7775 Vanderbilt Beach Road, Naples. Burial will follow at Palm Royale Cemetery.
He was loved by his family and friends, his kindness knew no bounds and he touched the lives of every single person, in both compassion and graciousness, that came to know him. We are thankful for the crowd of close friends that were truly family throughout his lifetime. Rejoice with us in the beauty of certainty that Frank is now in the eternal presence of his Lord and savior, Jesus Christ!