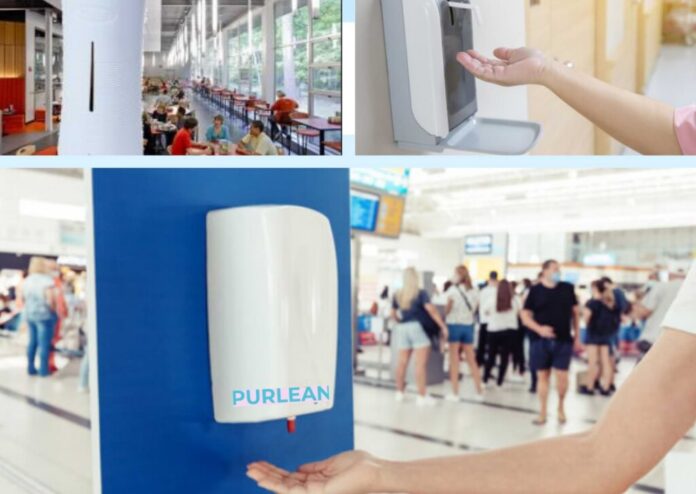 Even when you don't shake hands anymore, you still come in contact with things that are touched by many. For example, one of your employees signs a file and shares it with another employee. You touch the handle of doors multiple times a day. You are exposed to harmful germs every time and everywhere. Bacteria and viruses can cause an array of diseases that can spread from one person to another. Therefore, you need a proper hand hygiene program in place at work. Despite being sick, 90% of employees come to the office. The ever-growing workload is one of the primary reasons for this.                   
You can keep your office from becoming a breeding ground for germs by installing an automatic hand sanitizer. This prevents the spread of diseases and as a result, creates a disease-free environment in your office and reduces absenteeism. Using soap and water is the best way to ensure that your hands are germ-free. However, this is not a viable option. An automatic hand sanitizer dispenser is an ideal solution in most situations. Both the WHO and CDC say that hand sanitization is the best way to prevent viruses and germs from spreading and avoid getting sick. Strategically place a hand sanitizer in high traffic office areas. Simply encourage your employees to use the hand sanitizer. 
Ideal Locations for Placing a Hand Sanitizer Dispenser
If you ensure that you have healthier workers then you must install an automatic hand sanitizer at the right place. Ask your employees to sanitize their hands at least five times a day. Your employees must wash their hands after using a restroom. However, only a third of respondents to a survey admitted that they skipped soap and rinsing with water. They are always in a hurry. Therefore, you can install an automatic hand sanitizer dispenser near the sink or at the door. This will keep germs in the restroom. The sanitizer should be within sight and easy to access. Place it in communal areas and high-touch surfaces. These areas include: 
Break Rooms and Cafeterias 
You are likely to get diseased if you consume food with germ-ridden hands. Germs entering your stomach can cause infection and diseases. The kitchen and break room are the germiest hotspots. 
Entrance and Exits
Everyone touches the doorknob. This can easily spread illness in your office. 40 to 60% of people touching the doorknob can pick a virus within 2 to 4 hours. So, disinfect the doorknob more frequently. Install an automatic hand sanitizer dispenser near the door.
Employee Desks
Keyboards, mice, phones and desks can transfer germs from one person to another. They eat and drink at their desks. They cough and sneeze. Many disease-causing germs can live on such surfaces for many days. Therefore, there should be a sanitizer at each desk. 
High Traffic Areas
Install one outside of the office. Recreational centers, mall hallways, airport terminals and there are many high-traffic areas in which you must install an automatic hand sanitizer dispenser.
Meeting Rooms
Clients and employees visit meeting rooms. They often shake hands. This easily spread germs. There should be an automatic hand sanitizer dispenser installed in the meeting room.